Peter Natiello
Peter Natiello '82
2016 Honorary Degree Recipient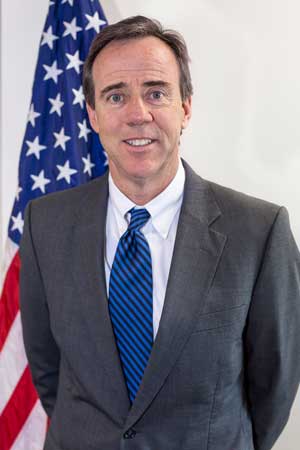 Peter Natiello '82 is the mission director for Colombia at the United States Agency for International Development (USAID), the lead government agency that works to end extreme poverty around the world and enable democratic societies to reach their full potential. In this role he leads a team of more than 100 American and Colombian employees working to achieve peace after decades of internal conflict. His work has spanned three continents and six countries where he has worked diligently to alleviate poverty, strengthen democratic institutions, and transform lives in challenging environments in developing nations.
Natiello started his career at the USAID in 1992 where he worked as a project development officer in Bolivia after receiving his master's degree in international affairs and economic and political development from Columbia University. Inspired by the independent spirit of the Rocky Mountain West, he joined the Peace Corps as a volunteer in Ecuador after receiving his bachelor's degree in political economy from CC. He also worked as a research analyst at the Inter-American Development Bank in Washington.
Natiello has assumed pivotal leadership roles related to sustainable and international development, human rights, cultural diplomacy, and civil society.
In South Africa he led U.S. government support for post-apartheid land restitution and was on the front lines coordinating the U.S. humanitarian response to the 2010 earthquake in Haiti. He served for one year as USAID's deputy director during the first year of South Sudan's independence.
His dedication to humanitarian development has not gone unnoticed. In 2005, the Bolivian government awarded him a medal for his work in leading efforts in rural development. He was awarded the Joint Civilian Service Commendation medal for his service at United States Special Operations Command in Tampa, Florida, where he worked for nearly two years as a senior development advisor.
Natiello is fluent in Spanish and proficient in Portuguese. He is married to Carolina Natiello and they have three children.