E-Waste Recycling
E-waste or electronic waste are products that are no longer working, unwanted, or at the end of their 'life'. While above the ground, modern electronics are safe to use. However, most electronics contain some forms of toxic materials that when discarded and buried at a landfill, they pose serious risks to our environment. 
With the definition of e-waste continuing to expand, due to being in an era of rapid technological advancement. It important that we do our part by being conscious of our consumption and recycling older models of e-waste. Therefore, CC is committed to responsibly recycling our e-waste at a local Colorado Springs facility, E-Tech Recyclers. 
E-Tech Recyclers focus on sustainable and responsible recovery of end-of-life electronics. They work to empower those in the community, such as business owners and organizations to take responsible, secure, and charitable approach to e-waste recycling. All electronics are properly recycled through vendors that are chosen specifically for their environmental, health, and safety standards. 
How To Recycle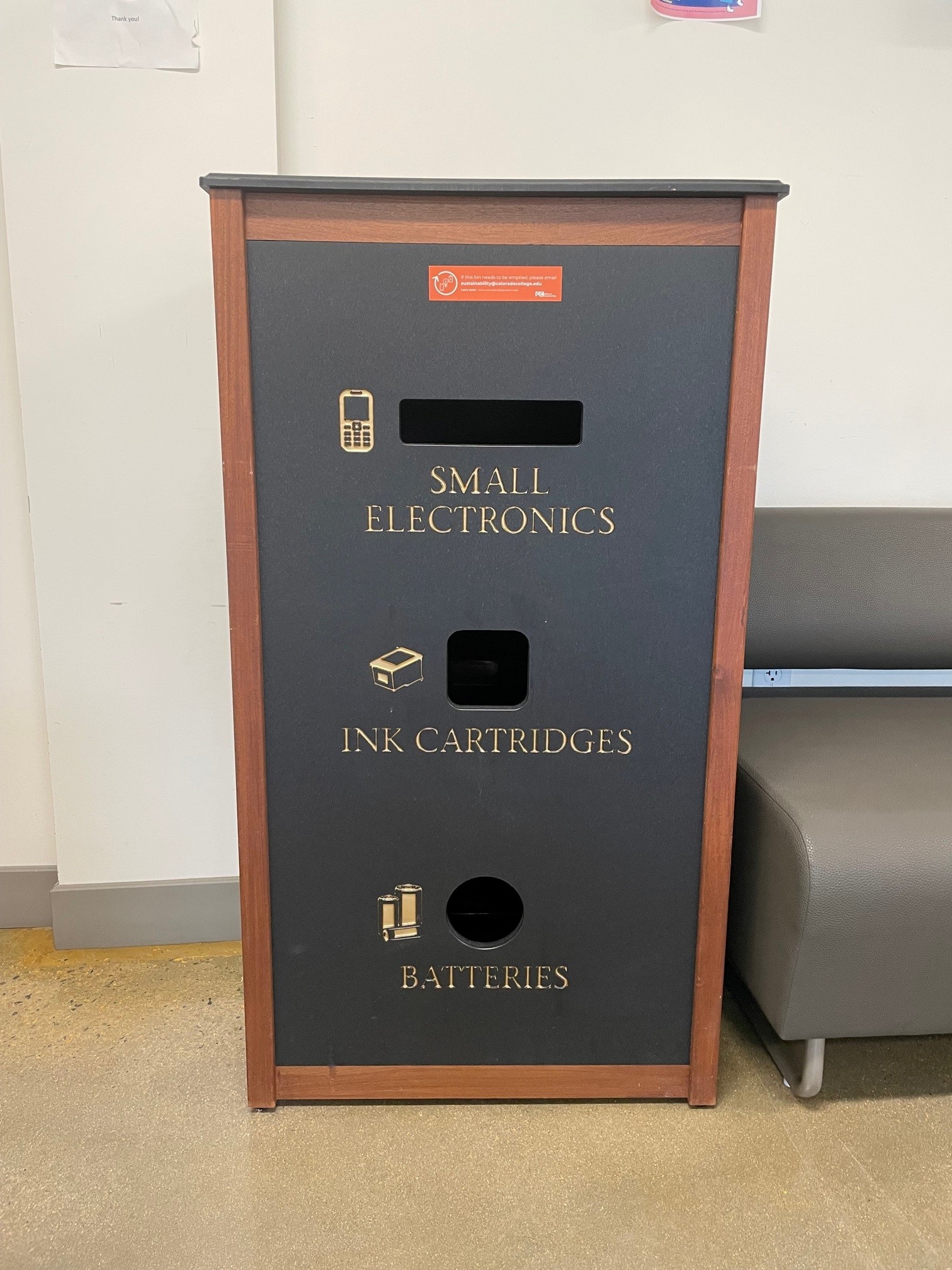 There are many options for recycling your e-waste on campus. If you have a small amount of e-waste to recycle, we encourage you to bring your e-waste to one of our 3 dropoff locations across campus. If you have a large amount of e-waste to recycle, please fill out the form below. 
There are 3 locations at CC to drop off smaller amounts of e-waste. This can include but is not limited to electronics, batteries (not Alkaline), and printer ink cartridges.
The three locations are:
Lower level of Worner Campus Center
First floor of Tutt Library across the front welcome desk
Office of Sustainability (1004 N Weber St) on Autrey Field
Toner
can be dropped off on the first floor of Tutt Library next to the ITS office or on the lower level of Worner. 
---
 For hazardous material disposal, contact Facilities Services at (719) 389-6568. 
---
Once requested, please allow up to 3 business days for someone from the Office of Sustainability to reach out to the email provided on the form to coordinate a pickup or dropoff.
A pickup option is available for any office/departmental e-waste request. For any personal CC student, staff, or faculty e-waste requests, dropoff at the e-waste garage is the only option.
We do not take community members' e-waste. For information about recycling your e-waste as a COS community member, please check out E-Tech Recyclers. 
Accepted E-Waste
These are the following items that E-Tech Recyclers accept for recycling: 
Fluorescent Light Bulbs 
Televisions 

CRT, LCD, LED, Projection, & DLP

Computer Monitors 
Computers

Desktops, Laptops, & Tablets

E-Readers
Fax Machines & Copiers 
Peripherals 

Keyboards, Mice, External Hard Drives, All-In-One Printer/Scanner/Copiers, Projectors, Wires, Cables, etc. 

DVS/VCR Players 
Digital Photo Frames
Digital Media Players
iPods/MP3 Players
Camcorders/Cameras
DVR/TiVo Devices

Cable Boxes, Satellite Boxes, & Satellite Dishes

Portable GPS Navigation Systems
Cell Phones
Medical Devices
All Appliances