Operations
The campus is where we live, eat, study and participate in campus activities. This section provides metrics and qualitative information about sustainability on the Colorado College campus. The physical campus is the place where many tangible sustainability initiatives can be seen through the implementation of solar panels, net zero buildings, and sustainable dining and water use practices.
Created by one of the Office of Sustainability's Interns - The Colorado College Energy Dashboard tracks the energy consumption and carbon production of different buildings around campus. Come back soon to check out the live version of the Energy Dashboard.
Learn More About Operations At CC
<!div class="mt-4">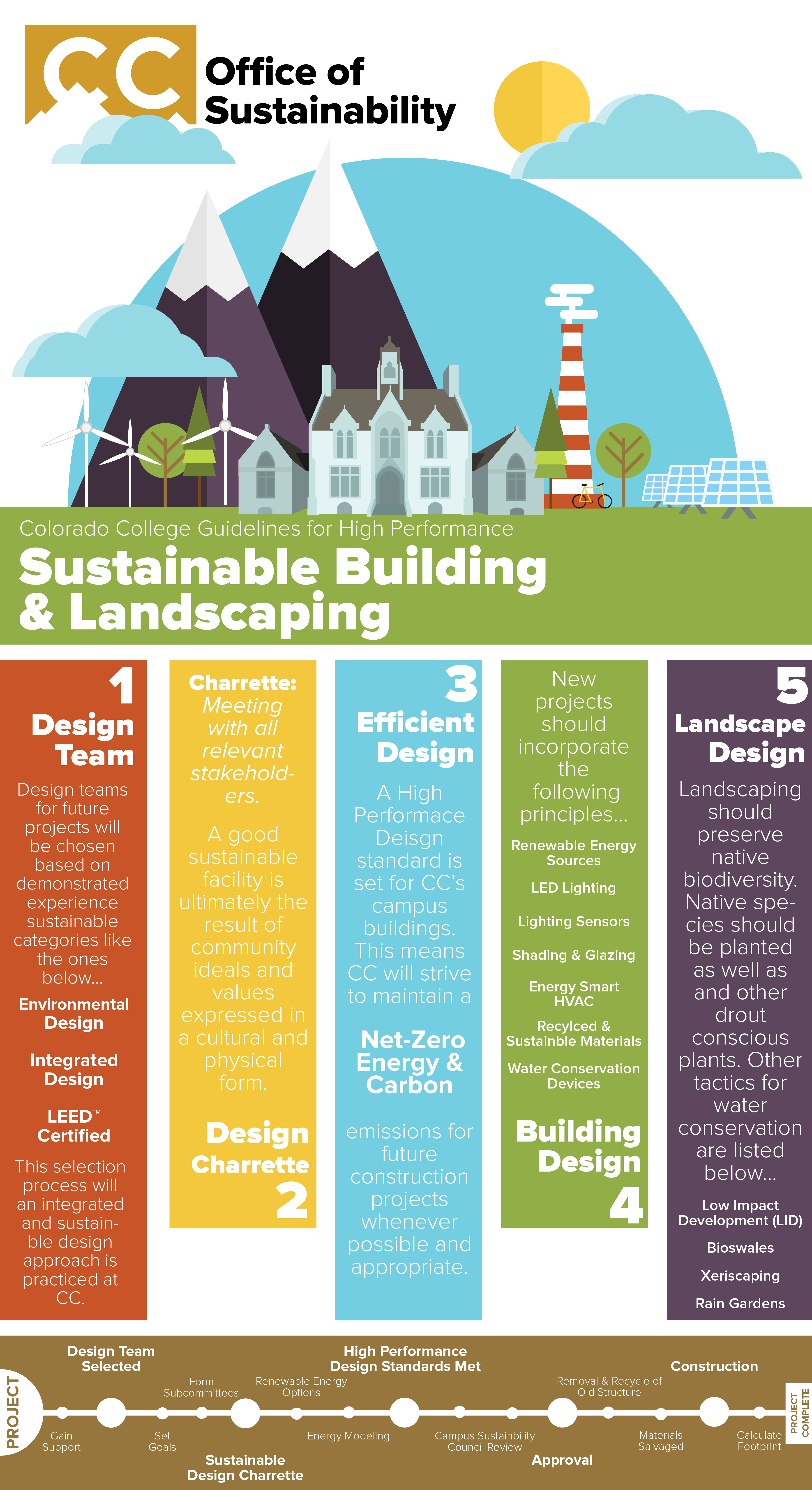 Landscape Management
Colorado College's strategic plan outlines a strong commitment to sustainable landscape management. As part of its fourth recommendation, the plan states, "CC's identity as a distinctive place of learning depends on developing a relationship between the campus physical environment and the functions of our institution. In order to enhance our campus, we must provide sustainable landscape that is in harmony with our educational mission and embodies our regional identity."
Colorado College's Grounds Department uses native and xeric (drought-tolerant) plants and trees in many campus landscape areas, while attempting to limit turf grass to high activity areas and sports fields. In an ongoing effort to replace water-intensive bluegrass with more climate appropriate plants, grounds has identified key areas of campus to convert to more sustainable forms of groundcover. Campus areas that have successfully incorporated native and ecologically appropriate plants include: Cutler Hall (native grass), Hulbert Center (native plant garden), Ticknor & Taylor, Morreale House, the Japanese Garden (bamboo and Japanese Maples), Bemis Hall, Cossitt Hall (native species and boulders from the foothill areas), Tutt Science, Shove Memorial Chappell (native sage), Palmer Hall (native grass), and Barnes Science (apache plume). Additional ongoing effort to provide a sustainable landscape is the maintenance and the state of CC's trees. To learn more about the tree's on campus, visit this link for a walking tree tour: https://www.coloradocollege.edu/basics/campus/tour/trees/
The grounds department also uses Integrated Pest Management methods and preventive plant care strategies to minimize pest problems with the landscape. When they must use pesticides, they use those that have the least toxic effect on the environment while still controlling the pest problems.
All organic waste generated by the Grounds crew is either tilled back into the soil, or composted.
<!/div> <!div class="mt-4">
Colorado College acknowledges that sustainable transportation can significantly reduce greenhouse gas emissions. According to the 2014 State of Sustainability report, 22% of Colorado College's fleet of vehicles are gasoline-electric, non-plug-in hybrids, 100% electric vehicles or vehicles fueled with B20 or higher biofuel for more that 4 months of the year. 76% of students walk, bike, or use non-motorized transportation. Shuttles provide transportation for students throughout Colorado Springs as well as to and from ski resorts and the Denver and Colorado Springs airports.
In collaboration with transportation services, the Sustainability Office is in the process of developing a Veggie Van for the campus fleet. The van will be fueled with reclaimed vegetable oil from Rastall dining hall. The van will primarily be used by the Outdoor Recreation Club for trips and expeditions.
The Veggie Van will be used by the Outdoor Recreation Club for a spring break trip in the Spring of 2015.
In the future, the college aims to increase numbers of alternative-fuel vehicles, become a Bicycle Friendly University through the League of American Bicyclists, and pursue more sustainable forms of transportation for CC employees.
Pike Ride
Get registered with CC Pike Ride: https://www.coloradocollege.edu/offices/sustainability/Linked_Pages/pikeride-registration.html
<!/div> <!div class="mt-4">
Waste Diversion
As a college, we currently break waste down into three categories: Landfill, Recycling, and Compost. We are standardizing all our waste bins on campus through our waste reduction program to match international standards — blue for recycle, green for compost, and black for landfill. The program we are deploying across campus through Facilities Services and in cooperation with SODEXO is in line with national waste diversion program standards. A black container is always paired with a blue container, and a green container is always placed in rooms where food catering occurs, in break rooms, and in bathrooms for composting of paper towel waste. We've seen significant results from this program and applaud your efforts in diverting waste from landfills!
To learn more about what items go in what bin visit The Pathfinder.

Hosting an Event?
Events at CC generate a ton of waste – most of which can usually be diverted from landfills. If you are hosting an event with food or catering products, download the following sings that highlight what products go into the Recycling, Compost, or sent to the Landfill. To improve waste diversion at your event, keep the three bins together to form a triple-stream waste station. If you need additional bins for your event, please contact Colorado College Community Events.
<!/div> <!div class="mt-4">
Preserve our regional and community water supply
Reduce potable water usage by 50%.
In 2008, Colorado College consumed 48,271,000 gallons of potable water on campus, approximately 19,500 gallons per person.
We aim to cut potable water use in half by 2020, to 25,000,000 gallons per year, or approximately 10,000 gallons per campus user.
From 2008 to 2012, Colorado College reduced potable water use by 25%.
Worner Center Renovation
The Worner Student Center and Rastall Dining Hall were renovated in the summer of 2011. During that process, the existing dishwasher was replaced and toilets and urinals were retrofitted with low-flow units. The associated reduction in Worner's water use reduction was 50%, or 2.5 million gallons.
<!/div> <!div class="mt-4">
Colorado College works closely with Bon Appetit, our food service provider, to provide local, delicious, healthy meals for our students, faculty, and staff, and the community at-large. Bon Appetit has been a committed partner in working towards a more sustainable campus at Colorado College. The food service provider exclusively serves cage-free eggs, rGBH-free milk, seafood that meets Seafood Watch sustainability guidelines, humanely raised ground beef, and pork raised without gestation crates. In addition to working closely with local farms and producers to increase the amount of "Real Food", Bon Appetit also largely funds the EcoFund program administered through the Office of Sustainability, which provides grants for student projects that further sustainability across campus.
Colorado College offers diverse, complete-protein vegan dining options to all members of the campus community and provides signage that distinguishes between vegan, vegetarian, gluten free, local, and other low-impact and special diet options at every meal.
Exemplary of their commitment to sustainability on our campus, in 2014, despite corporate contracts with nationwide poultry suppliers, Bon Appetit responded to student demands to use a more local and sustainable poultry supplier. As a result, Rastall Dining Hall now proudly serves locally produced chicken from Red Bird Farms.
Other local suppliers include:
Austin Family Farm- Paonia (256 miles away)
Colon Orchard- Cañon City (44 miles away)
CC Student Garden - On Campus
Country Roots Farm- Pueblo (51 miles away)
Family Roots Farm- Cañon City (53 miles away)
Hobbs Family Farm- Avondale (69 miles away)
Larga Vista Ranch- Boone (67 miles away)
Mesa Wind- Hotchkiss (250 miles away)
Milberger Farm- Pueblo (44 miles away)
Lippis Farm- Florence (46 miles away)
Smith Farm- Rocky Ford (46 miles away)
Venetucci Farm- Colorado Springs (10 miles away)
White Mountain Farm- Mosca (150 miles away)
<!/div> <!div class="mt-4">
Colorado College is committed to becoming a Carbon Neutrality campus by 2020. Total energy consumption at Colorado College is down 19% since the 2008 baseline year. This energy reduction is a result or several different ventures, including a on-campus renewable electricity project in 2008 which involved the installation of a 22-kilowatt solar array, which was the largest solar electric system in Colorado Springs at the time of permitting. Additionally, Colorado College has purchased 1079 Renewable Energy Credits (RECS) from wind and 462 RECs from Sunshare Solar Garden annually.
We carefully monitor our energy consumption and have developed several awareness campaigns to try to reduce our consumption and the resulting emissions. Several of our buildings including the new Spencer Center and the El Pomar Fitness Center are equipped with rooftop solar, and buildings like Tutt Science are powered with wind energy credits. Unfortunately, the main source of electricity for the college is supplied by the Martin Drake Power Plant downtown, which is mostly coal powered. CC is doing its best to increase its renewable energy capabilities and reduce emissions and there are some exciting solar power projects coming up in the near future, so stay tuned!
<!/div> <!div class="mt-4">
A large part of creating a sustainable environment is purchasing sustainable products. In 2008, Colorado College adopted its green cleaning program. Since then, 82 percent of total expenditures on cleaning and janitorial products are Green Seal Certified. In addition, CC's Sustainable Purchasing Guidelines establish intent to "eliminate virgin paper by purchasing only recycled content paper when possible." Our purchasing policy supports small and disadvantaged businesses iwth a state preference to "support locally produced goods and services."
The Real Food Challenge
Through the Office of Sustainability, several interns and students are currently performing an audit of all of the items purchased by Bon Apettit. The students are using the Real Food Challenge framework, which assesses whether purchased goods qualify as "real," or organic, local or fair trade. The Office of Sustainability strives to find metrics for measuring the sustainability of all kinds of purchasing on campus.
<!/div> <!div class="mt-4">
Carbon Neutrality
Our goal at CC is to be carbon neutral by 2020 as evidenced by our commitment to the American Colleges and Universities President's Climate Commitment (ACUPCC) and our strategic plan. As a leading institution of higher education, our community, the country, and the world looks to us to develop new and innovative practices to deal with issues like climate change and carbon regulation. If we are to remain relevant in our changing world, we must answer this charge by leading the way.
Some of the options to consider to help us lead the way could include:
Implementing an internal carbon tax to help develop literacy and fund carbon offset projects

Developing full-cost accounting, whereby the value of the carbon reduction of projects is figured into the payback on the project

Working with community partners to develop local carbon reduction and offset projects that can help offset emission sources that we can't directly replace with zero-emissions alternatives (i.e. international travel, etc)

Emphasizing our unique place in the world by focusing more field studies locally and regionally when possible
Carbon Footprint
In 2013, Colorado College's carbon footprint (also known as our greenhouse gas inventory) was 27,786 metric tons of equivalent CO2. Colorado College reports its annual greenhouse gas inventories to the American College and University Presidents' Climate Commitment.
Greenhouse gas inventories are compiled by the Greenhouse Gas Inventory Intern in the Office of Sustainability and are verified by the Sustainability Director, who is certified through CSA Group as a Greenhouse Gas Inventory Quantifier. The college's inventories adhere to ISO standards and The GHG Protocol.
The Plan
The following documents analyze our current footprint and provide carbon offset and REC options to get us to carbon neutrality by 2020.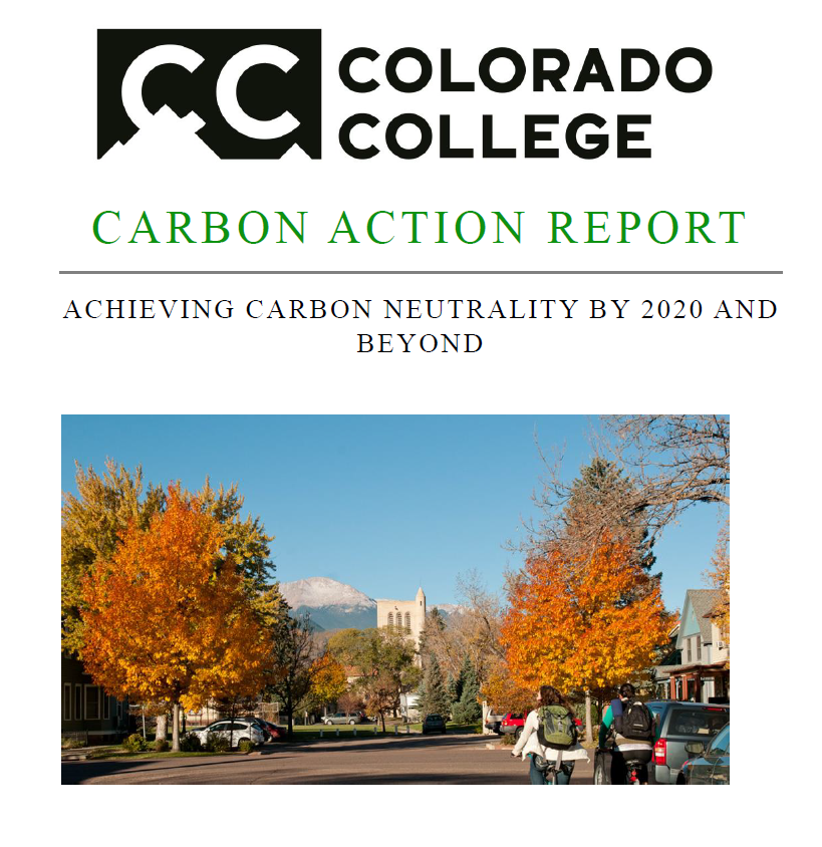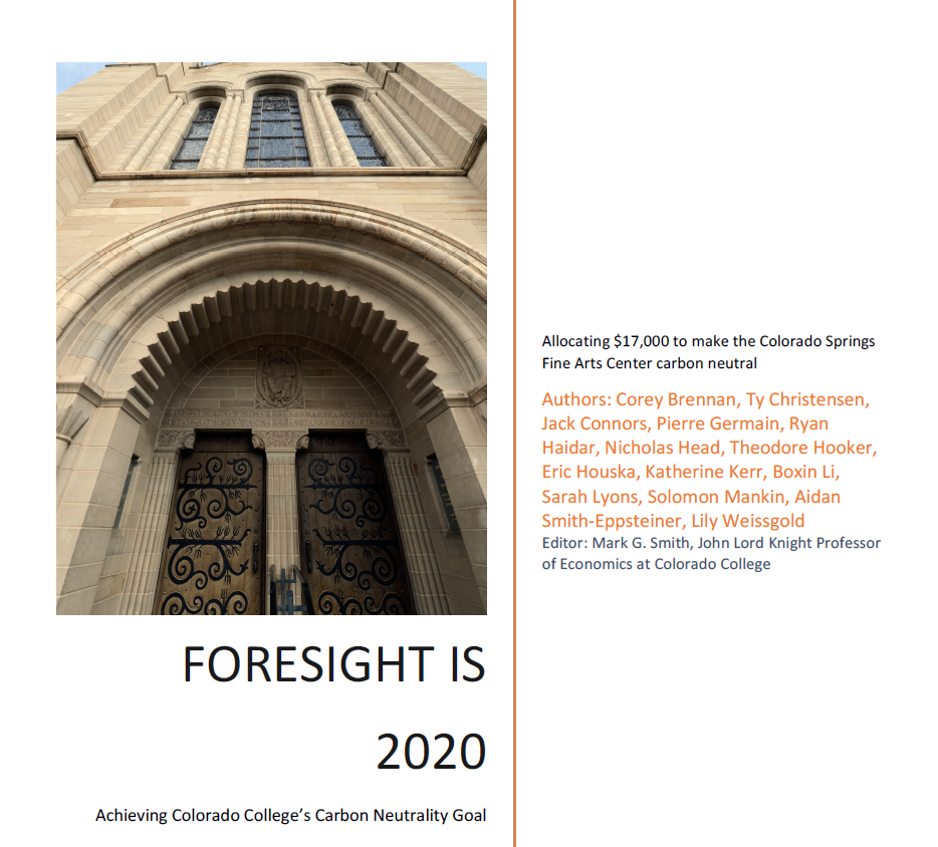 <!/div>