CC Summer Activist Institute
A non-credit internship opportunity for students to engage in activist and/or advocacy work that aims to confront escalating surveillance and criminalization of BIPOC (Black, indigenous and people of color) communities by collaborating directly with community- based organizations in the US Southwest
This internship opportunity is open to all CC students and students from colleges of the Associated Colleges of the Midwest. Application and interview required.
Program Dates: June 1-July 16, 2023
Program Director:
Dr. Eric Popkin
Department of Sociology, Colorado College
epopkin@coloradocollege.edu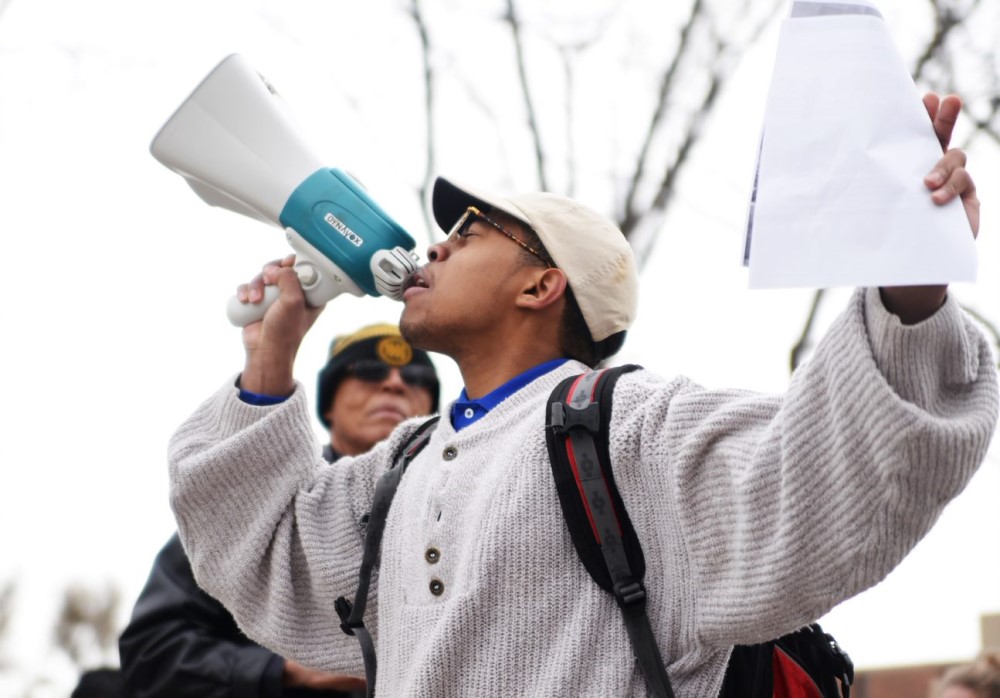 Application Information
Program Application Deadlines:
First round: Nov. 30, 2022; interviews in early December
Second round: Feb. 3, 2023; interviews in early- to mid-February
Specific student placements will be finalized in the Spring by Feb. 20, 2023.
Applications are no longer being accepted for Summer 2023 
Program Description
This non- credit summer intensive institute offers students an opportunity to engage in activist and/or advocacy work focused on one of three tracks – Immigrant Detention Work (working with attorneys representing immigrants in detention centers/some work on advocacy campaigns tied to detention); Strategic Research Projects tied to community organizational campaigns; or Community Organizing (campaign recruitment, event planning, op-ed writing, protest training, policy research, public speaking, criminal justice accountability, case advocacy).  A primary objective of the program is to introduce students to activist movements and targeted advocacy work and to engage in discussions focused on conceptions of social change and social action career exploration.
The 6-week program begins with one week of orientation on the Colorado College campus led by the program director and activists representing community partner organizations participating in the program. This orientation will incorporate multi-disciplinary reading and discussion that focuses on the criminalization of BIPOC communities (the racial dimensions of carceral capitalism and immigrant detention). Additionally, students participate in discussions that consider the ethical dimensions tied to community- engaged work. During the orientation, students will receive training on community organizing skill development, community-based strategic research skills (in coordination with Empower LLC.), strategies to work with traumatized populations, and conducting intake interviews with immigrants in detention. Following the orientation, students will travel by groups to their designated community partner sites in Colorado College vehicles. Throughout the program, the program director will travel twice to each program site to reflect on the experience with students – these visits are supplemented with zoom sessions with the students and community partner organizations. At the end of the program, students will reconvene at Colorado College for a one and half day program debriefing.
Program Outcomes
Students will apply critical thinking and analytical skills to evaluate power structures, political conditions and contexts, social dynamics, and frameworks for effecting community change. 
Students will apply community-based knowledge and modes of thinking to projects informed by anti-racist community engagement principles.
Students will practice cultural humility through reflection on their own and others' cultural wealth in order to gain greater awareness of their own unique strengths and limitations as change agents.
Students will develop proficiencies in multiple forms of communication, including written, oral and critical listening skills, as tools for translating learning and understanding into action strategies.
Students will utilize collaborative problem-solving and teamwork skills to address complex issues within community contexts, while also reflecting upon their assets as both team members and leaders.
Students will gain the ability to recognize, discern, and utilize appropriate strategies/mechanisms for effecting community change congruent with their long-term vision for social change
Cost and Funding
There is no Program Fee for Colorado College students. Housing, food/incidental expenses, transportation, and all other program costs are covered through generous support from the Colorado College President's Office Anti-Racism Fund, Colorado College Department of Sociology, and The William P. Dean Memorial Fund.
The cost for non-Colorado College students is $5,000.
Partner Organizations
Community Organizing Track
Mijente – No Tech for ICE Campaign (Southwest location TBD)
Mijente is a political hub for Latinx and Chicanx people who seek racial, economic, gender, and climate justice through organizing and advocacy campaigns. Over the past several summers, students working with Mijente conducted strategic research focused on ICE reliance on data broker information (LEXIS-NEXIS) to access police booking information in Denver and a project documenting new upgraded technology systems facilitating surveillance in the US-Mexican border region. In summer 2023 students will engage in more directly in organizing campaigns in the US Southwest. (Spanish language fluency required, southwest location not yet determined)  
Grassroots Leadership (Austin, Texas)
Grassroots Leadership is an Austin, Texas based group focused on building a world without carceral systems. Last summer, students engaged in strategic research and participated in an organizing campaign focused on Operation Lonestar, the Governor of Texas' campaign to extend state authority over immigration via the state criminal system leading to extensive criminalization and exploitation of immigrants. In summer 2023, students will engage in active organizing campaigns and conduct research tied to these campaigns.  (High level of Spanish proficiency required for some positions)
Colorado Jobs with Justice (Denver, Colorado)  
Colorado Jobs with Justice is a coalition of labor, community, faith, and youth organizations working on fair labor, just wage, and equitable working environments in a way that crosses lines of sector, race, and class to win concrete victories for working people. In summer 2023 students will work on active organizing campaigns including local minimum wage campaigns, empowering women and non- binary folx in building trades, and confronting wage theft campaigns. (High proficiency Spanish language required for some positions)
Border Network for Human Rights, (El Paso)
Border Network is a leading human rights advocacy organization engaged in documentation of abuses committed by law enforcement agencies operating in the El Paso-Southern New Mexico region. The organization trains human rights promoters who establish local committees that organize to expose and confront law enforcement abuses. In summer 2023, students will participate in the human rights documentation project and conduct research tied to this effort. (Some Spanish language proficiency required for all positions) 
Mano Amiga, San Marcos, Texas
Mano Amiga works with and organizes alongside communities impacted by criminalization and/or immigration to push for systemic policy change at the local level. We work directly with impacted community members to amplify their lived experiences and identify solutions to change systems and improve material conditions. We have a vision of creating a corridor of resistance between Austin & San Antonio against racist and anti-immigrant policies. In summer 2023, students will be given the opportunity to be cross-trained across many aspects of grassroots community organizing: case advocacy, policy research, police/prosecutor/judicial accountability, op-ed & other writing, public speaking, protest training, and more. (High proficiency Spanish language required for some positions)
Research Track
Colorado Immigrant Rights Coalition (CIRC), Denver, Colorado
CIRC is a statewide membership-based coalition of immigrant, faith, labor, youth, community, business, and ally organizations that engages in civic engagement, public education, and advocacy campaigns to promote workable, fair, and humane immigration policies. In summer 2022, students engaged in a project focused on law enforcement surveillance of immigrant populations in Denver (in coordination with Mijente). In summer 2023, students will conduct research tied to member prioritized campaigns including housing access and exposing law enforcement surveillance of immigrant populations. (Spanish language not required)
ACLU of New Mexico, Albuquerque, New Mexico
The ACLU of New Mexico is the state affiliate of the ACLU, the nation's premier civil rights and civil liberties organization. The New Mexico office engages in extensive work aimed at reigning in the militarization of border communities and abuse in immigrant detention centers in the state. In summer 2023 students will conduct research on projects focused on these issues. (Spanish language not required)
Immigrant Detention Work Track
New Mexico Immigrant Law Center, Albuquerque, New Mexico
The New Mexico Immigrant Law Center empowers low-income immigrant communities through collaborative legal services, advocacy, and education. In summer 2023, students will have the opportunity to assist attorneys representing immigrants in the Torrance, Cibola, and Otero detention centers in New Mexico and engage in local detention center shut down campaigns. (Spanish language proficiency required for some positions)
Las Americas Immigrant Advocacy Center, El Paso, Texas
Las Americas is an El Paso based legal clinic that provides free and low- cost legal services to immigrants and refugees in West Texas and New Mexico and in Juarez, Mexico at the US-Mexican border. The clinic also serves detention centers in this region. In summer 2023, students working with Las Americas will conduct intake and other interviews with immigrants in detention and engage in the community outreach program. (Spanish language fluency required for most positions)
Rocky Mountain Immigrant Advocacy Network, Denver, Colorado 
Rocky Mountain Immigrant and Advocacy Network works to ensure justice for adults in immigrant detention and for immigrant children who have suffered from abuse, neglect, or violence. The organization promotes knowledge of legal rights, provides legal representation, works to improve immigrant detention conditions, and advocates for alternatives to detention. In summer 2023, students will assist with communications with immigrants in detention, research and complete country case reports tied to immigrant client cases, and observe immigrant court hearings. (Spanish language fluency required for all positions)