Lennox House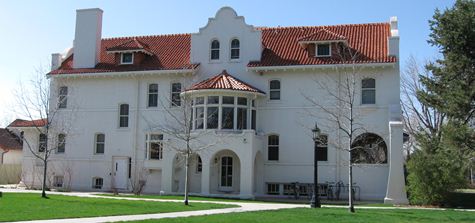 ---
Lennox House is a three-story, co-ed house for 26 students. This Moorish design house, built at the turn of the century, opened as a student center in Sept. 1937. The 17-room house was the legacy of William Lennox, a local banker and CC trustee from 1901- 1936. A grille, bookstore, and organization offices were located in the center. It has a large living room with a fireplace, piano, a kitchen, and a wraparound porch. Lennox House is one of the most desirable campus housing opportunities, especially since it was completely renovated in 2003.
Lennox House is currently the location of the Glass House, a perpetual Themed Learning Community that provides an environment for the promotion of multi-cultural awareness, support, and programming. The Glass House is supported through programming from the Butler Center and Residential Life and Housing.
Residency in the Glass House is limited to students with sophomore and higher class standing. Prospective residents are subject to House Council review. The Residential Advisor plays an active role in the recruitment and placement of residents, as well as in programming for the multi-cultural theme.
LENNOX (GLASS) HOUSE


BUILDING

AMENITIES

1001 North Nevada Ave


Kitchen

Yes (2)


East Campus

Laundry

Yes

Type: Small House


Yes; Piano, Fireplace, Flat-Screen TV


Theme: Multicultural House


Wireless

Yes

Upperclassmen: 20




Game Room

Billiards


Resident Advisors: 1

Thermostat

Heat Only


Residential Living Coordinator: 1

Carpet

No

Floor Plans: Basement; First


Bike Rack

Yes

Floor Plans: Second; Third

Key Type

Exterior: Swipe Card;

Interior: Key

Ellis U Butler, Jr. Center for Intercultural Leadership


Classroom, Wrap-Around Porch