Block Break 8 Newsletter - Commencement 2019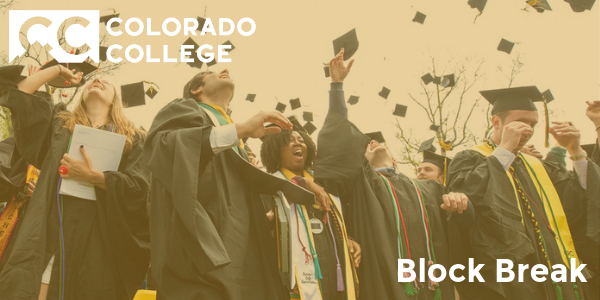 Graduating seniors toss their caps as they mark the transition from students to proud alumni.
Dear CC Alumni and Parents,
On Sunday, the CC community gathered on Tava Quad to celebrate our 145th Commencement. It is a bittersweet time. While it was difficult to say goodbye to the Class of 2019, we are excited to launch them on to their next adventures.

Click here to watch the full commencement ceremony.
In my Commencement remarks, I recounted the many contributions of the Class of 2019, from their dedication in the classroom to their service on campus and in the community. As Professor Jane Hilberry beautifully articulated in her Baccalaureate address, our graduates created a dynamic range of experiences, projects, and life-changing relationships at CC. She emphasized that they "are stepping into a powerfully creative moment, a time when all that creative energy [they] have already demonstrated can take on even larger dimensions."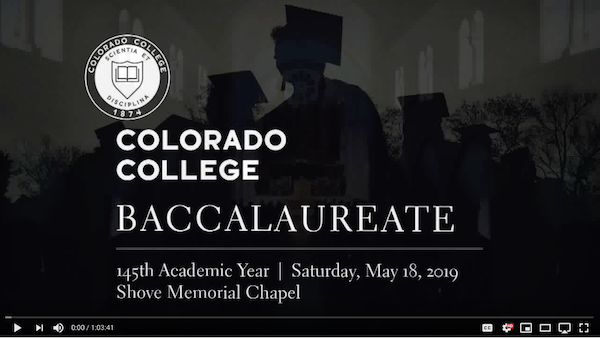 Click here to watch the full Baccalaureate ceremony.
Renowned philanthropist, global media leader, producer, and actress Oprah Winfrey delivered an inspiring Commencement address. Winfrey urged graduates to use their lives in service, saying, "I'm here to tell you that you actually do get to transform the world every day by your actions. Small steps lead to big accomplishments," later noting, "The most important thing is how you're touching other people's lives."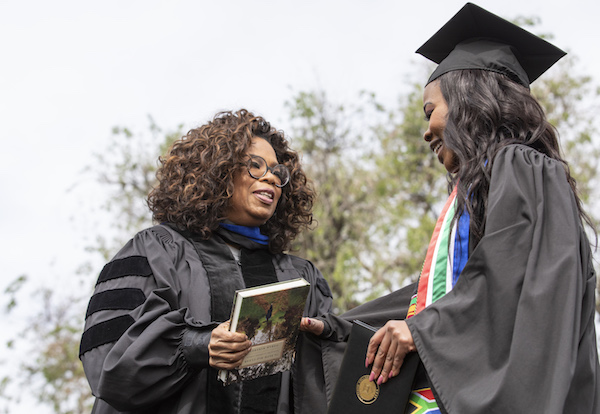 Oprah Winfrey congratulates Palesa Mokoena '19, the second student from the Oprah Winfrey Leadership Academy for Girls in South Africa, to graduate from Colorado College. Winfrey gifted all graduates her recent New York Times bestseller, "The Path Made Clear: Discovering Your Life's Direction and Purpose."
In addition to Ms. Winfrey, Jairo Valverde Bermudez '92, France Winddance Twine, and Martile Rowland received honorary degrees. Mr. Valverde was the Costa Rican ambassador to Brazil, and has previously worked for the United Nations. Dr. Twine is a professor of sociology and documentary filmmaker at the University of California, Santa Barbara. Ms. Rowland is a nationally-celebrated opera singer, instructor, founder of the Opera Theatre of the Rockies, and a CC artist-in-residence in the Department of Music.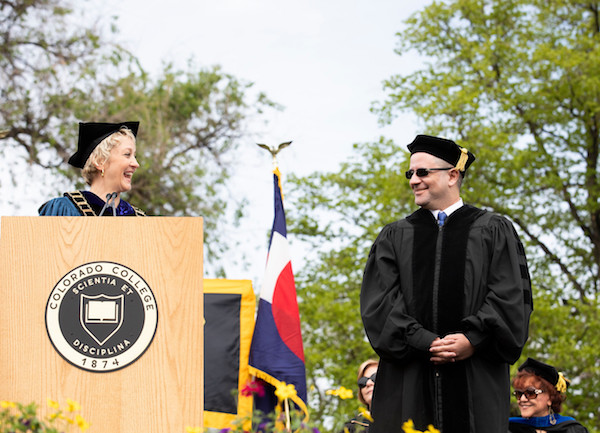 Ambassador Jairo Valverde Bermudez '92 receives the Doctor of Laws, honoris causa.
As evidenced by their many accomplishments and awards, this graduating class has immense potential. Their class motto, a quote from political activist and academic Angela Davis, exemplifies their commitment to building an equitable and just society: "You have to act as if it were possible to radically transform the world. And you have to do it all the time." As we send off our graduates, I believe that the world will be a better place because of this group of changemakers.
I am grateful to the families and supporters of CC who made our graduates' education possible. And, thank you to the Class of 2019 for giving back to the college, with the vast majority donating to their senior gift.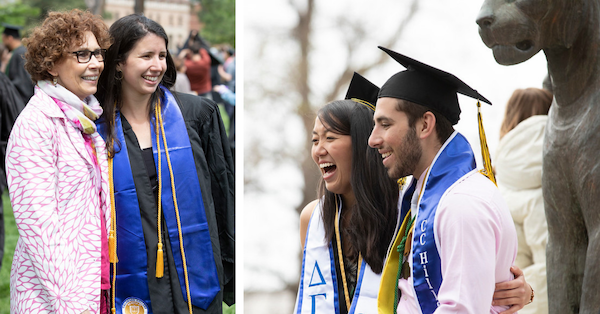 From left: Emily Klockenbrink '19 celebrates with her mother, Kathleen; Annie Brandstrader '19 and Jordan Stern '19 commemorate the day with a photo at the flagpole.
While Commencement marks the end of the academic year, we have much to look forward to in the coming months. June is a vibrant time at CC, as we host our world-renowned Summer Music Festival and kick off the summer session.
I wish you an enjoyable summer!
Best regards,



President Jill Tiefenthaler