Block Break 3 Newsletter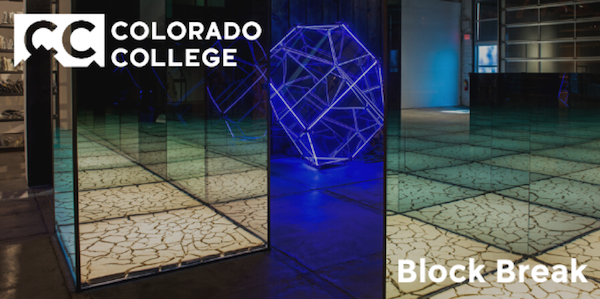 "Fissure" by Associate Professor of Art Scott Johnson is on display through Feb. 2, 2020, at the Center for Contemporary Arts in Santa Fe, New Mexico.
Dear Parents and Alumni,
There is always so much happening at CC, and this block, I am excited to share a few of the contributions that CC students, alumni, and faculty are making to our community and the world.
Despite the incredible demands of teaching on the Block Plan, our faculty are dedicated to their scholarship and creative work. For example, Associate Professor of Art Scott Johnson's exhibit "Fissure" is on display at the Center for Contemporary Arts in Santa Fe, New Mexico. The show explores "fissures — clefts in the landscape, breaks in social/cultural fabric, the splitting of atoms, fragments in memory — in a continuing exploration of how terrestrial space is represented, navigated, and perceived." Earlier this fall, Associate Professor of Anthropology Christina Leza published "Divided Peoples: Policy, Activism, and Indigenous Identities on the U.S.-Mexico Border" through the University of Arizona Press. The book brings to light social, environmental, and cultural impacts of border policies and patrol on Native Peoples and lands.
Assistant Professor of Race, Ethnicity, and Migration Studies Michael Sawyer serves as director of the Africana Intellectual Project, which partnered with the Colorado Springs Philharmonic last month to host trumpet master Nicholas Payton for the U.S. premiere of Payton's "Black American Symphony." Payton also joined Professors Sawyer's Africana Philosophy course (co-taught with Professor Jonathan Lee).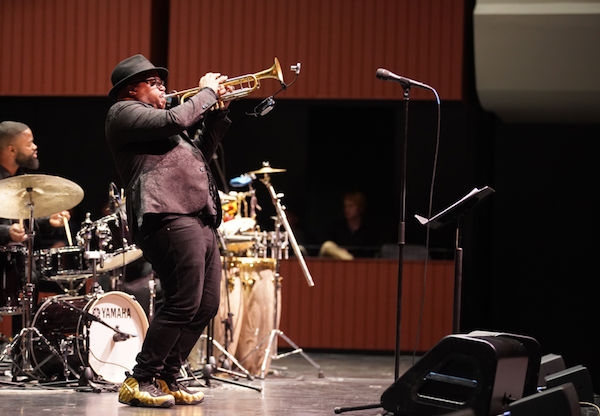 Nicholas Payton performs with the Colorado Springs Philharmonic at the Pikes Peak Center on Oct. 23. Photo by Jennifer Coombes.
During Block 3, Professor of Classics Marcia Dobson and Professor of Philosophy John Riker co-taught their Contemporary Psychoanalysis: Theory and Practice class at the Chicago Psychoanalytic Institute. They co-edited the most recent issue of Psychoanalytic Inquiry, "The Future of Psychoanalysis in Undergraduate Education: An Innovative Collaboration between Colorado College and the Chicago Psychoanalytic Institute." Also in this issue are capstone papers by Katrin Gentry '19, "Healing the Healer's Art"; Caroline Beaton '13, "To the Lighthouse and the Oedipal Triangle"; and Emily Elder '16, "Beyond the Symptoms: Generalizations and Distinctions between Eating Disorders with Different Symptom Manifestations in Psychoanalysis," as well as shorter essays by Monica Black '19, "Why Perform?"; Rebecca Stine '19, "She's Waiting for Godot, and I'm Waiting with Her"; and Peter Lehman '20, "Neurobiology and Psychoanalysis."
Professor of Geology Christine Siddoway is the newest CC Face of Innovation. With the support of eight multiyear National Science Foundation awards, Professor Siddoway has made 14 research trips to Antarctica to study the continent's geological evolution. In Spring 2019, Siddoway joined an expedition through the International Ocean Discovery Program to collect sediment records and data in the Amundsen Sea. These findings help scientists understand and predict future sea level rise as ice sheets continue to melt.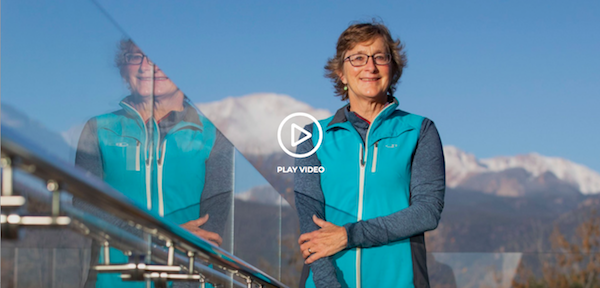 "Peering Into the Deep Past to Forecast Future Sea Level Rise: Christine Siddoway." Filmed and produced by Rachel San Luis '10, expedition footage by Vivien Cumming, aerial footage by Phil Christie.
Three CC alumni were part of a recent fossil discovery near Colorado Springs, which details earth's recovery following the asteroid impact that wiped out the dinosaurs 66 million years ago. Ian Miller '99, Gussie Maccracken '11, and CC Geology Department Paraprofessional Benjamin Lloyd '19published "Exceptional Continental Record of Biotic Recovery After the Cretaceous-Paleogene Mass Extinction" in Science last month. Miller is the curator of paleobotany and director of earth and space sciences at the Denver Museum of Nature & Science, and Maccracken is a Ph.D. candidate in the Department of Entomology at the University of Maryland College Park. "After the Asteroid: Earth's Comeback Story" is on display at the Denver Museum of Nature & Science, and "Rise of the Mammals" was broadcast nationally by PBS on Oct. 30.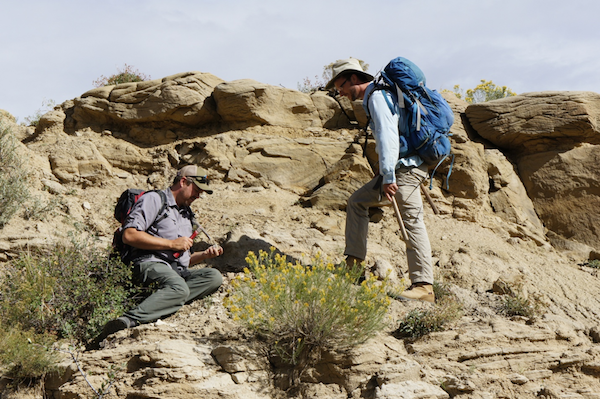 Ian Miller '99 (left) and Tyler Lyson, curator of vertebrate paleontology at the Denver Museum of Nature & Science, in the field. Courtesy of Denver Museum of Nature & Science.
The Tigers had a great fall season. Volleyball earned their 22nd consecutive appearance in the NCAA Division III Women's Volleyball Championship and will play their first match against Whitworth University today, Friday, Nov. 15, at 12:30 p.m. ET, at Emory University in Atlanta. Men's soccer earned their first NCAA Tournament berth since 2012 and will play Gustavus Adolphus College on Saturday, Nov. 16, at 3:30 p.m. CT, at North Park University in Chicago. Both men's and women's cross-country teams won the SCAC Championship for the first time since 2016 and will compete at Division III West Regionals this weekend in Claremont, California. Go Tigers!
Students are now enjoying a well-deserved block break as we prepare for the final block of the fall semester. As we approach the holiday season, I am reminded of how fortunate I am to be a part of the Colorado College community. And I am grateful to you, our parents and alumni, for all that you do to support our students!
Best regards,

President Jill Tiefenthaler