Fall 2011 Welcome Letter to the Community
Sept. 6, 2011
Dear students, faculty, and staff,
Welcome to Colorado College's 2011-2012 academic year! I am honored and grateful to be here as your 13th president. Like me, there are several new members joining our community. I hope that they feel the warm welcome that my family and I have experienced in recent months. This place is one of the friendliest and most inviting environments I have encountered.
For most of us, summer allows for some relaxation and leisure. I hope each of you were able to spend time with family and friends. This summer, my family made several stops as we drove from North Carolina to Colorado. One of the highlights of our trip was camping in the Badlands and Black Hills in South Dakota where we fished (actually Kevin and the kids fished while I read), hiked, and enjoyed evening bike rides. Since arriving at CC, we traveled to Glenwood Springs, where we kayaked on the Colorado River. This trip reminded me again of how fortunate I am to be at Colorado College and in the beautiful Rocky Mountain region.
Updates on Key Campus Initiatives
Over the summer, there were many campus improvements. One of the most visible changes is the Worner Center renovation. I hope that this major project provides new flexible spaces to meet student needs, as well as a more enjoyable dining experience at Rastall. The official ribbon cutting for Worner will be Friday, September 9, at 10 a.m. on the south patio outside Rastall. Many thanks to our facilities staff members who spent countless hours preparing Worner, as well as other spaces, for the new academic year.
Further enhancing the quality of student life, many of our residence halls and theme houses also underwent needed changes. We completely renovated the public spaces of McGregor Hall. At Blanca Student Apartments, we began the first of multiple phases to repair and upgrade the student apartments' finishes, flooring, and kitchens. And many of our language houses underwent extensive work to address accessibility needs. Thanks to our residential life and housing team for constantly thinking of ways to enrich our campus life experience.
We recently launched our new website. As the first introduction to CC for many people, it is important that the website is a positive and authentic reflection of who we are. I hope you will join our efforts to move your group's pages to the new look and content management system. I am extremely grateful to Karen To, Mark Lee, the entire communications team, and the information management division for their hard work on this project. (As an aside, in conjunction with our new website, I hope you will follow my new blog as I give snapshots of my life as president of CC).
An update not readily apparent is the recent acquisition of the Conoco gas station at the corner of Cache La Poudre Street and Nevada Avenue. While there are no current plans for the property's development (other than additional parking), it is important that we think strategically to secure opportunities to enhance the college's offerings for the future.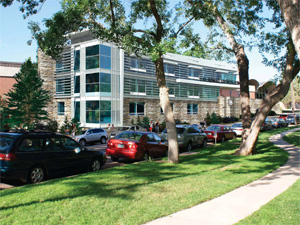 The college's athletics department had a busy summer. We are scheduled to begin construction on the front addition to the El Pomar Sports Center in October. If we can raise the remaining needed funds, the full renovation and fitness addition will begin this spring, with a scheduled completion in April 2013. Also, as many of you know, this summer we became a founding member of the National Collegiate Hockey Conference. This new league promises to provide some of the best collegiate hockey competition starting in the 2013-2014 season.
Finally, we need to begin the search process for several positions including: dean of the college/dean of the faculty (Susan Ashley announced last May that she will return to her full-time teaching role in the 2012-13 academic year), library director (Carol Dickerson will retire as of June 30, 2012), and director of campus safety (Ron Smith will retire as of June 30, 2012). Please join me in thanking Susan, Carol and Ron for their hard work and dedication to CC.
The Year of Listening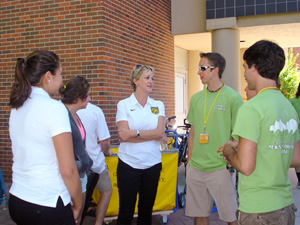 This year is an important year for all of us, and especially me. As we begin to think about the future of Colorado College, we must think about our strengths, challenges, opportunities, and aspirations. Securing a strong future requires having a shared vision. To this end, I will be spending my first year listening — listening to our students, faculty, staff, alumni, parents, and friends.
I have developed five questions to guide our conversations:
What do we need to think about to provide the best liberal arts education for this generation of students?
In what way is CC distinctive from other colleges?
What does CC need to improve?
How would you like to be more involved with the college?
What are your ambitions for Colorado College?
Please feel free to visit The Year of Listening web page to provide comments. Also, students, please visit me during my student open office hours in Worner Center's Perkins Lounge.
I am thankful to be in a place with such great strength, yet ample opportunities to become even better. I eagerly look forward to an exciting and productive year!
Best regards,
Jill Tiefenthaler
President