Block Break 1 2015 e-newsletter
September 17, 2015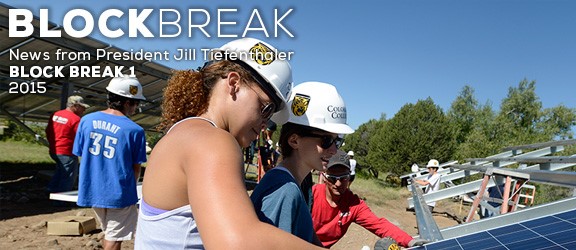 Dear Alumni and Parents,
Another academic year is underway at Colorado College. It is always exciting to begin the school year because we are reinvigorated to pursue our shared mission — providing the finest liberal arts education for our students, guided by our strategic plan.
This plan focuses on building upon our strengths — providing additional support to our pioneering Block Plan, enhancing our special place of learning, and nurturing our creative and innovative culture. During the past several years, CC has experienced many successes, from providing additional financial aid for blocks abroad, to supporting field study, to becoming a more sustainable community.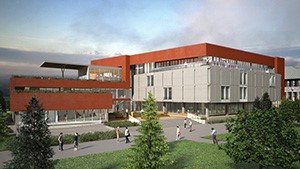 With our plan providing the foundation, three key initiatives will take center stage this year — improving our facilities, continuing our work on building a diverse and inclusive campus, and supporting innovation and creativity.
Carrying out our educational mission and attracting top students and faculty requires excellent academic and residential facilities. Last spring, we completed our Campus Master Plan, which guides small projects, like the Cache La Poudre plaza, and large ones, including the planning for an East Campus residence hall and the renovation and expansion of Tutt Library. In addition to finalizing the design for our library, this year we are making plans for 2016-17, when we will be without this intellectual hub of campus. We need to raise an additional $6 million in commitments before we can break ground, hopefully after Commencement in May 2016.
The small classes, engaged classroom environment, athletic teams, co-curricular activities, and residential life that define a CC education are far richer when our students are from different backgrounds, cultures, and places. We have had great success in diversifying our student body. Support for financial aid, like the Walton Family Foundation $10 million challenge grant that we just completed and the new $10 million bequest challenge from an anonymous donor announced this summer, is key to continued progress.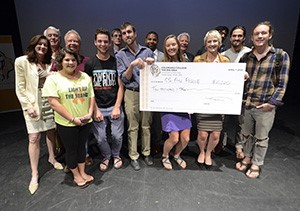 You may have heard that CC was recently ranked by Forbes magazine as the third most entrepreneurial college in America. This ranking is based on what our alumni do — and a high percentage of you have founded or run businesses and nonprofits. Our innovation program will build on this tradition of attracting and developing students who think out of the box, take risks, and try new things.
As we wrap up Block 1, it is already a great year at CC! I invite you to be a part of our continued progress.
With warm regards,
President Jill Tiefenthaler