Block Break 7 - President Tiefenthaler's E-Newsletter
April 18, 2015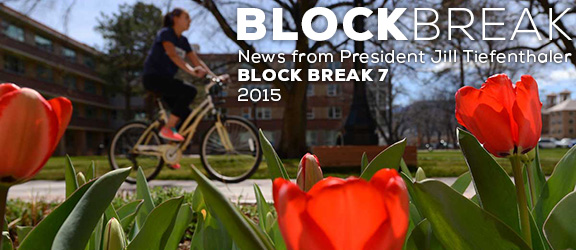 Banner photo by Bryan Oller
Dear Alumni and Parents,
It's that time of year when awards and recognitions roll in and seniors share news of exciting fellowships, graduate school admissions, and job offers. The adventures ahead for our students are inspiring! I'd like to share a few of their stories.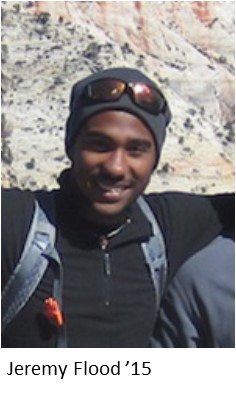 Jeremy Flood '15 will work on voter outreach and registration on college campuses and underrepresented communities for New Era Colorado. This non-partisan organization has partnered with CC's Public Interest Fellowship Program for three years, and former Fellow Lizzy Stephan '11 is their Denver organizing director.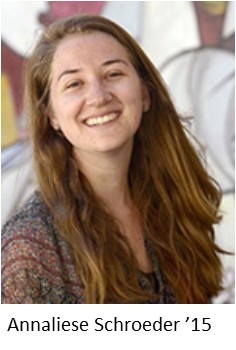 Annaliese Schroeder '15 has been awarded a Fulbright Scholarship in South Korea. During her Fulbright year, Annaliese will work as an English teaching assistant, seeing first-hand how the high esteem for education in that country affects the secondary school classroom.
Nicole Pey '15 is heading to New York City to work for UBS. She will join their Wealth Management Graduate Training Program with 30 other recent college grads. Nicole reports, "Within this rotational, two-year program I will be an analyst for various groups, from market research, to business strategy, to philanthropy. I'll spend an intensive three months in each group — kind of like continuing the Block Plan in New York!"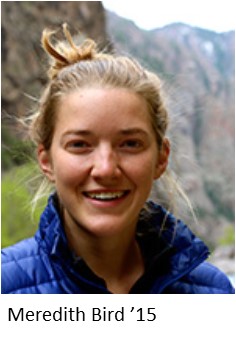 Political science major Rosa Baum '15 is taking a job with consumer protection law firm Kenmitzer, Barron & Krieg. Her position will give her a broad view of the firm's work, and will include doing everything from clerical work, to reading financial documents, to helping the firm expand their outreach into Latino communities
Meredith Bird '15, a Southwest studies major, drew on her experiences with Colorado Springs Food Rescue, NSO trip leadership, and the Outdoor Recreation Club to plan a compelling adventure on a serious topic as a Watson Fellow. Her project will take her to Spain, India, Tanzania, and Uganda to study food inequality.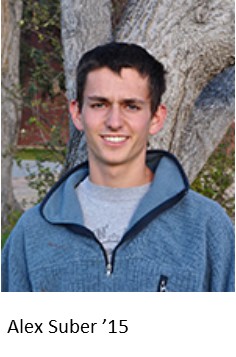 Another Watson Fellow, Alex Suber '15, will travel to China, South Korea, Japan, India, and Egypt to explore the impact of storytelling in cinema on building empathy across cultures and nations.
These are young people who are ready to take their next steps. They have developed the can-do confidence, liberal arts skills, and work ethic to create new paths forward. I am so proud of our graduating seniors! Commencement is just around the corner. It's a bittersweet moment, but one filled with so many great stories.
In this season of recognition, I hope you will keep watching for updates from campus. There is much good news and I am eager to share it with you.
With warm regards,
Jill