Block Break 6 - President Tiefenthaler's E-Newsletter
March 13, 2015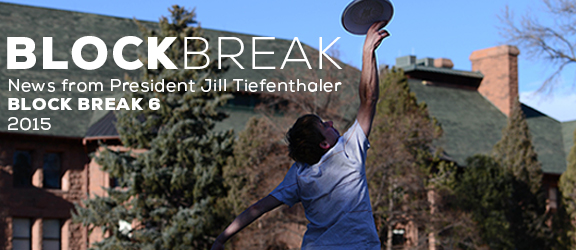 Dear Alumni and Parents,

We started Block 6 with our First Mondays program featuring Jennifer Michael Hecht, author of "Stay: A History of Suicide and the Philosophies Against It." She talked about cultivating hope for our future selves as a trait to help prevent suicide. The day's events culminated with small groups of students, faculty, and staff across campus and in faculty homes engaging in conversations over dinner. Programming that drives vital conversations like these has drawn recognition and praise for CC's Wellness Program.

Our Mental Health First Aid program, for example, was honored by Mental Health America - Colorado this year at their annual Tribute Gala. This distinction identified CC for our holistic approach to supporting student mental health and wellness. Very few institutions of higher education, large or small, take our broadly collaborative approach, one that we think aligns especially well with the personal and challenging education that occurs on the Block Plan.

The Mental Health First Aid course introduces students, faculty, and staff to risk factors and warning signs of mental health problems, builds an understanding of their impact and reviews common treatments. Participants in the course come away with a five-step action plan to assess the situation, select and implement appropriate interventions, and help an individual in crisis connect with appropriate professional care.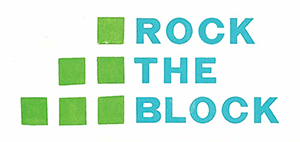 Among the many strengths of our award-winning program is the way we connect mental health risk reduction to mental health promotion activities. For example, the "Rock the Block" workshop series that began this year includes sessions on stress and anxiety management, as well as sessions on time management and speed reading. It isn't just about solving problems or addressing issues, but rather, the series is devoted to helping students develop skills for success and well-being. A variety of conversations provides multiple connection points for students to the diverse resources we have in place.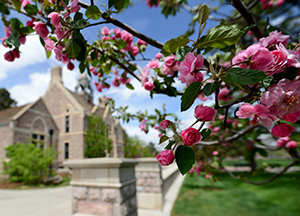 The definition of student success at Colorado College includes GPA and academic honors as well as walking across the stage at graduation. However, it also means developing our students as whole people who live healthy, positive lives of meaning and contribution. We want students to connect the dots between different aspects of their lives, such as how substance use, diet, sleep, and exercise may affect their relationships and academic success. A commitment to connecting what our students learn in the classroom to how they live their lives is central to a CC residential liberal arts education.
Best Regards,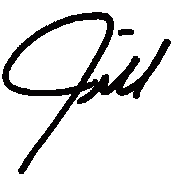 Jill Tiefenthaler