Block Break 3 - President Tiefenthaler's E-Newsletter
November 21, 2014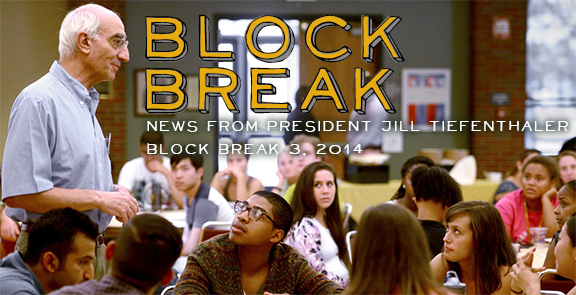 Dear Alumni and Parents,

In one of my October blog entries, I shared the findings from a recent Gallup poll that indicate that students who felt supported by a mentor during their college years were more likely to be thriving in overall well-being later in life.

On CC's small, residential campus, there are ample opportunities for such mentoring. In this setting, our students interact with lots of caring faculty and staff. The Gallup poll validates that what we do here at CC makes a real difference. We talk a lot about the difference that our faculty make in our students' lives, and I want to let you know that our staff also play a key role in supporting our students.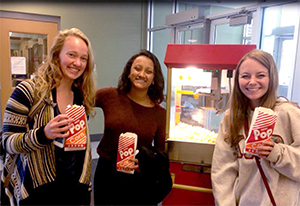 From residence halls to Rastall, over papers in the Writing Center, through work-study jobs, and intramural athletics – our students form strong, positive, mentoring relationships with college staff members. The special role our staff members play with students is a big part of why we take staff hiring and professional development as seriously as we do.

A key element of our strategic plan is workplace excellence. Among the initiatives that are part of this strategic priority, our new Excel@CC professional development program encourages our staff members to develop exceptional communication skills, to grow as leaders, to better understand our students, to foster a climate of diversity and inclusion, and to build strong supervisory skills. Each of these multi-session programs helps staff to better contribute to our mission of "providing the finest liberal arts education." And over 60 percent of our staff have responded by enrolling in these courses.

Many of our staff bring professional expertise to the table to engage our students. For example, our strategic initiative for sustainability brings students together with facilities and grounds staff members — professionals with backgrounds in energy management and engineering, as well as plant science and design — in partnership with our sustainability program staff, and faculty members from a variety of academic disciplines – all for the common purpose of making the CC campus more sustainable. Together, they are accomplishing great things for CC and, according to the Gallup poll, this type of shared experience contributes to a bright future for our students.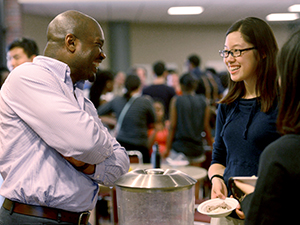 Prioritizing the ability of our people to do their very best for – and with – our students is just one piece of our strategic plan. As alumni, parents, and friends, your encouragement and support of the college means so much. Your interest in what we are doing, your willingness to provide opportunities and mentoring for our students, your eagerness to share Colorado College with prospective students and donors, and your own giving in support of our vision allows all of us at CC to make differences that matter to our students. It is my great pleasure to share these updates with you!
Best regards,
Jill Tiefenthaler