The Inauguration of Jill M. Tiefenthaler, Ph.D.
Colorado College's 13th President
Jill M. Tiefenthaler was inaugurated as Colorado College's 13th president on September 22, 2012 at Shove Memorial Chapel. Find out more about the inauguration ceremony or read the acceptance address transcript.
Inauguration Photos
See the photo galleries on Google+ or Facebook.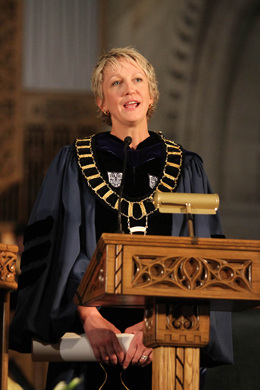 Jill Tiefenthaler, the 13th President of Colorado College, addresses the audience at inauguration.
News Stories, More Information & Links