Building On the Block: Our Progress May 2014
May 9, 2014



Our Progress ✓
We continue moving ahead in the implementation phase of our strategic plan. You will see clear indicators of completed projects and detailed action steps on our progress page, Building on the Block: Progress.

This month, we are excited to share key updates on the following four elements of our plan: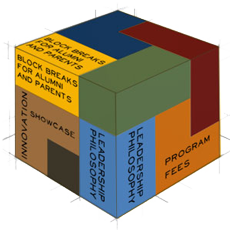 CC took the first steps toward our goal of making the full academic experience available to all students regardless of income, through elimination of program fees. In the 2013-2014 academic year, CC awarded $203,450 to 78 students who participated in a "block away" course to cover fees. This program funding will continue in 2014-2015.

Led by leaders from six of CC's co-curricular programs, the college held its first Innovation Showcase April 7-9. More than 400 students, faculty, staff, and community members celebrated the power of the Venture Grant, the impact of the State of the Rockies Project, and the entrepreneurial spirit that drives the Big Idea.

Our Leadership Philosophy Action Team finalized a Leadership Philosophy, defining what leadership should be at CC, and that philosophy will now guide the formation of the college's professional development program in our pursuit of workplace excellence.

On March 30, 32 alumni and friends traveled to Cuba for nine days, soaking in history, culture, and Cuban perspective during CC's first special block break. 12 new programs are in the works for 2014-2015.

For a more comprehensive look at our progress and the complete strategic plan, visitThe Colorado College Plan: Building on the Block.