Block Break 8 - President Tiefenthaler's E-Newsletter
May 21, 2014



Dear CC Alumni and Parents,

Colorado College students are thinkers and doers. Their energy, confidence, and creativity — and what they achieve as a result — amaze me.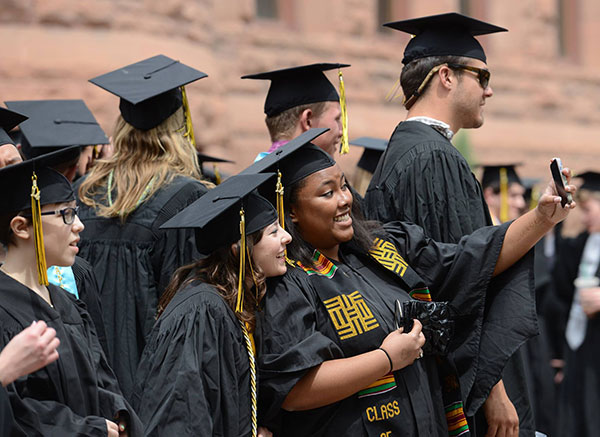 This past weekend, I reflected on the accomplishments and potential of our students as we said goodbye to the Class of 2014. This was an exceptional class and the Commencement activities were a wonderful celebration of their CC experiences. In his thoughtful speech, "Sisyphus on the Block Plan," Wes Brandt '14 stressed that CC graduates are prepared for life's ambiguities and uncertainties.

In her Baccalaureate address, "Losing my Religion," Professor of Psychology Kristi Erdal reminded students that much of their growth results from losing or reevaluating previously held beliefs. And Commencement speaker Jane Lubchenco '69, former administrator for the National Oceanic and Atmospheric Administration, challenged the class to be bold and seek unconventional solutions.

The Class of 2014 designated their class gift to a scholarship in honor of their late classmate Reuben Mitrani. I gave them a challenge: if they raised $5,000, my husband and I would donate $10,000. I'm thrilled that the Class of 2014 exceeded their goal by donating nearly $6,500 to the Reuben Eli Mitrani Scholarship Fund. Thanks to their generosity and that of others, the fund has raised approximately $60,000.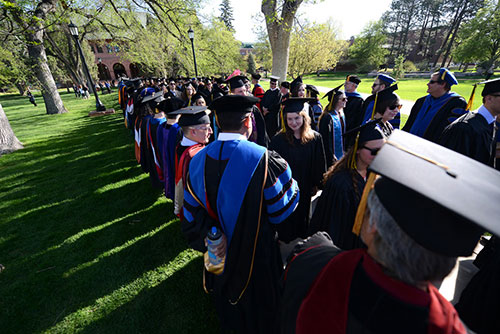 CC students are driven to make positive change and reach the heights of their academic pursuits, and during the 2013-2014 academic year, they outdid themselves in many ways.

In the fall of 2013, three sophomore students, Shane Lory '16, Sanjay Roberts '16, and John Orrell '16, noticed the food waste that comes out of Rastall Dining Hall each day. They began biking the unused food to the Marian House Soup Kitchen. Now, they have more than 30 volunteers for the Colorado Springs Food Rescue, the nonprofit they founded. The organization has delivered more than 10,000 pounds of unused food already this year.

Several students received prestigious awards and scholarships this year. Esther Chan '16 was awarded a Cultural Vistas Fellowship that will take her to Singapore this summer. Jessica Badgeley '15 was named a Goldwater Scholar and Gautam Webb '15 received a Goldwater Honorable Mention. The Goldwater is considered by many to be the top scholarship for students interested in pursuing careers in research science.

Eugene Tan Perk Han '14 has been selected for the Junior Fellows Program at the Carnegie Endowment for International Peace and Alexander Langstaff '14 received a Fulbright English Teaching Assistantship in Georgia. Benjamin Munyao '14 received the Thomas J. Watson Fellowship for his project titled, "A Walk to Manhood: A Look at the Interplay Among the Society, the Youth, and the Elders."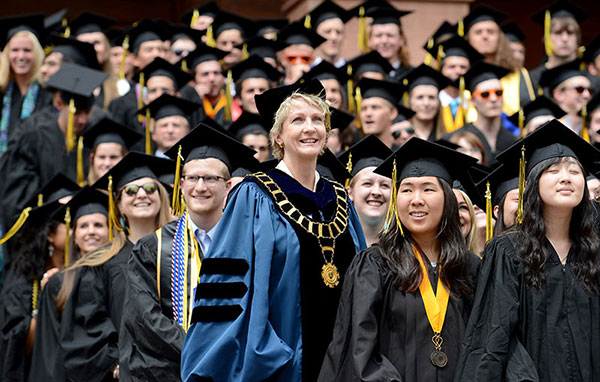 The same spirit of innovation that pushes our students also drives our faculty. This year, in addition to their dedicated teaching, many faculty members received grants, published books and articles, and showed their creative work. For example, Phoebe Lostroh (Biology) and Kristine Lang (Physics) received a $507,653 grant from the National Science Foundation to study how soil bacteria build a "machine" to bring in DNA from their environment. Jared Richman (English) was awarded a fellowship from the Folger Shakespeare Library in support of his project, "(In)audible Bodies and (In)visible Voices: Elocution and Disability in the Long 18th Century." Sarah Hautzinger (Anthropology) co-authored the book, "Beyond Post-Traumatic Stress: Homefront Struggles with the Wars on Terror."

Congratulations again to the Class of 2014! And thanks to their parents and families for supporting their CC educations. I wish you an enjoyable summer. We will be busy here with Summer Session and our wonderful Summer Music Festival. I look forward to welcoming all of our students to campus in the fall.

Best regards,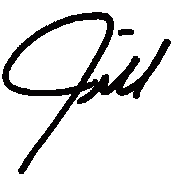 Jill Tiefenthaler