Block Break 2 - President Tiefenthaler's E-Newsletter
October 25, 2013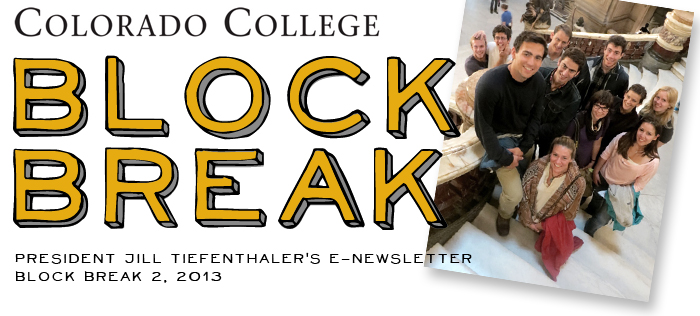 Dear Alumni and Parents,
Imagine reading William Faulkner, and then stepping into his world. Think about walking past the huge cedars leading to his home in Oxford, Miss., and right up to the old Underwood typewriter upon which he wrote some of America's greatest books.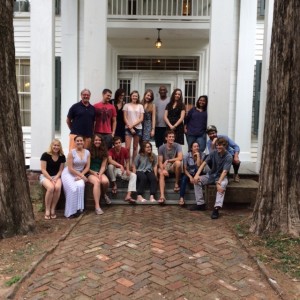 Or exploring Orientalism in Paris, viewing world-famous examples right in front of you each afternoon at the Louvre.
Or trekking through the Garden of the Gods with your Ecology class while researching erosion patterns.
If you're a CC student, these amazing adventures were just some of the options available to you in Blocks 1 and 2. Yet we will create even more of these opportunities and make them more accessible as part of The Colorado College Plan: Building on the Block:
We will create a Center for Immersive Learning and Engaged Teaching that will, among many things, support faculty who have exciting ideas for enhancing their courses with field study; and
We will eliminate the special fees that accompany many of these courses so all students can participate.
Here are a few examples that illustrate the power of field study: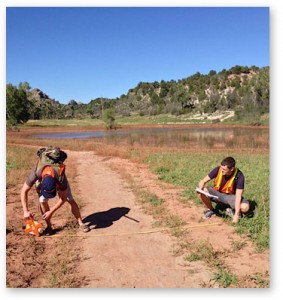 A First Year Experience (FYE) course in the Music Department co-taught by Professors Michael Grace '63 and Ryan Banagale '00. Their deep knowledge of the emotion and meaning of music was shared in a two-block course that had students in the classroom, in the concert hall for both classical and rock music, at CC's Baca campus, and with special visitors engaging the class. Read about and see pictures of their amazing music journey here.
Study in the field is an important component of geology, biology, and other science classes at CC. Students get hands-on research experience in courses like Professor Emilie Gray's ecology course. Emilie, assistant professor of biology, took her students to the Garden of the Gods to study invasive and native species and the effects of social trails on their distribution patterns. Emilie's students also participated in a field-based study at Fountain Creek in Manitou Springs, Colo., where they investigated the effects of urbanization on the diversity of aquatic macro-invertebrates in the stream.
Professors Gale Murray (Art History) and Tip Ragan (History) taught Block 1 in Paris. Their interdisciplinary course explored art and cultural history in the city of lights in the 19th century. With the city as their laboratory, students built a base of expertise much more quickly than they could in a similar course on campus. Their engagement with their professors, each other, and the people and places that they encountered was invigorating. Read more about this class here.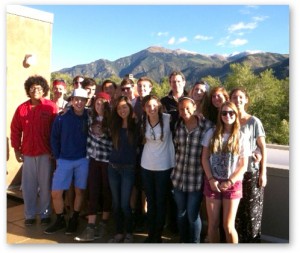 In addition to the special opportunities for study abroad offered by the Block Plan, students also join faculty "afield" across the U.S. As Professor Barry Sarchett (English) explains: Because few CC students have come from the Deep South, studying Faulkner in the midst of the unique culture, geography, and history that was so important in his works adds a real depth of understanding. Read more about this class here.
When Professors Esteban Gomez (Anthropology) and Dick Hilt (Physics) mix studies of early cultures with understanding the movements of the heavens, connections are made. Through class discussions, laboratory assignments, and extended time in the Four Corners area of the Southwest and at our Baca campus, students see that understanding the questions we ask about humanity, and the answers we accept, require an interdisciplinary approach. And yes, there is math involved!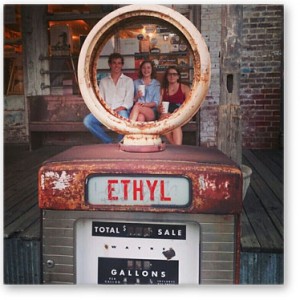 Recently, the college received an $800,000 grant from The Andrew W. Mellon Foundation. Part of their investment will be used to create an Office of Field Study, which will be housed in our new Center for Immersive Learning and Engaged Teaching.
I encourage you to stay up to date on our plans to enhance CC's special learning opportunities. Read more about our strategic plan at www.coloradocollege.edu/theplan.
Best regards,
Jill Tiefenthaler