Use Banner with Single Sign-In
Now that Single Sign-In is live, you no longer need to enter your Banner ID and password for accessing Banner INB, nor your employee ID and PIN to access Self Service Banner (SSB) in the PROD and TEST environments (TEST is currently not working, but that's temporary).
You will now use your network username and password (same one you use for email) to access PROD and TEST via Single Sign-In.
Logging in to Single Sign-In:
Once you go to https://www.coloradocollege.edu/ssi, you'll see a screen that looks like this: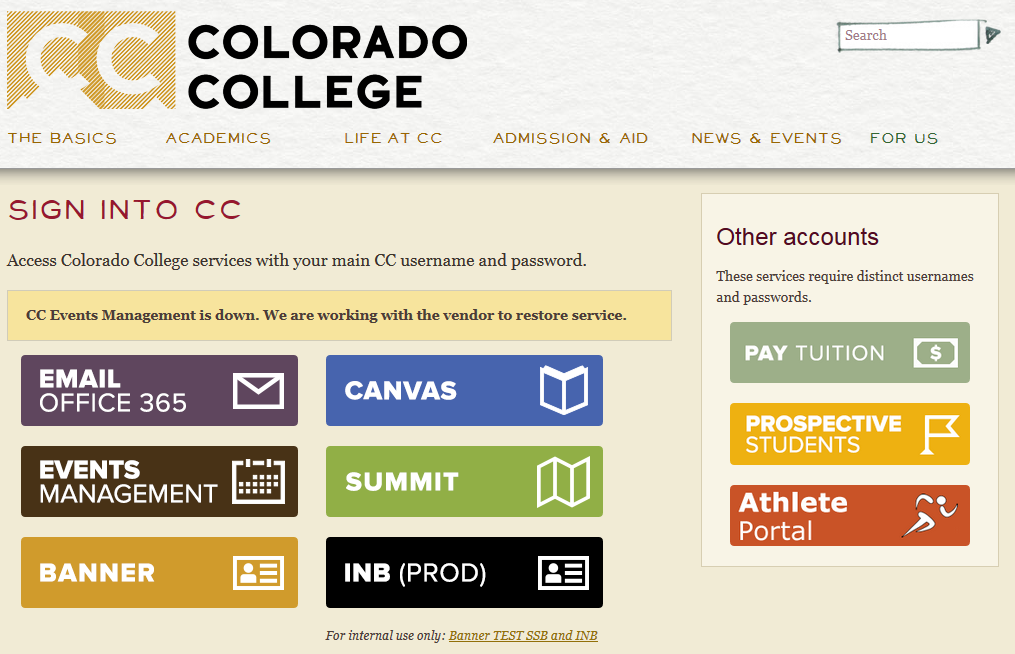 ---
Access Banner PROD by clicking the Banner or INB (PROD) buttons - you'll be asked to sign in with your regular CC username and password.

Access Banner TEST by clicking the small link below the buttons and then selecting either Banner INB or Banner SSB.

To access Banner TESTREP, PPRD, or DEVL, visit https://www.coloradocollege.edu/banapp/ and login as you used to with your Banner ID and password.
You'll see the following screen the first time you sign into INB PROD - enter your Banner PROD INB username and password and click save. This is a one-time setup and you won't see it in the future: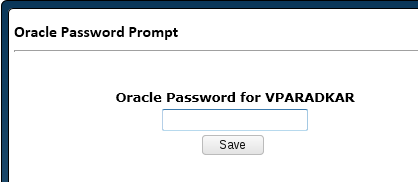 Banner Single Sign-In Q&A
Why do I need two URL's to access all of my Banner environments?
Only Banner PROD and TEST are currently configured for Single Sign-In. You will be notified when other Banner environments become available through Single Sign-In
Can I still access Banner from my bookmarks?
No. Please delete your existing Banner bookmarks and/or favorites to prevent login problems. You should access Banner environments using only the two URL's provided:
For PROD: https://www.coloradocollege.edu/ssi
For TESTREP, PPRD and DEVL: https://www.coloradocollege.edu/banapp/
How do I access Banner off-campus?
Use the VMware View system to access Banner from off campus.
There are several combinations of messages and pop-ups that may appear depending on the browser and java version you are using. Here are the most common pop-ups with the correct responses circled in blue: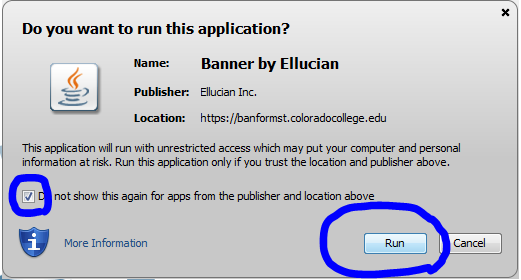 Why does a blank page open (and stay open) when I launch INB?
After you launch INB, your browser window will display a URL similar to the one below: https://banformsp.coloradocollege.edu/forms/frmservlet?config=prod&otherParams=IAMTICKET=06F541E8404A6D0BEBF4E8A684BC34
This empty browser window is required for your INB session. If you close this window, your INB session will close.