Install MS Office for free
All current students, current employees, and emeritus faculty can download the full Microsoft Office suite for FREE as part of our Office 365 program on up to 5 Windows PC, Mac OS, and mobile devices.
You can use Office for free as long as you're currently a CC student or employee, or an emeritus faculty. After graduating or leaving employment, Office will switch into read only mode, and you won't be able to edit any Office documents until you provide a different license activation key (either by purchasing one directly or by getting a license from a different organization).
Taking advantage of free Microsoft Office is easy. Log into your CC email, and click on the "waffle in the upper right corner and select "Office 365"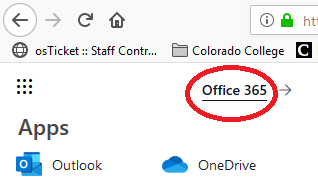 Select "Install Office" and then "Office 365 apps" to start the download.

NOTE: these instructions are for installing Office on a Mac or PC computer. For your smartphone or tablet, you can find apps in the App Store / Google Play store; just search for "Office Mobile" from Microsoft.
After installing Office and when you run it the first time, you will need to log in with your CC email address and password.
Example: Jane Doe
username: j_doe@coloradocollege.edu