Qualtrics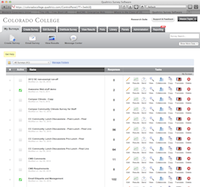 If you need to create a survey (whether paper-based or online), you'll want to use Qualtrics. This service is packed with features and tools to help you create a successful survey. It even has built-in help, called Qualtrics University, so that you can learn as you work on your survey.
It's web-based, so you can use it on or off campus and every student, faculty and staff member can create their own account for free!
In the summer of 2020, Qualtrics will become Single Sign-In-enabled, which means all students, faculty, and staff will access their Qualtrics account through Single Sign-In.
Until then, students, faculty and staff can create qualtrics accounts for free through the sign on page; check out the video below to see how. Student accounts will be deleted after two years of disuse.
View the "How to create a Qualtrics account" on YouTube if you have difficulty viewing it here. If you have difficulty creating a Qualtrics account, email one of the campus Qualtrics administrators.