Connect to another mailbox
You may need to monitor another inbox for a department or for a particular person. These instructions will show you how to connect to another inbox.
Note: The other person or department will need to give you permission to access their inbox and any folders within the inbox. If you need help with this, you can contact the ITS: Help Desk (x6449).
Instructions for Office 365 Web Mail (OWA)
Right-click or option-click your name in the left side folder list
Choose "Add shared folder..."
Type the name of the mailbox or person in the box, and click "Add"
The shared mailbox then shows up in your folder list at the bottom
Instructions for Outlook 365 on a Mac
Go to File > Open > Other User's Folder
Type in the name of the mailbox or person
The shared mailbox then opens up in a new window
Instructions for Outlook 2010
Go to File > Account Settings > Click Account Settings again
Click Change...
Click More Settings
Click the Advanced Tab, then click Add
A window that says "Add mailbox:" will pop up. Here, type in the name of the person or department that you want to connec to the inbox for. If you don't know a full name, type in what you know, and a search will pop up to help you. Click OK when you're done. Click OK to close the window and hit the red X to close the other Account Settings windows and get back to Outlook.
You're done, and will now see the other inbox under your inbox in Outlook.
---
Troubleshooting:
Wait, I don't see any folders under the other inbox! I get this error!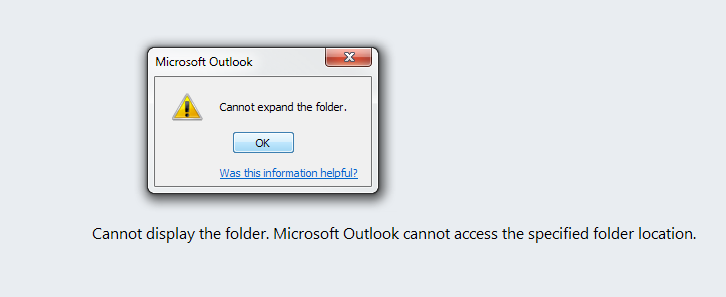 If this happens, the other person or department needs to give you the proper permissions to connect to their inbox.
The other person needs to right click their inbox, then click properties, then the permissions tab. They will need to add your name and select a permission level for you. They will need to do this for each folder under their inbox that they would like you to have access to.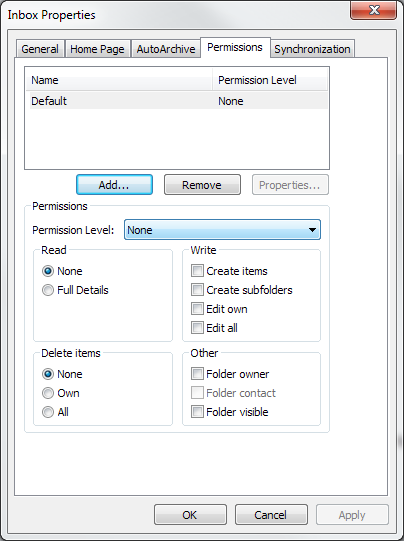 719.389.6449
ITS@ColoradoCollege.edu
Help Desk in Tutt Library basement
Mon - Fri: 8:00 - 5:00