Health Assessments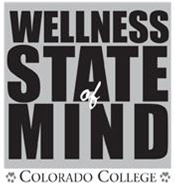 At Colorado College, we realize the daily demands of life and work can make it hard to live a healthy lifestyle. We appreciate you as an employee and want to provide you with the tools and support you need to be healthy and well.
We have partnered with Cigna to offer the on-site biometric health screenings in the fall and spring, on-line health risk assessment surveys, and other wellness information that is available on their website; mycigna.com.
The WELLNESS STATE OF MIND - HEALTH ASSESSMENT

With the completion of the biometric health screenings offered in October and March, the next healthy lifestyle activity available is the completion of a Health Assessment.

What is the Health Assessment?
For Cigna plan participants, using the Cigna interactive Health Assessment is an effective way to manage and monitor your health and wellbeing. The results are based on your answers to multiple-choice questions. When you've completed the survey, a personal report is provided within their secure website. The report is based on the combination of answers you gave in the health assessment and your personal profile, which you provide in the registration process. The report provides an action plan of practical tips and advice you can implement to improve your health and wellbeing.

How can I benefit from taking the Health Assessment?
Maintaining good health can be challenging. The Health Assessment provides an easy method for you to identify your healthy and unhealthy behaviors. With the information you receive in the report after taking the assessment, you can learn how to change undesirable behaviors and continue to support those that contribute to good health. You can also review prior health assessments you have completed to see how your health scores change from year to year.

Where can I find the Health Assessment?
The Health Assessment is located on www.myCigna.com. Just click the Manage My Health tab, click on My Health Assessment and then choose the Take My Health Assessment link.

How do I take the Health Assessment?
- Update your profile if needed, when you sign in.
- Complete the Health Assessment, which takes about 20 minutes.
- When you take the assessment, it would be helpful to have the lab results from a recent physical evaluation available, including your height, weight, waist circumference, blood pressure, total cholesterol, HDL and LDL levels.
Upon completion, you'll get immediate feedback, with a report on your current health and wellbeing. You can read it online or print it out to read later, file, or take to your doctor. In order to maintain an up-to-date evaluation of your health and well-being, it is suggested that you retake the Health Assessment every six months. Only you have access to your health risk assessment results and your results are maintained on your password-protected page for viewing and comparison over time.
For non-Cigna members, below is a website that offers a Health Assessment at no charge and that can help you manage your health and wellbeing.