Loomis Hall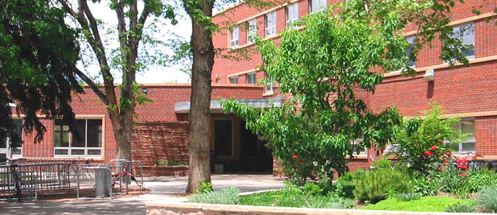 ---
Loomis Hall, named after the first Dean of Women at Colorado College, houses 262 students and is almost always buzzing with activity. The centrally located, co-educational hall offers great opportunities for involvement and access to campus resources. Loomis Hall is designated as a First-Year majority hall.
The building was built in 1951 and renovated in 1995 and is divided into 12 wings of about 20 students each, with one RA per wing. One of these wings is designated as all female-identifying. There are four complete kitchens, a classroom, a TV lounge, laundry facilities, and places to hang out with friends.
The lounge in Loomis is great for community gatherings and is equipped with a fireplace and a piano. There is a classroom in the basement of Loomis that provides additional meeting and study space.
Fact sheet for Loomis Hall, one of the primary residences for first-year studentss

1104 North Cascade Ave


Yes; Piano, Fireplace, Flat-Screen TV


Halls: Substance-Free (126-149);

All Female-Identifying (001-013)


Foosball Table, Ping-Pong Table


HEAT ONLY


Residential Living Coordinator: 1

Exterior: Swipe Card;

Interior: Key

Classroom, Computer Lab, Radio Station

Loomis Hall Single Room
Loomis Hall Double Room