2021 International Education Week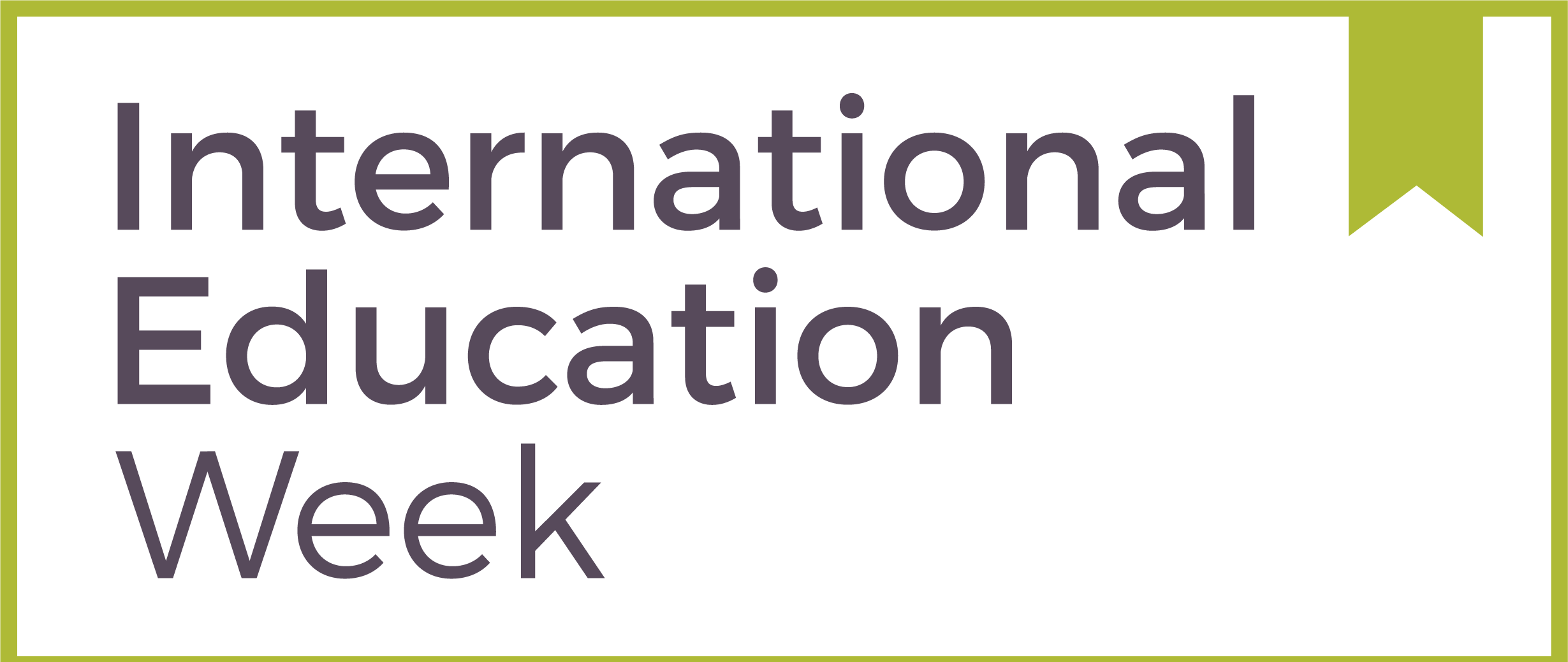 Welcome to Colorado College's Celebration of
International Education Week 2021.
IEW is designed to celebrate the global reach of education, the presence of students from around the world on our campus, and the expansion of our campus to cultures and destinations around the world through Education Abroad programming.  This week we hope to highlight the people, organizations, events, and opportunities which make Colorado College a global community and a point of departure for students to explore difference, cultures, and their own place in the world. We hope you find many of the planned activities intriguing and engaging.  
---
This page highlights our Calendar of Events for the celebration and will provide links where you can sign up for different panels, presentations, and events.  Due to the ongoing COVID-19 pandemic, our events this year will take place in virtual spaces, so we recommend reserving a spot in the virtual events which interest you, and then sharing your experiences in these events with your friends, classmates and others. 
---
The Center for Global Education & Field Study would like to recognize that we celebrate IEW on our campus, which is situated on unceded indigenous lands.  The state of Colorado has 48 distinct native tribal communities which share our land and have been caretakers of this land for generations.  We recognize native peoples here and around the globe as part of the global community which IEW aims to celebrate. We cannot celebrate International Education without acknowledging the essential contributions and ongoing story of native peoples in Colorado, the United States and around the globe. 
---
We also recognize that February is Black History Month, and we wish to acknowledge that the cultures, languages, traditions, peoples and movements of Africa and the African Diaspora form a vital part of the global community as well as our nation.  We celebrate the countless ways in which their presence, their struggle, and their lives are essential to the past, present and future of our nation, our world, and all of our lives as part of a global community. We cannot celebrate International Education without acknowledging the historical inequities and injustices which exist as well as the incredible contributions, innovations, and inspirations which continuously emerge from Africa and the African Diaspora.
---
Thank you for being a part of International Education Week.   
All of this weeks events are free. 
All can be accessed from anywhere in the world. 
We welcome our students, faculty and staff from across campus, across the USA and around the globe
to be a part of this celebration. 
---
2021 CALENDAR OF EVENTS   
(All Program Events are listed in Mountain Time)
FRIDAY, FEB. 5


9:00-10:30pm

 

 

 

 

 

FAC First Friday Virtual Dance Party

Kick off IEW early by joining the First Friday Virtual Dance Party with FAC Director/DJ Idris Goodwin.  The event supports CC Mutual Aid and the Chinook Center of Colorado Springs  Sponsored by CC's Alumni & Family Relations and the FAC.  This free event (with a suggested pay-what-you-can donation) is a great way to usher in International Education Week and to support ether CC students by providing funding for students who need support to cover textbooks, rmedical bills, or other costs not included in standard financial aid. 

Please register by February 3 at https://ourcc.coloradocollege.edu/facdanceparty

 

MONDAY, FEB. 8 

3:00-4:30pm

 

 

 

Introducing the Luso-Brazilian Club

The Luso-Brazilian Club will host a virtual introduction to the cultures of the Portuguese-speaking world and to their student-led campus organization.  Pick up some Portuguese phrases, learn about Samba, explore a rich cultural heritage that spans the globe.

MONDAY, FEB. 8 

4:30-6:00pm

 

 

 

Living as an Italian in the USA

Italian House CPC Enrico Perini provides insight on their experience coming from Italy to the United States.  How does he navigate cultural differences?  What challenges has he encountered?  What did he come to love about the USA?

MONDAY, FEB. 8

  6:00-7:30pm

 

 

Beyond Borders: International Community Engagement

Join the Collaborative for Community Engagement (CCE) for a facilitated virtual panel on intercultural community engagement, from the perspective of students and recent alumni. 

TUESDAY, FEB 9 

12:00-1:30pm

 

 

 

CC VIRTUAL BLOCKS AWAY FAIR KICKOFF Q&A

Kick off the application season for 2021-2022 Blocks Away with a Q&A session with the Director of Global Education.  Dr. Bertsche will introduce the programs offered next year and explain the application and aid award process. Following the live Q&A the Virtual Blocks Away Fair will go live at the Global Education website.

TUESDAY, FEB. 9 

3:00-4:30pm

 

 

 

International Students & The Residential Experience

Hear from several international RA's as well as CC's Coordinator for Residential Life International Student Support, Anneke Bruwer, as they discuss transition, cultural difference and residential life from an international perspective.

TUESDAY, FEB. 9 

6:00-7:30pm

 

 

 

 

Working in the U.S.: An International Student & Alumni Panel

Come hear a panel of international students and alumni share their experiences of finding an internship or post-graduation job in the U.S.   Learn what tips they have about the job search and the work culture in an American workplace.  This event is sponsored by the Career Center and the International Student & Scholar Services (ISSS) team in the Center for Global Education & Field Study. 

TUESDAY, FEB 9 

7:30-9:00pm

 

 

 

Spirituality, Religion, and Ritual

Join Chaplain Kate Holbrook and several members of the CC community as they explore the role of ritual in our lives, whether it is shared communal ritual of faith or private individual rituals of well-being, there is a lot to learn about how ritual impacts our lives.

WEDNESDAY, FEB 10

3:00-4:30pm 

 

 

 

Group Storytelling with the German Club

The German Club is inviting students to join them in a storytelling event on February 10th from 3:00 PM to 4:30 PM, as part of International Week. Learn about the genre, its rich history, and hear some of Germany's most beloved stories.  Participants will be invited to join in as part of the storytelling tradition. 

WEDNESDAY, FEB 10

4:30-6:00pm

 

 

 

Living and Working at CC as a Visa-Holder

Hear from CC international faculty and staff as they recount their experience working in the United States, the visa process, cultural differences, and how they view their place in CC and in the American mosaic.

WEDNESDAY, FEB 10

  6:00-7:30pm

 

 

 

 

Break Beat Poetry Workshop (1 of 2 timeslots)

A virtual workshop on the how, what, and why of Break Beat Poetry.  Learn about flow, about using words for social change, and about the history and ongoing evolution of this dynamic poetic genre.  Practice expanding your own voice through this freestyle poetry.

Please register here by February 7 for the Zoom link.

This event will be limited to 20 students due to the nature of the workshop.

THURSDAY, FEB 11

12:00-1:30pm

 

 

 

 

CC Virtual Semesters Away Fair Q&A Kickoff

Join Asst. Director of Global Education Heather Powell Browne as she outlines all the semester abroad options, how to enroll, how aid is used, and where you might travel with CC and our semester partners next school year.  When the Q&A concludes the Virtual Fair goes live on the Global Education website so you can explore all the CC and partner programs offered.

THURSDAY, FEB 11 

3:00-4:30pm

 

 

 

 

Corn and the Maya Akateko People

Meet virtually with CC's Native American Student Assoc. as they explore the Maya Diaspora across the Americas and discuss the symbolic, spiritual, and very real importance of corn in Maya Akateko culture.

Please register here by February 7 for the Zoom link.

 

THURSDAY, FEB 11  

4:30-6:00pm 

 

 

 

Completing a Master's Degree Abroad

Have you considered attending graduate school overseas instead of in the USA?  Learn about the hows, whys and what's of earning a Master's Degree from an international university with representatives of Global Education and the Career Center.

THURSDAY, FEB 11

 Food Pickup: 

4:00-6:00pm

Virtual Event: 

7:30-9:00pm

 

 

Taste of the African Diaspora / Global Black Social Movements 

Taste and Learn about the African Diaspora in his dual-option event sponsored by the Butler Center and the CC Black Student Union.  First, grab some food, as students who sign up will receive a special grab-&-go meal featuring foods from across the African Diaspora.  Then tune in on Zoom for a discussion about Black social movements around the world with Dr. Layla Vincent-Brown, Asst. Professor of Africana Studies at UMass-Boston.  Each event has its own registration, so be sure to sign on for both. 

Sign up for a Taste of the African Diaspora Grab & Go Meal here by February 5. 

Please register for the ZOOM event here by February 7 for the Zoom link.

THURSDAY, FEB 11 

 6:00-7:30pm

 

 

Model UN Virtual Trivia Night

Spend an evening with the Model UN leaders for a fun trivia event testing your knowledge of the world.  This virtual game is sure to challenge and entertain.

FRIDAY, FEB 12 

12:00-1:3pm

 

 

Living & Working Abroad: An Alumni Perspective

Join CC Comparative Literature Alum Lindsay Semel '15, live from Spain, as she explores her experience living and working as a U.S. citizen abroad.

SATURDAY, FEB 13 

7:00-8:30pm

 

 

 

 

 

Lunar New Year Celebration

Join the Chinese Student Association, Asian Student Union and the Chinese Program as they celebrate Lunar New Year.  This live evening event will include singing, dancing, storytelling, and a lottery with prizes.  It is one of CC's great annual cultural events. 

Students can Register here by Feb. 4th to receive food (or electronic cash if off-campus) and a small gift in the mail.

Email rhutchings@coloradocollege.edu if you want to play a small role in a performance.