Private Visits
Private Visits by CC Staff and Faculty Protocol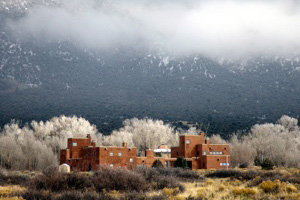 Photo by Steve
1. Private visits by CC staff and faculty are offered as a benefit to CC employees and have "third use priority" (see "Reservation Po1icy"on the Baca Campus website). Please call the Baca Manager, Drew Cavin, at (719) 389-7613 for additional inquiries and information not included on this page.
2. Inquiries and reservations in this category may be made as early as the first day of each block regarding time and space between the first days of each block by calling the Baca Manager at 389-7613. For example, reservations for the winter break may be made on the first day of block 4. After block 8, inquiries and reservations for private visits (when space is available) can be made by calling or emailing the Baca manager.
3. Reservations in this priority category are made on a "first come, first served" basis. When available facilities are filled, a wait list is started.
4. Charges for private visits are determined by:
size of group
facility being used
number of nights of the stay (not to exceed 4 nights), for utility charges ($20 pin from Nov. 1 to April 1; $15 pin all other times)
time of year-see above, "3"
5. After reservations are made and prices are determined by the Baca manager, a confirmation will be sent via email. This confirmation will include the facility the individual party will be staying in, the total cost for the visit, and an address to send a check (to the resident manager at the Baca). This check will hold the reservation, and is not deposited until the visit is actually made. If a visit is cancelled or changed (due to an emergency or the weather), the check will be returned. If a check is not received by the resident manager, the facility will not be opened and prepared for the visiting party.
6. Check-in and check-out times (preferred): 1 :00 PM check in 12:00 PM (noon) check out If guests cannot arrive and depart during the suggested/preferred times ( above), please inform Fred Lipscomb, the college's maintenance manager on his cell: (719) 588-0477 (especially for checking out). This way, the resident manager won't have to keep returning to the Baca campus to lock up and shut down facilities.
7. The Baca is a "no pets allowed" facility.