Community Engagement Recognition Night (CERN)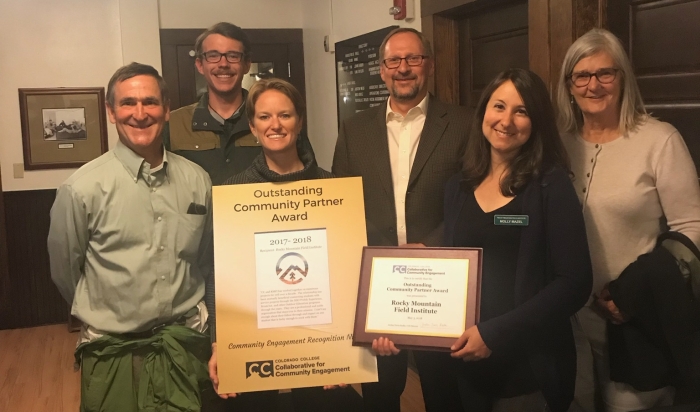 Near the end of each school year, the CCE hosts a community event to celebrate the various ways in which our campus engages in community-based work, democratically invests in shared futures, and develops our students into engaged citizens.
At CERN, we honor those faculty, staff, students, and community partners who have gone above and beyond in contributing to the public good. With over 150 attendees each year, this event serves to affirm and renew energy for a culture that supports community-based work.
Although we weren't able to have the event this year, we are proud to recognize the most recent recipients of the awards below for their outstanding work!
The awards below are accompanied by a cash award generously supported by the Class of 1981.
This year, we also wish to recognize the incredible work our ITS: team has done transitioning so much of CC's courses and culture into an online format in a short amount of time. We are grateful for everything they have done and will proudly be presenting them with a certificate in recognition of their work supporting our community!
Faculty:
Exemplary Achievement in Community-Engaged Teaching
This award honors a faculty member who has integrated teaching and learning with community-based work in meaningful, impactful ways.

2019-2020 Recipient: Florencia Rojo
"In her first semester…Florencia used her Community Based Research class, the first time she had taught it or that it have been taught at all – to do research and report to the CSPD on the police shooting of DeVon Bailey. They did outstanding work and appeared at at least one community meeting to report on their findings. It might have been 'lucky' that such an incident occurred during that block, but what was truly amazing was that Florencia, new to the college and new to the community, was able to martial the appropriate resources and connections to make for a deeply meaningful project – for the students and the Springs! She is AMAZING!" (From Gail Murphy-Geiss)Dr. Rojo leads her Sociology students by examples every day, through her courses, and beyond. Fourth block, I was lucky enough to take "Community Based Participatory Research" with Dr. Rojo. Throughout this class and long after it ended, she guided my group in our contribution to the Justice for De'Von Bailey Editorial Board. During the block, we were asked by the Board to research policing best practices, in order to compare the CSPD and analyze what was causing the high rates of violence. We created a report about accountability and transparency practices, and presented it to the Board. They were so struck by our results, they asked us to present to the greater community a month later, at the first in a series of Law Accountability and Transparency Project events. This event was covered by media outlets, and the Chief of Police even attended. Dr. Rojo enabled us to create real change in the community, and went above and beyond to support us every step of the way…Dr. Rojo is an incredibly valuable asset to the Soc department and CC as a whole." - Nik Chapleski '21
2018-2019 Recipent: Carol Neel
2017-2018 Recipients: Clay Haskell and Dylan Nelson
2016-2017 Recipient: Christina Leza
2015-2016 Recipient: Christina Rader
2014-2015 Recipient: Jessie Dubreill
Exemplary Achievement in Community-Engaged Research
This award honors a faculty member who has applied the knowledge of their discipline and their own expertise to the public good through community-engaged research.
2019-2020 Recipient: Rachel Montgomery Paupeck
"[Professor Paupeck] saw a need, launched a Go Fund Me to raise money for materials, gathered a team, trouble shot the 3-D printers/laser cutters on campus and now her and her team have delivered hundreds of masks to essential front line workers such as EMT's, fire fighters, grocery clerks, police officers, etc. Her and her team have been featured on a couple of local news channels and The Gazette. I truly feel she is building a bridge in the community with this project and has been working long days on her block 'off' since the project started to meet demand." - Dez Menendez, Director of Creativity & Innovation
"Professor Paupeck's original idea was to donate the masks to hospitals. As it turns out, there is an equally pressing need for PPE in indigenous communities, many of which have no protective equipment and no resources to acquire it. Rachel has been working with the elders of the Navajo nation, as well as two other tribal groups, to provide masks and hospital gowns in a total of six indigenous communities. Masks are needed not only at hospitals (where in some cases health care workers were sharing the use a single welding mask) but in nursing homes, grocery stores, gas stations, and other essential businesses. Having worked out how to produce masks, she is now developing designs for hospital gowns and 3-D printed doorknob latches that reduce the possibility of infection in medical and other public facilities. She is also investigating other possible architectural anti-viral interventions for hospitals, such as producing a transparent fabric that can be used to separate medical personnel from patients in exam rooms…For her truly selfless service and for the generous application of her research as a designer and architect to prevent the spread of the Covid-19 virus, I nominate Rachel Montgomery Paupeck for the Exemplary Achievement in Community-Engaged Research Award. I can think of no more deserving recipient." - Jane Hilberry, Professor of Creativity and Innovation
2018-2019 Recipient: Santiago Guerra
2017-2018 Recipient: Gail Murphy-Geiss
---
Staff:
Community-Engaged Staff Award
This award honors a CC staff member who collaborates with communities beyond the campus, modeling to students an ethic of community engagement. (Preference given to staff that engage students in those collaborations.)
2019-2020 Recipient: Julianne Gavino
"While Dr. Julianne Gavino's job description centers on engaging the CC faculty and students through the FAC Museum, Dr. Gavino models best practices for collaboration between CC and the community…Faculty and students are at the center of everything Julianne does, but she goes many steps further by connecting to and integrating various communities… [She] consistently reaches to local artists and connects them to students…[Her] collaborative community work and connecting the FAC to students is a giant step towards making CC students feel more part of the Colorado Springs and regional communities. Julianne understands that engaging community happens in community. Each time someone in our Education team has an idea, Julianne immediately considers how we can consult with and involve community in that experience. Community engagement is at Julianne's core both in her personal and professional life. Working with her, we see first-had how she forges strong community relationships between CC, Colorado Springs and regional communities, making her an extraordinary candidate for the Community-Engaged Staff Award." - Kris Stanec, Director of Museum Education, and Alie Ehrensaft, Museum Education Assistant, Fine Arts Center)
2018-2019 Recipient: Summer Music Festival Staff
2017-2018 Recipient: Heather Powell Browne
---
Community:
Outstanding Community Partner Award
This award honors a community organization, association, or member who partners with CC in ways that meaningfully engage and develop members of our campus community.
2019-2020 Recipient: Rob Lessig, Mitchell High School
"I became acquainted with Mr. Lessig four years ago when the education and sociology departments collaborated to build a partnership with MHS for both our Youth Organizing for Social Change course and our college access initiatives. Ever since, Mr. Lessig—a highly revered English Language Arts (ELA) teacher-leader—has been a crucial advocate and partner. As most, if not all, of my courses include a community-based learning project, Rob has been by far the most responsive, supportive, and passionate partner in collaborating on meaningful engagement and development of CC students and students at MHS…University-community partners are meant to be mutually beneficial, and Rob's enthusiasm, dedication, and commitment to this partnership are what make the CC-MHS just that. I recommend Mr. Lessig for the Outstanding Community Partner award with great enthusiasm. I can't think of anyone more deserving of this prestigious recognition." - Tina Valtierra, Assistant Professor, Education Department
2018-2019 Recipient: Brian Kates '93
2017-2018 Recipient: Rocky Mountain Field Institute
2016-2017 Recipient: Lutheran Family Services
2015-2016 Recipient: Mary Lynn Sheetz
2014-2015 Recipient: Colorado Springs School District 11
---
Students:
Advocacy and Activism Award
This award honors a student who has championed a social or environmental issue though advocacy, awareness-raising, and/or activism.
2019-2020 Recipients: Elam Boockvar-Klein '20, Liam Reynolds '21, and Max Kronstadt '20
"[Elam, Liam and Max] created a movement in the Springs to make sure the City Council passes policies that allow for mixed and affordable housing in the spring – The Colorado Springs Pro-Housing Partnership…Their work has been quite effective, if not in getting the policies they wanted passed, but in raising the issue and keeping it before the City Council, despite pushback." - Gail Murphy Geiss, Professor, Sociology Department
"Liam started researching and fact-finding about affordable housing in Colorado Springs in January of 2019, reading policy documents and reports and meeting with local stakeholders to figure out where he could be of most use to the cause. By summer, he had toyed with a number of different ideas, but ultimately decided that what the city needed was a grassroots campaign in support of policies that would make housing more affordable…He then-cofounded the Colorado Springs Pro-Housing Partnership with a few peers and began building a diverse coalition to push the city in the right direction. This involved sending out hundreds of emails and showing up to dozens of meetings to hear from people about their experiences with the housing market, discuss the policy landscape, and build a base of support for the cause." - Max Kronstad '20
2018-2019 Recipient: Jane Hatfield '22
2017-2018 Recipient: Montana Bass '18
CBO Capacity Builder Award
This award honors a student who has deeply committed to a community-based organization, meaningfully investing their skills and knowledge to advancing the mission of the organization. Nominations for this award will be solicited from Community Partners.
2019-2020 Recipient: Angelina Chen '22
"During her time at Inside Out Youth Services, Angelina has found ways to contribute with her unique voice and skills to programs across our agency. Angelina has not only helped in our group programs with LGBTQ+ youth and youth experiencing homelessness but has also transitioned into a leader for these groups, planning her own activities and facilitating difficult conversations among these young people with ease and compassion. She has become a beloved advisor and role model for many of our youth. Yet this is not the only way Angelina has contributed to our mission at Inside Out Youth Services to provide safe spaces for LGBTQ+ youth and to advocate on their behalf in El Paso County. With her keen interest in social-scientific research as well as her fierce championing for sexual-violence prevention, Angelina has worked alongside our Safe@Schools program, visiting local high schools and middle schools to learn from students as the experts in their own lives what risks they face for harassment, bullying, and sexual violence. Within these sessions, Angelina has thoughtfully helped students to find their voices to discuss these difficult topics respectfully with their peers, and has been a critical member of our team in recording these sessions and taking down data for future analysis…I have never worked with a full-time student at an institution for higher education who has managed to negotiate the competing time demands of volunteering, working, and studying during the best of times, let alone during an international public-health crisis. And yet, Angelina has remained a steadfast member of our team even as the COVID-19 pandemic affected both the United States and her home country profoundly…Her commitment to our youth and our work in protecting some of the most vulnerable and marginalized members of our community during these difficult times is a testament to her personal integrity and strength." - Alexander Wamboldt, Manager of Prevention Programs, Inside/Out Youth Services
2018-2019 Recipient: Rachel Powers '20
2017-2018 Recipient: Elena Perez '19
Community Collaborator Award
This award honors a student who has engaged in meaningful relationship-building between communities on and off the campus, and in so doing best exemplifies commitment to communities of the Pikes Peak Region.
2019-2020 Recipient: Natalie Sarver '20
"Natalie has been integral, integral to the CC Refugee Alliance since her first year when I launched it, and remains committed all the way through until now, her senior year, as co-chair…She is, in a nutshell, highly motivated. She has brought that bright and relentless drive to the work that she has done in organizing, coordinating, and partnering with me and the other CC Refugee Alliance leadership team over these past four years, and I believe that she most definitely deserves recognition for her consistent and impactful efforts…Natalie has been unfaltering in her work during all of her four years at CC, from leading trainings for new volunteers, to bringing community organizations and workshops to campus to enrich our community with knowledge and activism, to coordinating (and participating in) the tutoring/ESL program for newly-arrived high school age refugees. These young people have gone through so, so much to be here in our community, and I know that her persistent, cheerful, and empowering tutoring has helped many of them envision a new pathway to success that may not have been an option in their home cultures. I've been inspired by her commitment, on top of her excellent academic achievements and near-perfect GPA…I am very grateful for Natalie, and would like to honor her organized, dedicated work and her consistently strong heart." - Heather Powell Browne, Assistant Director, Global Education, Center for Global Education & Field Study
"[Natalie] has fostered innumerable relationships through Refugee Alliance with folks in the community, and continues to support migrants and immigrants not only through cultural mentoring and tutoring but through financial investments like choosing their eateries for catering and introducing other students to them." - Sophia Pray '19, Civic Leadership Program Coordinator, Collaborative for Community Engagement
2018-2019 Recipient: Max Kronstadt '20
2017-2018 Recipient: Elam Boockvar-Klein '20
Campus Organizer
This award honors a student who mobilizes diverse campus stakeholders toward addressing a community-based need and/or promoting an engaged campus culture.
2019-2020 Recipient: Kadin Mangalik '20
"[Kadin] has single-handedly mobilized more student engagement when it comes to elections than any other student on campus I believe! He has been elemental in organizing carpool shifts to go to the voting polls, having political candidates and reps come to campus, teaching younger students how to push CC's community to be more politically involved, and is a great all-around knowledgeable resource who will be contributing his knowledge to written documents that will live at the CCE in perpetuity." - Sophia Pray '19, Civic Leadership Program Coordinator, Collaborative for Community Engagement
2018-2019 Recipients: Charlotte Schwebel '21 and Elena Martinez-Vivot '21
2017-2018 Recipient: Kyra Bergsund '18
Outstanding Student Initiative Award
This award honors an excellent student-led collaboration that exemplifies and inspires thoughtful community engagement to other students. This could be a student-led organization, event, project, campaign, or partnership.
2019-2020 Recipient: Mandarin Teaching Association, co-founded by Karla Iruegas '21 and Yurong Ye '22
"This year, my friend Yurong Ye and I co-founded this student-led organization. We were able to start the organization at 3 schools in 2 months…One of our goals is to show the children that learning a foreign language and multiculturalism are possible and beneficial…Students were exposed to Chinese culture, traditions and customs. We showed them how to utilize chopsticks and talked about the importance of embracing and cherishing cultural diversity and tolerance…We are planning to restart next year in possibly four schools as soon as in-person classes restart…Our engagement with students boosts student confidents, shows them their capacity to overcome obstacles and the possibility of being multilingual, multi-literate and multicultural…We have strived to create a space where language learning and cultural awareness is developed through understanding, tolerance, open-mindedness and creativity." - Karla Iruegas '21
2018-2019 Recipient: Political Advocacy Coalition
Public Problem-Solver
This award is presented to a student who is a change-maker in social and/or environmental realms, working to produce solutions to real-world social, civic, or environmental challenges of our world.
2019-2020 Recipient: Brita Mackey '22
"[Brita] has built great momentum on-campus to push for greater environmental activism efforts all around on campus, and is working to build more solidarity between CC and Colorado Springs on these efforts. She led the environmental march in December amongst other walk-ins and protests, continues to host bi-weekly meetings encouraging student activism (phone banking, email and letter writing, etc.) and community building during the time of COVID-19 remotely, and has huge goals to fight for the Green New Deal alongside fellow Sunrise organizers." - Sophia Pray '19, Civic Leadership Program Coordinator, Collaborative for Community Engagement
2018-2019 Recipient: Carly Cribbs '19
2017-2018 Recipient: Cole Simon '20
Anabel and Jerry McHugh Director's Award
Established in 1996, The Anabel and Jerry McHugh Director's Award is presented to a graduating senior who has built the capacity of and advocated for the CCE.
2019-2020 Recipient: Madeline Ng '20
"Madeline serves as the Community Engagement Programs Intern for the Collaborative for Community Engagement Office at Colorado College, which seeks to promote a culture of investment in the public good through the co-creation of learning experiences both on and beyond the campus. She has been under my supervision as the CCE's Civic Leadership Paraprofessional while planning, facilitating, and improving our student-facing work since the late summer of 2019…[Her] position in our office this year was the result of a merger of two different student positions, and so she has been tasked with more responsibility than any other student before her. To our amazement, Madeline has not only been able to keep up with a very dense workload but also free up the capacity of other staff members in the office, including myself. She has been an unbelievable asset to our team this year, and in years past, proving herself over and over again with her unique enthusiasm, dedication, and commitment to making sure fellow students are meaningfully engaging both on campus and with partners beyond campus, as explained in the following paragraph. Madeline has easily become one of our most cherished student staff— her warm personality and contagious laugh are representative of her wonderful, friendly, and loving disposition.

"Madeline utilizes her meticulous organization and interpersonal skills when planning out weekly check-in meetings with staff members and students, co-facilitating orientations and leader trainings, planning weekend and block break trips and contacting community partners for the BreakOut student organization, and tracking and advising students in our Community Engaged Scholars program. Perhaps most importantly, however, Madeline has become an ambassador for the work of our office, for engagement in every sense of the word, since attending her first Saturday BreakOut trip. She has created and built, throughout her entire CC career, a community of students centered around compassion, joy, and commitment, and a structure for engagement opportunities for these students that will last well beyond her time here…Getting to know Madeline has been a highlight for me this year; she is truly an amazing human being, with strong ambitions and even stronger character." - Sophia Pray '19, Civic Leadership Program Coordinator, Collaborative for Community Engagement
2018-2019 Recipient: Bryn Morgan '19
2017-2018 Recipient: Talia Worth '18
2016-2017 Recipient: Emma Brachtenbach '17
2015-2016 Recipient: Cassie Prouty '16
2014-2015 Recipient: Rebecca Celli '15
---
Exceptional Engagement Awards
In addition to our office awards, the following students were recognized by departments and offices across campus for taking the initiative to effect change and actively contribute to the common good within the mission of the respective department or office:
Exceptional Engagement with Accessibility Issues
2019-2020 Recipient: Shoshana Hold-Auslander '21
"Shoshana Holt-Auslander is a junior at Colorado College and has served as the Student Intern for Accessibility Resources for a year. Shoshana is an incredible asset to our staff team and provides great support for students with disabilities. Shoshana is very tech savvy, creatively seeks solutions, and helps students feel included and supported at Colorado College. This year, Shoshana was instrumental in helping Accessibility Resources put on an End Ableism program at the beginning of March. She was a great student voice in helping us get other students involved in a campaign to bring awareness about ableism and brainstorm tips for how we can end ableism. Shoshana is a committed and dedicated student and has definitely effected change and actively contributed to the common good in Accessibility Resources and at Colorado College." - Accessibility Resources Staff
2018-2019 Recipient: Polly McNeely '20
2017-2018 Recipient: Ivaly Cline '19
Exceptional Engagement in Diversity and Inclusion Issues
2019-2020 Recipient: Solidarity Coalition
"The Solidarity Coalition is a grassroots student organization that pushed the campus community to "dream bigger" in its implementation of the Antiracism Initiative. The Coalition is comprised of student leaders across various backgrounds, marginalized and privileged, who consolidated efforts and mobilized their communities to fight for greater equity and justice within our institution...Their efforts demonstrated the power of student leadership and culminated in the Campus Open Forum, which brought together students, faculty, senior administrators, CC Board members and staff across the campus community to have an open dialogue about how our campus can better fulfill its mission of social justice and anti-racism. The dialogue presented an opportunity for the campus decision makers to not only be accountable for their choices but to also make these choices collectively, equitably and inclusively." - Butler Center Staff
2018-2019 Recipients: Katie Damas '21, Mekael Daniel '20, Ariel Filion '19, and Emily Hidalgo '22
2017-2018 Recipient: Brianna Apodaca '18
Exceptional Engagement in K-12 Education
2019-2020 Recipient: Jubilee Hernandez '20
"This past year, Jubilee facilitated a narrative and art advocacy unit with 100 juniors and seniors at Mitchell High School…Her goal was to measure how this kind of socially conscious activist education experience influences learning as well as students' perceptions of themselves and their ability to enact change. As part of the unit, students wrote counter-narrative argumentative essays and creative fiction challenging deeply held cultural assumptions and norms. In addition, students created original pieces of art (photography, collages, paintings, etc) that represented themselves challenging injustice and oppressive forces. The students included a short narrative to accompany the pieces of art. This unit culminated in an art exhibition at Colorado College, with all proceeds from sale of the pieces being donated to the Dreamer's Scholarship at Mitchell, which supports a DACA or undocumented student interested in pursuing higher education. The exhibition raised $800, all of which was donated to the Dreamer's Scholarship. Throughout this project, Jubilee dedicated her time, energy and passion to building relationships with the students, guiding them through the process of writing and creating art, and challenging assumptions. With empathy and patience, she listened to their stories of hurt, oppression and feelings of powerlessness. She advocated for them and in turn helped many of them find their voices to advocate for themselves. Jubilee is a natural in the classroom as a teacher, but maybe more importantly she genuinely cares about her students' background, their lives, their experiences and empowering them to succeed and enact change in the world." - Education Department Staff
2018-2019 Recipient: Olivia Martinez '20
2017-2018 Recipient: Ariel Filion '19
Exceptional Engagement in Creativity and Social Innovation
2019-2020 Recipient: Lauren Weiss '21
"Lauren competed in The Big Idea with Geek Girl this year. Geek Girl works to close the gender gap in technology by identifying young girls who have taken an interest in computer science and providing them with mentorship opportunities to help maintain and foster their enthusiasm for technology. Lauren is working with local elementary and middle schools to provide mentors to young girls who have shown an interest in computer science. She is planning to run a camp this Summer and is in the process of building the Geek Girl app to connect local mentors (women in computer science fields) with young girls. I've worked with Lauren since she was a first year. She is just completing her junior year. I have been impressed by her from the very first day I've met her but what I respect the most about her is her incredible attitude and resilience when she puts her mind to something she believes in. She is incredibly passionate about closing the gender gap in computer science and I believe the work she has already begun will have real impact in Colorado Springs and Denver where she is piloting her app and building relationships with local schools." - Creativity and Innovation Staff
2018-2019 Recipient: None
2017-2018 Recipient: Cassidy Lam '19
Exceptional Engagement in Sustainability
2019-2020 Recipient: Madeleine Tucker '20
"Madeleine has served as a work study intern at RMFI for three of her four college years, the first year in a data entry and office support role, and the subsequent two years in a higher-level marketing and outreach position. Through her work at RMFI, Madeleine has contributed to a wide variety of initiatives that have greatly supported the organization's efforts in reaching new community volunteers, donors, program participants, and supporters. Among these major contributions are the interactive RMFI-relevant youth educational activities that she has designed, drawn by hand, and have been published in the Pikes Peak Library District's "Water Warriors Activity Book". Once each year, the activity book brings together a selection of conservation-themed games and puzzles submitted by local organizations. They are printed in bulk for free distribution to youth and families throughout the library district's reach. Madeleine's creative mind and talent for the arts, paired with her experience in environmental education, have resulted in two exceptional activities that have been included. Her 2019 Water Warriors contribution was a board game conveying the importance to "Stay the Trail" while exploring public lands. Prior to that, her 2017 Water Warriors design was an activity teaching about the problems related to post-wildfire landscape erosion. Madeleine's work on this initiative has put RMFI in front of new audiences, in terms of both demographic and geographic scope, and has advanced the environmental education piece of RMFI's mission by extending these efforts out of the field and into the homes and hands of younger participants and their families. Both of her final designs, as published in Water Warriors, are attached to this email for your viewing enjoyment. Beyond her incredible work accomplishments, Madeleine's positivity, sharp intelligence, hard work ethic, endless creativity, enthusiasm, and passion for environmental causes have made her a bright light in the RMFI office. It has been a pure joy working with Madeleine over the years." - Molly Mazel, Volunteer and Partnership Coordinator, Rocky Mountain Field Institute, and Sustainability Office Staff
2018-2019 Recipient: Westly Joseph '21
2017-2018 Recipient: Rebecca Glazer '18
Exceptional Engagement with Wellness Issues
2019-2020 Recipients: Stephanie Dewald '20 and Ellie Pfeiffer '21
"Stephanie and Ellie are both members of the Student Title IX Assistance and Resource Team, and Ellie will be a co-chair next year. The two of them worked together to bring presentations on consent, Title IX, and the role of START to athletics teams. They created important connections in that community and, while Stephanie will be graduating, they have made plans for their work to be expanded next year." - Wellness Resource Center Staff
2018-2019 Recipient: Eloise Kelly '21, Eliza Guion '20, Susanna Penfield '20, Salena Prinzmetal '21, and Elliot Williams '21
2017-2018 Recipient: Caleigh Cassidy '18
---
Although we no longer present individuals with the following awards, we would like to recognize their past achievements:



Award for Outstanding Community Service –

This award was presented to a graduating seniors who, through commitment to community service, best exemplified the ideals of a liberal arts and sciences education. Over the years at Colorado College, these students had been consistently dedicated to promoting an ethic of community engagement and involving others in understanding the civic and social challenges of our world.
2016-2017 Recipient: Emma Kepes
2015-2016 Recipient: Shane Lory
2014-2015 Recipients: Skyler Trieu and Margaret Wolf
Engaged Citizen Award –

This award was presented to a student who has actively engaged in public deliberation and decision-making in Colorado Springs or the Pikes Peak Region through governmental avenues or broader community initiatives. In so doing, this student committed to and invigorated democratic efforts to shape shared futures.
2017-2018 Recipient: Lily Weissgold
Exceptional Promise in Social Justice Award –

This award honored a lower-division student who showed exemplary promise as a champion of social justice, integrating liberal arts scholarship with rigorous community-based work in ways that extended and transformed both in the process. Recipients of this award showed a deep and abiding commitment to societal change at the grassroots level, and served as exemplary models of activism and compassion, inspiring others to follow in their footsteps.
2016-2017 Recipient: Sarah Kang
2015-2016 Recipient: Reed Young
2014-2015 Recipient: Sophie Javna
Outstanding Engagement with K-12 Youth –

This award honored a student in any year, who had done outstanding work in a K-12 education setting. Recipients of this award showed an awareness and deep understanding of educational issues, and demonstrated a commitment to fostering the development and achievement of youth. This award recognized ongoing positive community impact in K-12 student learning and success.
2016-2017 Recipient: Nan Elpers
2015-2016 Recipient: Kiersten Kelly
2014-2015 Recipient: Cassie Prouty
Student Leader Award –

This award was presented to a student who demonstrated exceptional leadership skills in guiding some form of group-based student initiative. This student not only served as an exemplar of thoughtful community engagement to other students, but shared their knowledge and skills to enable other students to follow in their footsteps.
2017-2018 Recipient: Ramah Aleryan
Sustained Commitment Award –

The CCE Sustained Commitment Award was awarded in 2015-16 to honor students who had shown exceptional dedication and commitment to community-based work. Engaging with the community through sustained, ongoing campaigns and partnerships often best meets community needs; we celebrate the devotion required to address those needs. This award was given to those who display not only a desire to make the world a better place, but the grit, perseverance, and hard-work that such efforts require.
2015-16 Recipients: Dontené Bonnet, Michael Colwell, Kayla Fratt, Cassie Prouty, Eden VanDevanter and Talia Worth