Campus Vote Initiative

CCVotes strives to increase CC voter engagement and turnout by organizing voter registration efforts, directing voter outreach and education, and facilitating ballot collection initiatives.
We encourage all students to exercise your right to vote in elections - national and local.  
CC students are pushing back against political disengagement and contributing their voices to co-determining our shared future.  According to data from the National Study of Learning, Voting, and Engagement (NSLVE), a research study of the Institute for Democracy in Higher Education (IDHE) at the Jonathan M. Tisch College of Civic Life at Tufts University, Colorado College's voting rate increased to 84.6% in 2020, up 9.9% from 2016.  The full campus report may be viewed here.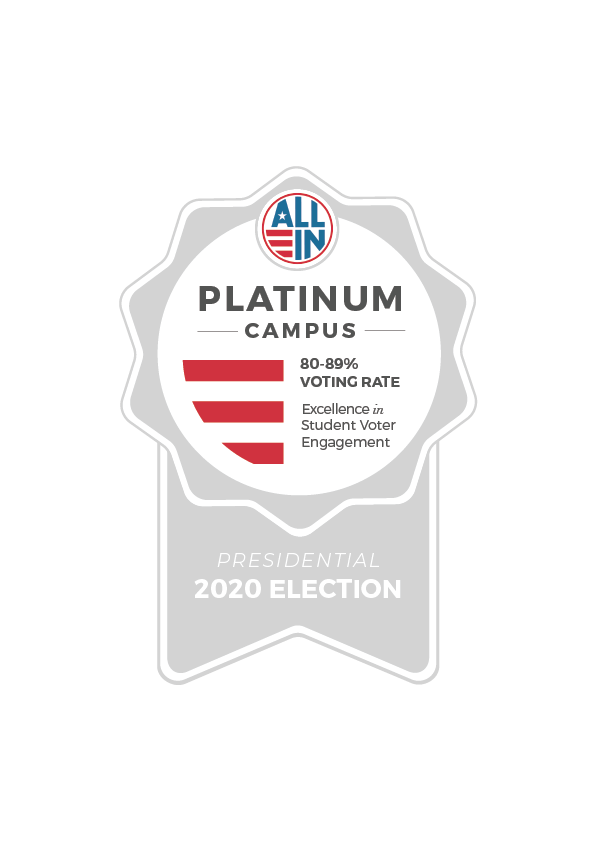 For this voting rate in the 2020 presidential election, Colorado College was awarded the Highest Voter Registration and Highest Voter Turnouts for 4-year institutions in Colorado by the ALL IN Campus Democracy Challenge.
We also earned a Platinum Seal from the ALL IN Campus Democracy Challenge, indicating a voting rate between 79.5-89.4%.
Let's continue the trend.   
What does CC Votes do?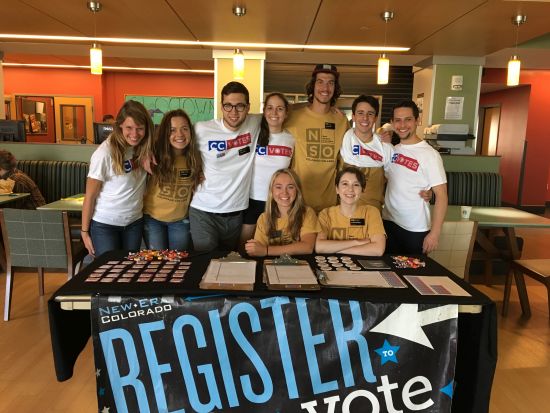 CCVotes coordinates numerous programs to increase voter turnout on campus, including:
Voter registration drives during NSO
Ballot drop-offs in Worner in the weeks prior to elections
Carpool shuttles to voting centers
Non-partisan election guides
Student-directed candidate debates and forums
Interested in getting involved? Reach out to ccvotes@coloradocollege.edu and review our guidelines for politically oriented work.
Register to Vote
Are you registered to vote in Colorado? If not, register now! There are several ways to get registered:
If you're updating a current Colorado voter registration record, you can complete the process online using either your Colorado license/ ID number, or the last 4 digits of your Social Security Number.
If this is your first time registering to vote in Colorado:

If you've been issued a CO license/ID, complete the process online with your ID number.
If you've never been issued a CO license/ID you can still register to vote in Colorado! Print out a voter registration form here to complete using the last 4 digits of your Social Security Number. You'll then mail the form to your County Clerk.
Make sure your "Address where you live" is the address where you live, and that your "Address where you receive mail" is your Worner Box number (e.g. 902 N. Cascade Ave. WORNER BOX ___).
TEMPORARILY LIVING OUT OF STATE, & NEED TO CHANGE YOUR MAILING ADDRESS TO RECEIVE YOUR COLORADO BALLOT?
If you're currently temporarily out-of-state due to the COVID-19 pandemic, you can receive your Colorado ballot to an out-of-state address! Just update your voter registration here, changing the "Address to mail your ballot" to the out-of-state address. You can complete the process fully online, using the last 4 digits of your Social Security Number or the number from your CO license, ID, or permit.
Additional Resources
El Paso County Election Department Contact Information
Contact information for the rest of Colorado's County Clerks
Election Protection Hotline
English: 866-687-8683
Español: 888-839-8682
Nonpartisan election information: JustVoteColorado.org
Voter Education
Nonpartisan Voter Guides
Contents: Whole Ballot and Bilingual

Contents: Federal/National Candidates

Contents: Statewide Ballot Measures

Contents: Statewide Candidates

Contents: Colorado Springs Issues

KRCC Voter Guide

Contents: Colorado Springs Candidates
Local News Sources
FAQ
Q: How do I get my ballot?
A: If you're up-to-date on your voter registration at your CC address, your mail-in ballot should arrive directly in your Worner box. If you do not register in time to receive a ballot by mail, or misplace your ballot, you can get a replacement ballot at a Voter Service and Polling Center once voting begins
Q: How do I return my ballot?
A: You can either mail in your ballot, return it at any Ballot Dropbox in the state, or vote in person at a Voter Service Center in your county by 7 p.m. on Election Day. Click here to locate your closest Voter Service and Polling Center.
Q: If I don't vote on a candidate or question, will the rest of my ballot still be counted?
A: Yes! There's so much to vote on this year: From national to state-level races, to critical ballot measures that will have lasting impacts in Colorado.
Q: What kinds of ID can I use to vote?
A:
If you're voting by mail → You may need to include a photocopy of an acceptable ID-check your ballot instructions for more information.

If you're voting in person → Bring a form of acceptable ID to vote in person. Acceptable forms include: CO license/ID, CO student ID (Gold Card), Passport, utility bill. Full list at JustVoteColorado.org.
Q: If I didn't vote in the last election, am I still registered to vote?
A: You should check here to ensure your voter information is current and active.
Get Involved!
Is there an issue or candidate you are passionate about and want to volunteer? There are many opportunities for you to make a difference!
Engage Local
Work with CC Votes with campus-wide election efforts
Help Citizen's Project Get out the Vote in Colorado Springs
Engage Statewide
Work with New Era to support Youth Voters
Engage National
Combat Voter Suppression with 866 Our Vote

Support Latino Voters
Major Parties
Minor Parties
Qualified Political Organization