Campus Vote Initiative

Wonder why student voting matters? Read this!
Every vote counts! Be sure your voice is heard on Election Day by making sure you are registered to vote, knowing the issues/candidates, and voting in-person or by mail-in-ballot. "Young adults (ages 18-29) make up about 21% of the voting eligible population in 2014, but voter turnout for this demographic has reached record lows in recent years…young people have the power to make a difference." – Campus Vote Project
According to the National Study of Learning, Voting, and Engagement, just under 40% of CC students voted in the 2016 Presidential Election, but 41.8% voted in the 2018 Midterm Election (up from the 20.2% voted in the 2014 Midterm Election! If you're interested in reading the full report comparing the 2014 and 2018 Midterm Election turnouts, click here). Although there has been a huge improvement, we can still do better! Your voice matters and one vote can make a difference in many of the local elections.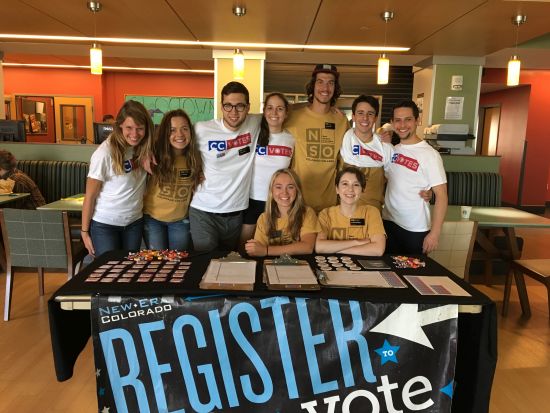 Voter Registration:
Check Your Voter Registration Status
Need to update your Colorado voter registration? Not sure if you are registered to vote in Colorado? Don't know if you've updated your address?
Check the status of your Colorado Voter Registration here!
Register to Vote
Are you registered to vote in Colorado? If not, register now! There are several ways to get registered:
Build your Personal Voting Guide
Visit Vote411.org to get consolidated voting information.


Need a reminder to vote? Are you continuing to vote in your home state and want the latest election information for your state?
Register now! TurboVote will send you email or text reminders for wherever you are registered to vote.
Voter Education
Candidates and amendments and initiatives, oh my! Overwhelmed by the number or issues you see on Colorado ballots? Here are some resources you may find useful:
Registered to vote in a different state and want to better understand the issues on your ballot? Visit www.vote411.org for all the election information you need!
FAQ
Q: How do I get my ballot?
A: If you're registered at your CC address, your mail-in ballot should arrive directly in your Worner box. If you do not register in time to receive a ballot by mail, or misplace your ballot, you can get a replacement ballot at a Voter Service and Polling Center.
Q: How do I return my ballot?
A: You can either mail in your ballot, return it at the nearest Ballot Drop Off site, or submit it the day of the election (November 6th) at the nearest Voter Service and Polling Center. Click here to locate the most convenient Ballot Drop Off sites and Voter Service and Polling Centers.
Q: If I don't vote on a candidate or question, will my other votes still be counted?
A: Yes!
Q: What kinds of ID can I use to vote?
A: If you are a first-time voter in Colorado, you may need to include a photocopied picture of your CC Gold Card along with your ballot, which also serves as ID if you vote in-person.
Q: If I didn't vote in the last election, am I still registered to vote?
A: Yes, though you should check the here to ensure your voter information is current.
Get Involved!
Is there an issue or candidate you are passionate about and want to volunteer? There are many opportunities for you to make a difference!
Generally, political parties can get you connected to the candidate(s) or issue(s) for which you'd like to volunteer.
Major Parties
Minor Parties
Qualified Political Organization