PA ProgramInfo
Overview:
Public Achievement (PA) is a youth civic engagement program in which CC students mentor local middle and high-school students through the process of community organizing to better their communities. Our processes come from the American Black Civil Rights leadership and anti-oppressive practices. In teaching and reproducing their pedagogy, we give students the language and tools to combat the injustices within their own generation and location.
Our sites:
North is an underserved school in District 11, and 8th graders join PA to help fulfill their IB requirements. Coaches will be assisted by 8th grade teachers and meet once a week with students to help them develop and execute a social or environmental justice project of their choosing. North hopes that PA will help all participants think of themselves as capable, successful students and help combat the school-to-prison pipeline.
CC students can also coach at Mitchell High School, meeting weekly with students in a leadership course. Mitchell hopes that PA will help combat dropout rates, improve student confidence, and help students to imagine college as an option for their future. Mitchell student projects often focus on reaching underserved students at the school and work intimately with school administration.
Applications:
When available, applications to become a coach for the PA program can be found here.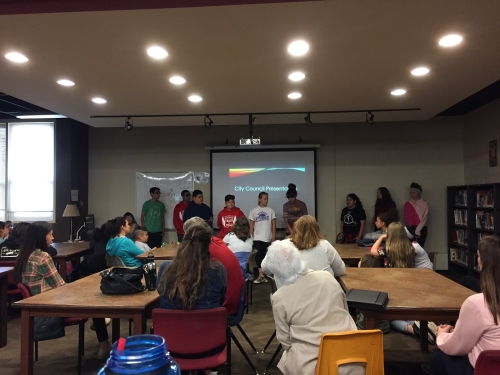 Above: Students share with their parents and guardians a presentation they gave to City Council in support of closing the Martin Drake coal power plant
Testimonial:
My first contact with Public Achievement was at the Community Engagement Fair during my freshman year, when I saw a sign that read: "Are you interested in social justice? Do you like working with kids?" I am passionate about both of these things; naturally, I immediately applied for the job. By pairing social justice advocacy with a middle school classroom, however, this work has become exciting, new, and fun. For one, I have developed close relationships with numerous middle schoolers with whom I talk about the latest video gone viral or entertaining sports event on a weekly basis. At the same time, we also collectively grapple with the power dynamics, social norms, and on-the-ground need. Public Achievement has been a win-win-win for me: I have developed strong student-oriented relationships, honed teaching and leadership skills within the classroom, and made an impact on the Colorado Springs community.
-Elam, '20
Left: North student and coach at the climbing gym during a visit to CC's campus