Bonner Leadership Team
Goal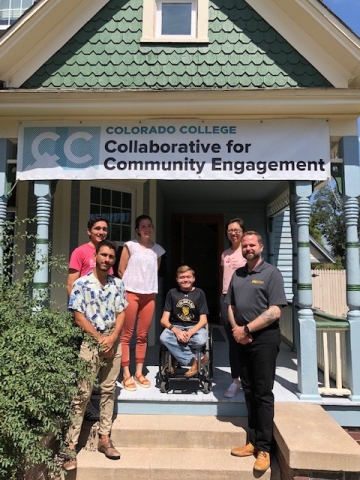 The Bonner Leadership Team provides an avenue for student voice and advocacy, serves as an element of the Bonner student support network, and generates an opportunity for Bonner students to cultivate professional and personal skills, and participate directly in the development and visioning of the program
---
Core Expectations & Opportunities
Overview of available positions
Students are not required to participate in the BLT during their time in the Bonner program at CC but are highly encouraged to engage as they see fit.
For all positions with two individuals, one representative from each group of either 1st/2nd years or 3rd/4th years will be chosen, to ensure equal representation amongst the various cohorts. First years are only eligible to apply for the Bonner Community position.
CEF Co-Director Intern - Leader of BLT x1

Bonner Progress Guide - x2

Bonner Community Guide - x2

Bonner Representative Guide - x1
Application process
Submit your resume and cover letter to the CEF Co-Director by the beginning of Block 2. Please identify your top choice of position as well as your secondary choice (if applicable).
Resources
Members of the CC Bonner Leadership Team are encouraged to join the Bonner Learning Community. Within this platform, there is a "Group" for Senior Interns and for Bonner Leadership Team members. You can join these groups, which will give you access to information such as announcements and posts from other members. You can also make posts, create questions and polls for others in the group to respond and answer.
Responsibilities
Please note that all of the BLT position responsibilities are subject to be altered to adapt to the needs of the program and students, including during this time of COVID-19.
All BLT:
Attend the BLT meeting with CCE staff and the Community Engaged Fellow Intern(s) once per block

Hold an open session once per block to create a transparent space for actively listening to student feedback and answering questions

Contribute to a blocky newsletter with meeting agendas, updates, and other relevant information, and take turns reporting out Bonner news during each all-Bonner meeting

Participate in collective decision-making and voice inclusive student perspective on program policies, programming, and curriculum

Act as a liaison by regularly engaging in dialogue with Bonner peers, the Community Engaged Fellow intern, and CCE staff
Bonner Conferences
Fall Bonner Congress & Summer Leadership Institute (SLI) Opportunity
BLT members and/or Bonner interns have the opportunity of representing Colorado College at the annual Fall Bonner Congress Meeting through the Bonner network. As representatives, these two students share their vision and Colorado College's vision of the future of the Bonner Program with representatives from participating schools, as well as report back any new programs or ideas that are discussed at the Congress. Bonner Congress representatives will be elected by BLT members each year.
Additionally, the Bonner Summer Intern(s) have the additional opportunity of attending the Summer Leadership Institute (SLI) sponsored by the Bonner network in June. This is another great conference that allows for Bonner networking, learning, and program development idea generation.