Staff
The Butler Center Staff engages CC's diverse student body through intercultural exchange and multicultural student development models. Our expertise invites expansive sharing across perceived differences, rather than narrow restrictions to perceived sameness.
Paul M. Buckley, Ph.D
Assistant Vice President, Director of The Butler Center
Worner Campus Center Office 234A
(719)389-6338 | pmb@coloradocollege.edu
Paul M. Buckley is an assistant vice president and director of The Butler Center. In his role as assistant vice president, Paul engages senior leadership, faculty, and staff in the college's signature work to advance inclusion and equity. As inaugural director of The Butler Center, Paul leads the office to actualize his vision for inclusive student support, shared teaching and learning, and empowerment of the Colorado College community.
With a wide range of experiences in student and academic affairs— from access and retention programs to fraternity/sorority life, multicultural affairs, diversity training and holistic mentoring— Paul brings an outstanding skill set to his work at Colorado College. Prior to his current role, Paul served as assistant dean of undergraduates at Dartmouth College. Along his two decades journey in higher education administration, Paul co-founded the award winning WellsLink Leadership Program at Syracuse University and was instrumental in establishing the Office of Institutional Diversity at Andrews University. He is an active member of several professional associations, serves on the National Advisory Council of the National Conference on Race and Ethnicity in American Education (NCORE), consults on diversity issues for colleges/universities and other entities, and presents/speaks at regional and inter/national conferences.
Dr. Buckley is a first-generation college graduate. He earned his doctor of philosophy degree from Syracuse University's School of Education, where he studied Cultural Foundations of Education with a focus on Critical Race Theory and Higher Education. His research interests include Black masculinities, Faith expressions in non-parochial contexts, CRT and discourse theory. Paul is a mentor to hundreds of students and young professionals across the country.
Programmatic Initiatives: The Masculinity Project, Excel at CC: Good to Great- Journey to Inclusion
Pearl Leonard-Rock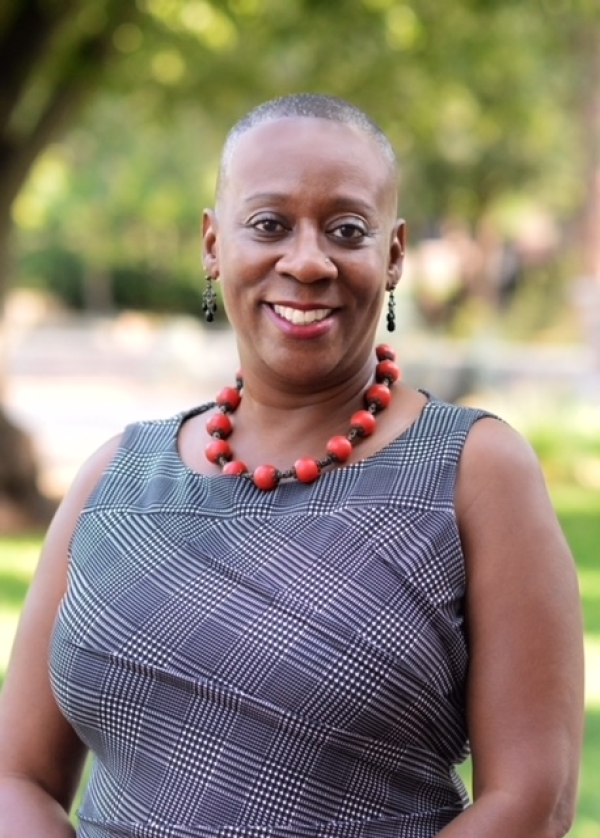 Associate Director
Worner Campus Center Office 233
(719) 389-6844 | plr@coloradocollege.edu
Ms. Pearl Leonard-Rock has served in the Associate Director position in the Butler Center since July 2015. A position poised to support the inaugural director and Assistant Vice President, Dr. Paul Buckley's vision to establish the Center as THE hub of diversity, inclusion, intercultural exchange, equity and empowerment for the Colorado College community.
Ms. Leonard-Rock has spent over 20 years as an Assistant Dean of Students and Director of multicultural centers located in various places in the Midwest. At Gustavus Adolphus College (Saint Peter, MN) and at Edgewood College (Madison, WI) her responsibilities included creating an inclusive college campus by providing teaching and learning experiences for faculty, staff, and students; while also developing programs that served as a campus-wide catalyst to celebrate all aspects of diversity and promote the principles of social justice. At Edgewood College, Ms. Leonard-Rock developed and implemented the Community Scholars Program. The Community Scholars program was established in 2007 to underscore Edgewood's commitment to both diversity and inclusion in Dane County. At Beloit College, Ms. Leonard-Rock worked as an Assistant Director for both the Department of Public Instruction's pre-college "Help Yourself" program and the federally-funded TRIO program, Student Support Services.
Ms. Leonard-Rock has served as an on-site Conference Innovation Team member to the White Privilege Conference (understanding, respecting, connecting) and as a personal assistant to the WPC Founder and Program Director, Dr. Eddie Moore, Jr. Additionally, Ms. Leonard-Rock served as the Racial Justice Board Chairperson for the YWCA, Madison (eliminating racism and empowering women). Other volunteer positions have included board memberships with The Privilege Institute (Denver, CO) and the United Way of Dane County (Madison, WI). Her professional affiliations have included the Academic Management Institute, NASPA and ACPA (for Student Affairs Administrators in Higher Education), the Madison Network of Black Professionals, and the John D. O'Bryant (national) Think Tank.
Ms. Leonard-Rock holds a Bachelor of Arts degree in Sociology and Psychology from Aurora College (Illinois) and a Master of Arts degree in Sociology (with an emphasis in Criminal Justice) from Northern Illinois University. She is a lifetime member of Delta Sigma Theta Sorority, Inc.
Programmatic Initiative: The Butler Center's Signature program: the First Generation Collegiate Program, Friends of CC, International Student Initiatives and Mind, Body & Soul
Advisor: The Daniel Scholars and the Quest Scholars Network
Noble Gough
Gender and Identity Development Specialist
Worner Campus Center Office 205A
(719) 389-6198 | ngough@coloradocollege.edu
A Southern native, Noble earned both their B.A. in Writing and their M.S. in College Student Personnel and Administration at the University of Central Arkansas. While an employee as well as a student at UCA, Noble had the chance to work in a wide variety of functional areas, including the Office of Diversity of Community, the Office of Student Success, and the Office of Leadership Studies. It was also during this time that they were involved in the foundation of UCA's first LGBTQIA+ Mentorship Program, were a facilitator of the transgender/gender nonconforming support group, Gender Expansive, and served as the staff advisor to the on-campus LGBTQIA+ student organization, PRISM.
Noble has also served on the Arkansas Transgender Equality Coalition (ArTEC)'s Board of Directors and Research Working Group, where they assisted with grant funded research focused on the disparities experienced by transgender Arkansans, contributed to the development and facilitation of transgender competency seminars and trainings for state employees, and aided with the formation and conduction of various name and gender change clinics throughout the state. Additionally, they actively participated in, contributed to, and collaborated with other central Arkansas non-profits and organizations providing support and resources to underserved and marginalized populations.
Noble is passionate about recognizing and acknowledging all parts of students' intersecting identities and providing a brave space where they can feel seen, heard, supported, and encouraged on their journey of growth and development at Colorado College. They are both honored and excited to join The Butler Center, as well as the Colorado College community as a whole, and to meaningfully contribute to the essential and ever-evolving services that they provide to students.
Programmatic Initiative: The Masculinity Project
Mateen Zafer
Coordinator of Mentorship and Diversity Initiatives
Worner Campus Center Office 232
(719) 389-6849 | mzafer@coloradocollege.edu
Mateen Zafer joined the Butler Center staff in August 2019. Mateen previously served as Assistant Director of Undergraduate Admissions at New York University in New York City. In this role, he worked with students, counselors, and organizations around the world and worked closely with the Center for Multicultural Education and Programs, the Islamic Center, and NYU's Prison Education Program.
Mateen is passionate about improving access to higher education and supporting students in their exploration and understanding of intersectional identities. He has facilitated intergroup dialogue classes, provided individual and group counseling to young adults, and partnered with organizations including AmeriCorps' City Year, Big Brothers Big Sisters, the National Hispanic Institute, and the Jack Kent Cooke Foundation.
Mateen was born in Bombay, India and immigrated to Chicago, where he developed a deep love for Chicago sports and pizza. Mateen holds a BA in Communications from Western Illinois University and an MSW from New York University.
Mateen is honored to have an opportunity to collaborate with you in developing an internship experience that supports your personal and professional growth while centering Diversity and Inclusion learning opportunities in your experience.
Amairani Alamillo
Administrative Assistant
Worner Campus Center Office 234
(719) 389-6338 | aalamillo@coloradocollege.edu
Amairani Alamillo is the Administrative Assistant in The Butler Center. She coordinates Dr. Buckley's calendar, supports the rest of the staff, supervises Program Assistants, and co-advises the Heads of State leaders.
Amairani graduated from Colorado College in 2016 with a Spanish major and Dance minor. She participated in the Community Engaged Leadership (CEL) Certificate Program and was a Women's Educational Society (WES) scholar. During her time at CC, Amairani had leadership roles in SOMOS and CCSGA. She worked at CC for two years before joining our office. She currently serves on the Diversity and Equity Advisory Board (DEAB) and is a mentor in the First Generation Collegiate Program.
Amairani is passionate about intersectionality in student growth and development. She is currently working on her Master's in Counseling and Human Services with an emphasis in Clinical Mental Health. She is an aspiring Licensed Professional Counselor and is committed to working with Latinx youth.