Ellis Ulysses Butler, Jr.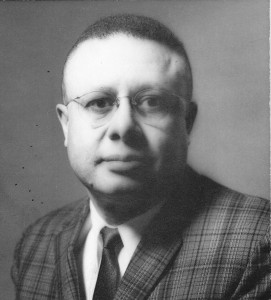 -Mr. Ellis Ulysses Butler, Jr
Ellis Ulysses Butler Jr. was one of Colorado College's earliest African American alumni, from the class of 1940. In 1971, at the passing of Mr. Butler's wife, Ora Brandon Butler, he began making an annual gift to the college in her name. With his initial gift, Mr. Butler wrote a moving letter highlighting "certain unpleasant experiences I went through as a Negro student" at CC. However, Mr. Butler continued on to write that he not only survived, but thrived at the college. It was through his reflective comparisons of "unpleasant experiences" at Colorado College with the "soul-killing racial discrimination" his wife experienced in her native state of Louisiana, that he seemed able to reconcile his own experiences at CC. In a very real sense, Ellis Butler and his relationship with CC moved to a place of gratitude and forgiveness. His generous gifts throughout the years were certainly indicative of the high esteem he still held for his alma mater and the potential he envisioned for its future. When Mr. Butler passed away in 2009, he left $150,000 to Colorado College. His gift was honored with the establishment of the Ellis Ulysses Butler, Jr. Center for Intercultural Leadership (renamed the Ellis Ulysses Butler, Jr. Intercultural Leadership Lounge and Classroom) at Lennox Hall. This became the foundation for an expanded concept and organization of the work for diversity, inclusion, intercultural exchange, equity, and empowerment for the Colorado College community- The Butler Center, established in 2014.
Click here for more information about Mr. Ellis Ulysses Butler Jr.