Mathematica
Colorado College has licensed Wolfram Mathematica from Wolfram Research. Mathematica is a powerful software program used in several disciplines and other areas of technical computing; it can do statistical analysis, manipulate images and video, do large computations and much more.
To get your own copy of Mathematica, fill out the appropriate form depending on whether you are a student or faculty/staff.
When submitting the form, please submit it only once!
Use your Colorado College email address to submit the form.
Multiple requests and non-CC email addresses will be rejected.
After requesting the activation key, you'll receive an email with
the activation key
instructions on how to download the software and use the activation key.
Students can request home-use licenses for Mathematica from the Wolfram Student Activation Key Request Form. Go to the bottom of the page where it says "Don't have a Wolfram ID?" and click the Create Account button. Students do not need the site license number.
Faculty and Staff should request a home-use license for Mathematica from the Wolfram User Portal. Contact Weston Taylor to get the College's site license number, which you'll need to request the software.
You can get tech support for installation or other technical questions from Wolfram Research's email, phone or forum support.
Network License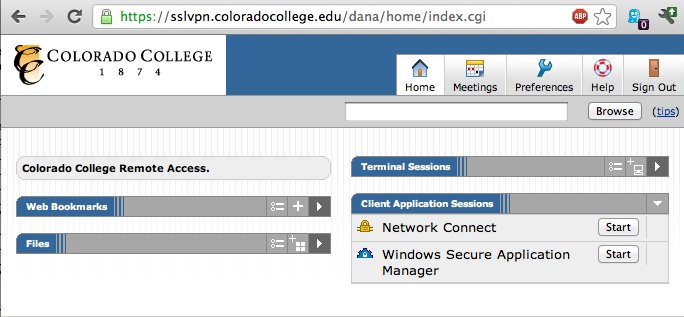 This software uses a network license, which means
we can install it on any college-owned computer on campus
to use the software, you need to be on the CC network

plugged in to the network on campus
or on WiOfTheTiger
or via VMware View if you're off campus
To request this software to for install on a college-owned computer, please contact
Weston Taylor.
Mathematica is available on the computers in Barnes 203, in the Tutt Library basement and in Palmer 2.