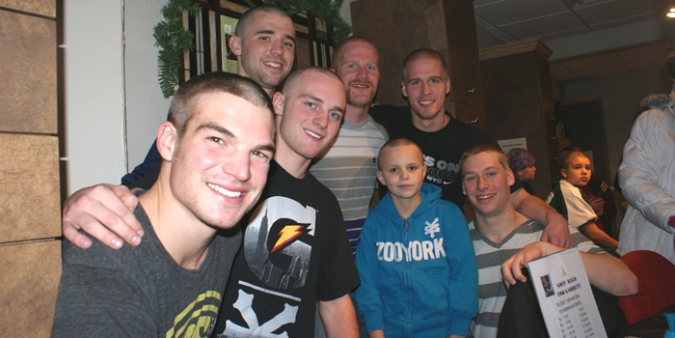 Early last December, a few short weeks after 10-year Garrett Niles of Woodland Park was diagnosed with stage-3 lymphoma cancer, six Colorado College hockey players refused to waver when the opportunity to help presented itself.
But they didn't stop there.
CC captain Nick Dineen, along with teammates Tim Hall, Joe Howe, Eamonn McDermott, Michael Morin and Archie Skalbeck, agreed to have their heads shaved during a fundraiser on Garrett's behalf. The event, hosted by Edge the Salon, generated initial contributions totaling more than $8,000 to assist the Niles family in meeting medical costs that would far outweigh what insurance was going to cover.
What happened in the months to follow was even more special.
Garrett, who continued to play youth hockey while undergoing chemotherapy, started hearing from his Tiger friends after each round of therapy. Among other thoughtful gestures, he received an invitation to attend a game and tour their locker room at the World Arena. Some attended his games when they could. While missing a road trip due to injury, McDermott offered to get together with him to watch CC play on television.
"That's what being a Colorado College Tiger is all about," said recent graduate Dineen, who never would hesitate to do whatever he could to help a sick kid.
Today, Garrett's cancer is in remission - has been for nearly three months. While he's done wonders to conquer the beast on his own, it's sure nice to know he's had plenty of supporters to nudge the process along.