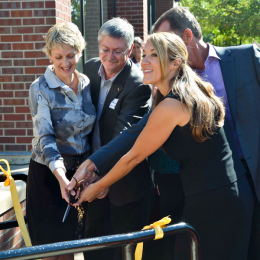 Colorado College celebrated its newly renovated Worner Campus Center with an outdoor ceremony on Friday, Sept. 9. The ribbon-cutting event marked the conclusion of a major $9 million renovation that included a complete makeover of the building's dining facilities, the installation of 144 solar panels on the roof, and energy-efficient upgrades throughout the building.
Speaking at the celebration and helping to cut ceremonial ribbon were Jill Tiefenthaler, president of Colorado College, Chris Coulter, director of CC's facilities services; Kevin Barden, vice president of Gerald Phipps Construction; Janette Blackburn, principal at Shepley Bulfinch; and Beth Gentry, general manager of Bon Appetit Management Company.
The renovation transformed the Worner Center into an area that is bright, easily navigated, and sustainable. Roof-top solar panels are expected to produce 35KW to offset the electrical usage in the building, all kitchen appliances are Energy Star-rated, lighting through the building has been upgraded to low-energy usage bulbs, and all plumbing is low-flow in an effort to reduce energy consumption by a minimum of 30 percent.