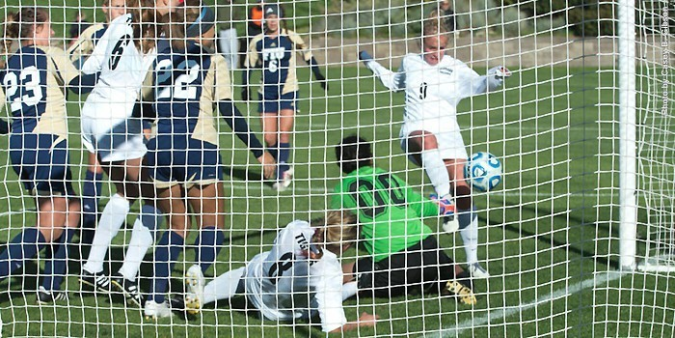 The Tigers will play the University of North Texas, which defeated Charlotte, 1-0, in overtime.
Junior midfielder Kaeli Vandersluis struck for the only goal the team would need just 8:49 into the game, launching a shot from the top of the box off a feed from sophomore midfielder Sarah Schweiss.
The C-USA Midfielder of the Year has been involved in nine game-winning goals this season, scoring three and assisting on seven others. Vandersluis climbed into a tie for 17th place on the program's all-time scoring chart with 49 career points.
Nearly 14 minutes later, Schweiss doubled CC's lead with a shot from the left wing to the top right corner that was set up by sophomore midfielder Alexis Long.
Jessie Ayers made it 3-0 in the 31st minute. After making a long run into the box, the junior midfielder faked and then slid the ball into an open net. With four goals and an assist in the last three games, Ayers moved into a tie for ninth place on the program's all-time list with 23 goals and a tie for 13th with 52 career points.
Senior defender Katie Uyenishi knocked home the rebound of senior midfielder Madison Whitehead's shot in the 57th minute, and Whitehead closed out the scoring a little more than 15 minutes later with a shot from the top of the box.
Sophomore Kate Scheele and senior Cody Kornack combined for Colorado College's second-ever shutout in the C-USA tournament. Scheele, who stopped ECU's only shot on target during the first half, played 79:52 in goal. Kornack completed the duo's second combined clean sheet by playing the final 10:08.
The Tigers finished with a 17-3 advantage in total shots and took all seven corner kicks.
Saundra Baron made seven saves for the Pirates, who finished the season with a 9-9-3 record.
The five goals represent the most CC ever has scored in a C-USA tournament game. The previous high occurred during a 4-1 triumph over SMU in the semifinals of the 2006 championship.
Colorado College improved to 14-4-2 overall and evened its all-time record at the conference championship at 5-5-2.
Sunday's Conference USA championship game kicks off at 1 p.m. CT and will be televised live on the CBS Sports Network.