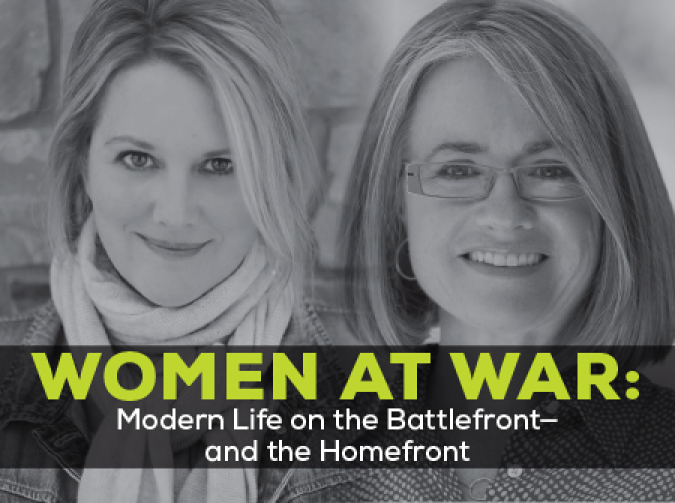 Colorado College's Journalist-in-Residence lecture series is kicking off the second semester with a presentation that challenges assumptions about sexual politics and the role of women both at home and at war.
"Women at War: Modern Life on the Battlefront - and the Homefront" features Helen Thorpe, former first lady of Colorado and the bestselling author of "Soldier Girls: The Battles of Three Women at Home and at War" and "Just Like Us," and Angela Ricketts, acclaimed author of "No Man's War: Irreverent Confessions of an Infantry Wife." The two will appear together on stage in a moderated event, discussing the changing face of American women and the modern military.

The event will be held at 7 p.m., Wednesday, Feb. 4, in the Celeste Theatre in the Cornerstone Arts Center, 825 N. Cascade Ave., and is free and open to the public.
The presentation should be of particular interest to Colorado Springs. The United States has been at war continuously since the fall of 2001, and a sizeable percentage of American soldiers sent overseas have been women. Their experience in the American military is different from that of men: they are surrounded and far outnumbered by men, imbedded in a male culture, and looked upon as both alien and desirable.
Although more American women served in Iraq and Afghanistan than in any other war, their role in the military has been hotly debated. Thorpe and Ricketts' books, both published late last year, expose different the realities of women in the military.
Thorpe's book "Soldier Girls" gives a ground-level, detailed account of what happened to three women who served in the military during the last decade. Thorpe follows their lives over 12 years-their paths to the military, overseas to combat, back home…and then overseas again for two of them. And in that journey she reveals the complexity of the real-life truth and silent prejudices against women in the military.

Ricketts' book, "No Man's War: Irreverent Confessions of an Infantry Wife," pulls back the curtain on a subculture many readers know, but few ever will experience. The author thought she knew what she was in for when she eloped with an infantry lieutenant on the eve of his deployment to Somalia. Since that time, her husband, now a colonel, has been deployed eight times, serving four tours in Iraq and Afghanistan. Outspoken in her critique of the "Army machine," Ricketts celebrates the "secret sisterhood" of soldiers' wives.