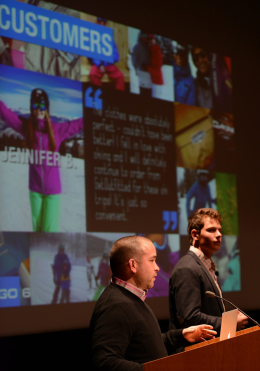 Four teams shared the $50,000 seed money in Colorado College's second The Big Idea pitch competition, held Tuesday, April 1, in the Edith Kinney Gaylord Cornerstone Arts Center.

This year's winners were:
First place: GetOutfitted, an LLC that lowers barriers of entry to the outdoors by renting ski and snowboard gear directly to your door using an online service; $25,000
Second place: Koldsnapp, a C-Corp that helps small businesses avoid freezer and refrigeration disasters and meltdowns in the food business through a fully automated sensor and cloud software intelligent monitoring system; $15,000
Tie for third place, two non-profits: SEE, an off-campus semester in environmental education program partnership between Colorado College and Catamount Center, to be piloted in fall 2014; and Colorado Springs Food Rescue, which facilitates the sustainable redistribution of food "waste" to agencies that feed hungry, homeless, and low-income populations while educating communities about food justice; $5,000 each. See local news coverage of the competition.
While The Big Idea competition and program is focused on making real startups, the overarching objective is learning and building experiences that create bridges of relevance to the careers and activities of students beyond life at Colorado College.

Bob Selig '61, trustee and president of Davis Instruments, was one of the five judges for the competition. "There are so many smart people here, and so much energy and passion in these presentations, how do you decide? It was tough," he said.

"The teams were really great," said judge Karen Kerr, a Kaufmann Fellow who most recently ran an entrepreneurship program at the University of Southern California. "The students thought deeply about their projects and the presentations reflected that." View a list of all competitors.