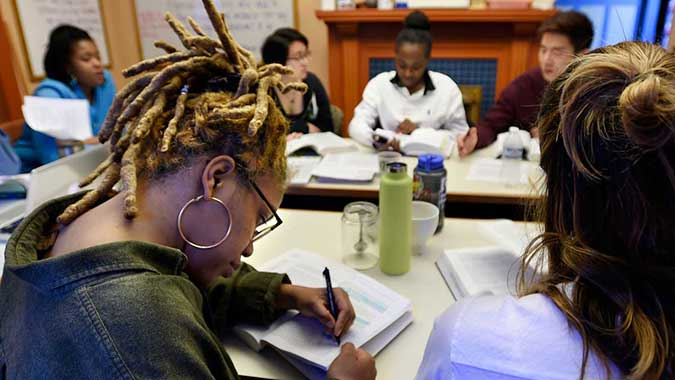 by Laurie Laker '12
Let's talk about race. More specifically, let's talk about whiteness.
These are hard, but vital, conversations to have. They are vital for the United States as a country, vital as a global human community, and vital as a college campus striving toward fairness for all.
Assistant Professor of Feminist and Gender Studies Heidi Lewis is leading a group of 12 students through these conversations in her Block 5 class, RM309 - Unpacking the Invisible Knapsack: Critical Whiteness Studies. The class examines the historical and contemporary social, cultural, and political origins and resistance to white privilege, particularly in the United States, engaging critically with the axis of race, gender, and class.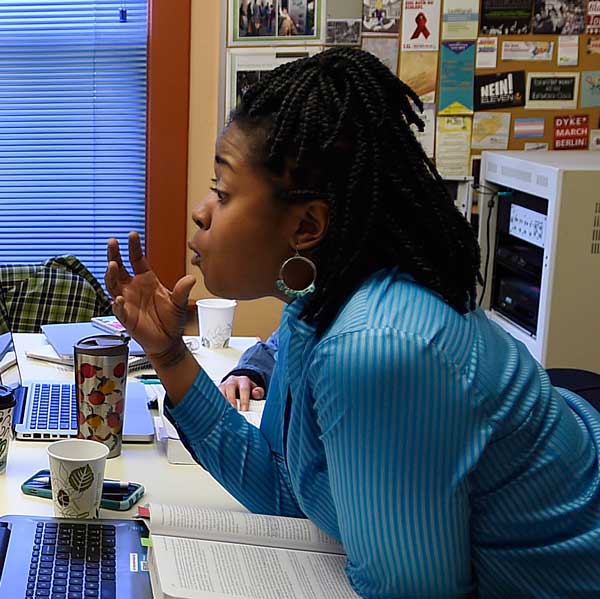 Lewis, an expert in critical race theory, feminist theory, and critical media studies, is the associate director of the Department of Feminist and Gender Studies and has been at CC since 2010. With a Ph.D. in American Studies from Purdue University, Lewis is a national authority in her field, and her excitement in the classroom is a palpable thing.
Whiteness is incredibly difficult to recognize as a concept and construct, and even harder to demarcate, particularly with its hugely varied implications for identity and interaction across individuals, systems, and institutions. What this class, and indeed the Feminist and Gender Studies major as a whole, does is to prepare students for lives of rigorous demystification. In this class, deep research, familiarity with the subject, and Lewis's "expectation of expertise" are required to discuss and dissect whiteness properly.
"The material gives you a way to take specific events and really pick them apart," says Njeri Summey '17, an FGS major herself.
"The major allows a continued awareness of the systems and structures that exist in society," Summey explains. "This class allows us to look at the same systems and structures, just from a new perspective, through the lens of whiteness."
"Nobody critiques us better than ourselves," says Summey, quoting her professor and highlighting an academic accountability that runs through the FGS major as a whole.
Using Richard Delgado's anthology, "Critical White Studies: Looking Behind the Mirror," as the central text for the course, Lewis says her class explores the "multi-voiced, multi-directional conversations that have been happening for a long time."
"I find that using an anthology is a great jumping off point," she says. "It opens my students up to the different voices in the field's intellectual tradition. Toward the end of class, I'll often bring in a contemporary text to demonstrate contrast or similarity to the more historical texts we find in an anthology."
As with many classes at CC, RM309 is writing intensive.
"It's a beautiful thing to talk about how scholars work, how they write," Lewis explains. "What I'm trying to do is demystify intellectual labor, to push students toward the intellectual sophistication needed to do this work."
"What so many of my classes deal with, largely, are invisible actions and thoughts - things based on sight alone. Finding ways to analyze those things, that's the work."
Lewis's classroom itself is lively, and constantly challenging. One student brought a plate of homemade muffins to share. Another, upon presenting thesis, was reminded that arguments are nothing without supporting evidence. Lewis doesn't shy away from confronting her students with the realities of her discipline, with the self-critiquing reflexivity necessary for lively and productive learning.
"The advantage of this class being a 300-level," Lewis explains, "is that I can push my students more."
"I love helping them work through what's happening in front of their eyes," she adds, referring both to the rigorous curriculum of the course as well as the coalescing of current events into the classroom.
In addition to her many areas of expertise, Lewis also studies and teaches on social change - something that dovetails perfectly with the interests of so many of her students at CC.
"Students in this class, in particular, want to affect change in the world," she says - the pride ringing out in her voice.
That desire to affect change ripples across the entire CC campus, but for those students in the FGS major, it rings truer still.
"My major, overall, has given me the tools and resources to look how certain structures within society work," adds Summey. "No matter what any of us go on to do, we all have the skills to look at the world critically - that's a really powerful thing!"
Perhaps the biggest positive is one that Lewis mentions almost casually, but it cuts to the heart of her scholarship and her classroom.
"My students want to know how you do something positive," she says. "We get to study that scholarship - the scholarship of social change. I love teaching it; it makes me feel alive!"