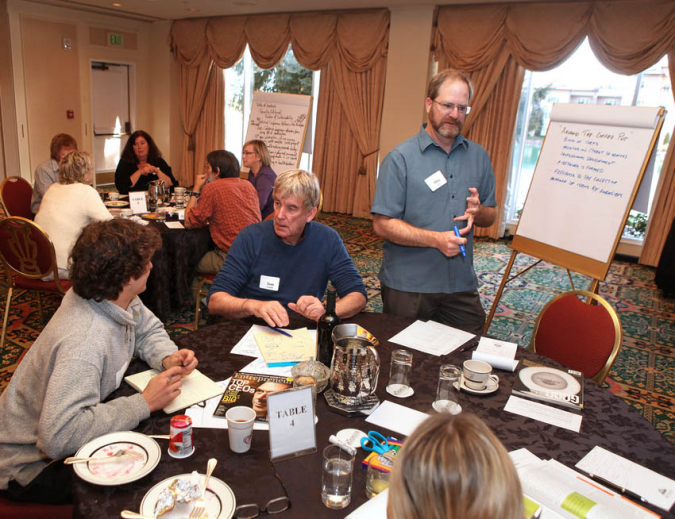 A group consisting of Colorado College faculty members, students, staff, alumni, and a community member spent an entire Saturday brainstorming what an Innovation Institute would look like at Colorado College.

The group convened recently to capture the energy and excitement that already exists around creating an on-campus Innovation Institute. "The Colorado College community is ready and eager to talk about what this will look like," said one participant. An underlying principle of the Innovation Institute is that it would enable students to combine their passions with what they learn in the classroom and the activities they pursue in the summer and beyond CC. It would allow CC students to find their future by marrying the liberal arts to its application.

This already occurs in several CC programs such as the State of the Rockies, the Public Interest Fellowship Program, Venture Grants, The Big Idea, and Global Sustainability Summer Internships. The institute would help students and faculty connect the various programs in ways that link their passions across disciplines and programs.

The Innovation Institute would also help students bring their interests and endeavors back to the college in a structural, systematic fashion. Ideas such as an electronic repository as a means to capture and publicize the research projects supported by CC programs generated the kind of conversations that spill over into new ideas. "How can a repository be used to connect the other innovative and creative initiatives driven by CC students, faculty and alumni?" Every conversation centered on the Institute as THE way that CC students - and alumni -could weave their ventures back into the fabric of Colorado College, allowing for endless possibilities for current and future students.

The day concluded with several ideas on things the college could work on this year that would begin to move the vision of the institute forward. Watch for updates on pilot projects as the college propels innovation forward.