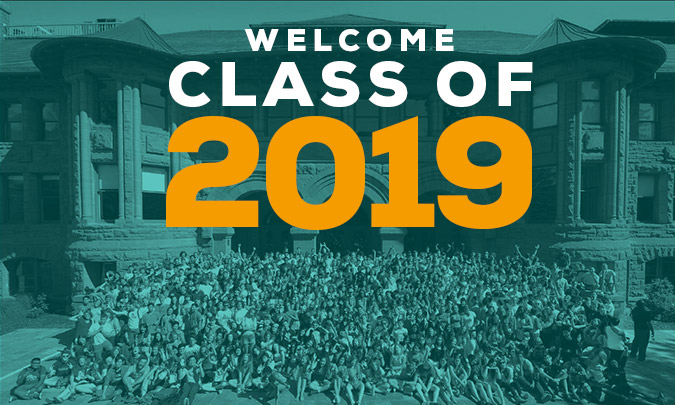 Welcome Class of 2019 - all 586 of you! And welcome to our new 25 transfer students. We're excited you'll be joining the Colorado College community.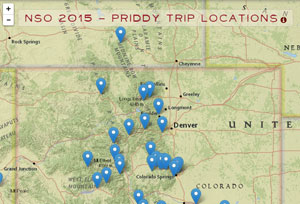 See where the Class of 2019 is headed on our interactive map!
New Student Orientation takes place Aug. 15-23, during which time students also participate in a four-and-a-half-day Priddy Trip, which takes participants to locations throughout the region. This year, a total of 71 groups are heading out on Priddy Trips, CC's signature orientation experience. First-year and transfer students fan out in small student-led groups across five states - Colorado, New Mexico, Wyoming, Texas, and Utah, where they engage in a variety of service projects. These projects range from working at the Santa Fe Children's Museum in New Mexico, to helping at the Medicine Bow National Forest in Wyoming, to working at the Canyonlands Field Institute in Utah, to installing solar panels, working at a wolf and wildlife sanctuary, and doing trail and campsite maintenance work in Colorado. By the time members of the Class of 2019 are ready to start the academic year, they will have logged well over 5,000 hours of service work.
The first day of Block 1 is Monday, Aug. 24. Opening Convocation, which marks the beginning of Colorado College's academic year, begins at 9 a.m. in Shove Memorial Chapel. Students will then go to class; at noon the entire CC community convenes for an all-campus picnic on Cutler Quad. Block 1, part of CC's Block Plan, runs Aug. 24 to Sept. 16.
The Class of 2019 was culled from more than 8,000 applicants, and had an overall admit rate of 17 percent. Of the class, 23 percent are from the Northeast; 15 percent from the Midwest; 15 percent from the South; 25 percent from the West; 13 percent from Colorado; and 9 percent from overseas. Additionally, 26 percent are students of color.