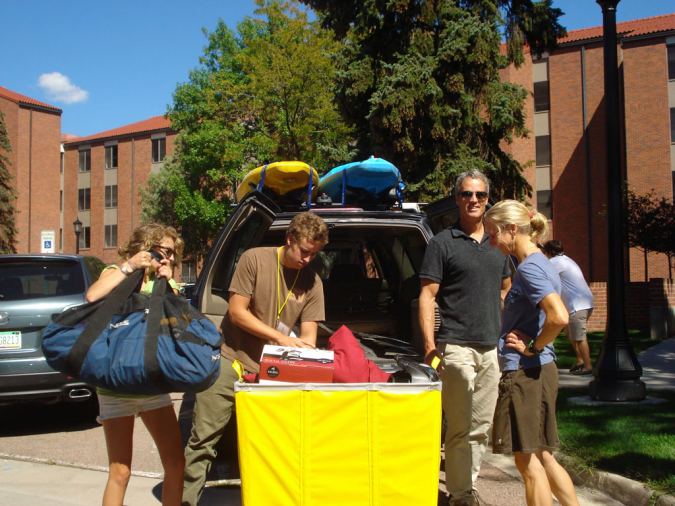 Colorado College welcomes the 491 first-year students and 22 transfer students who moved in this weekend. Students and their families were assisted by CC President Jill Tiefenthaler, residential life staff members, and New Student Orientation leaders.
This year's class brings a wealth of knowledge, experience, and talent to the campus. The incoming class features:
Students who speak 30 different languages, including Tamil, SiSwati, Malayalam, and Tagalog.
46 editors of student publications, 16 student government presidents, 31 service organization leaders, 195 varsity team captains, seven junior Olympians, and 90 heads of school groups, ranging from Hip-Hop Freestyle to Athletes for Afghanistan.
A world-class dressage rider, two nationally ranked rock climbers, and an individual who placed second at the World Series of Birding.
A member who started a music blog that receives more than 250,000 hits a month.
Two members who have professionally recorded music albums.
Seven Eagle Scouts and three recipients of the Girl Scout Gold Award.
A student who gave a presentation on women's rights in Turkey and another who has done research in Geneva that has helped make headway on the treatment and identification of parts of melanoma.
13 nationally ranked competitors, including a sprinter who is on track to compete in the 2012 Olympic Games, a national champion sprint kayaker, and a soccer player dubbed "the best left-footed player in the country."
Multiple small business owners, including one who started a silk screening business and another whose business fabricates steel protection parts for off-road vehicles.
After completing a new student orientation on campus, all new students and their leaders will leave Wednesday for a variety of community service trips throughout the Southwest.