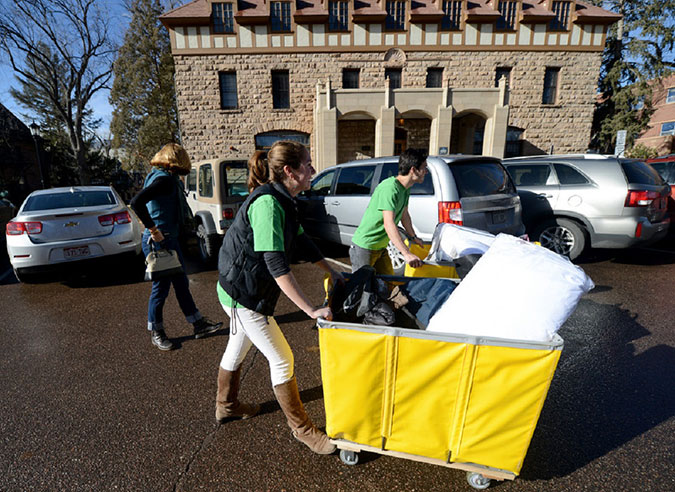 Colorado College welcomes the 519 incoming members of the Colorado College Class of 2021 and 31 transfer students. New Student Orientation (NSO) begins on Saturday, Aug. 19, with a host of activities including a welcome luncheon, opening remarks by CC President Jill Tiefenthaler, and "Sense of Place" programming.
The incoming class, culled from a record 8,222 applicants, had a 15 percent admittance rate, with 51 percent receiving some form of financial aid, 26.7 percent self-identifying as students of color, and 53 being first-generation students. The class includes 48 QuestBridge students; QuestBridge is a non-profit organization that matches high-achieving, underserved students with opportunities in higher education.
The Common Read Book for incoming students is "Citizen: An American Lyric" by Claudia Rankine who was on campus in February as the First Mondays speaker for Block 6. The author will return to campus to deliver the NSO Capstone Address on Monday, Aug. 21. Following the presentation, students will break into small groups for discussion of the book.
A large component of CC's New Student Orientation is the Priddy Experience, in which students fan out across the Southwest for five days on service trips led by other Colorado College students. There are 66 Priddy trips scheduled, including four for athletes arriving on campus early, working with 41 organizations in the Southwest region. Students will volunteer with organizations ranging from the Santa Fe Habitat for Humanity in New Mexico to Easter Seals in Denver to a dog rescue shelter in Texas, as well as numerous backcountry organizations offering opportunities for trail maintenance and campsite restoration.
The incoming CC students, led by 142 New Student Orientation leaders, together will contribute approximately 11,000 hours of community service to organizations throughout the region - before Block 1 even begins.
Opening Convocation, held at 9 a.m., Monday, Aug. 28 in Shove Memorial Chapel, opens the 2017-18 academic year. This year's Opening Convocation address will be delivered by Colum McCann P'21, the Irish writer and author of "Let the Great World Spin." Also addressing students is Dorsa Djalilzadeh '18, president of CC's Student Government Association. Classes will begin immediately following Opening Convocation, with the entire campus community invited to attend the Tutt Library celebration and ice cream social in the afternoon.