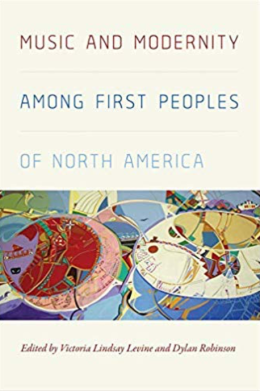 By Miriam Brown '21

When Colorado College Professor of Music Victoria Levine suggested to a colleague that someone should compile and edit a collection on contemporary Native American music, she didn't know that someone would be her.

She was at a conference, inspired by a new generation of indigenous music scholars, and mentioned the idea for the collection in passing. In mere months, she started to receive emails from scholars volunteering their articles and asking if she would edit such a volume.
The book, "Music and Modernity among First Peoples of North America," edited by Levine and Dylan Robinson (Stó:lō First Nation) of Queen's University in Canada, was released in February by Wesleyan University Press and is the first of its kind in scope and scholarship on indigenous musical modernity. It features chapters from 14 scholars, half of whom are indigenous. Through their case studies on topics ranging from native hip-hop to native classical and experimental music, the contributors seek to model an inclusive, intergenerational, and decolonized approach to the study of native music.
"My greatest hope for "Music and Modernity" is that it will negate the fallacies that indigenous musics belong to the past or are somehow primitive," Levine says. "The contributors to this volume demonstrate that indigenous musicians have always been modern, and we lay to rest the traditional/contemporary binary in research on Native American/First Nations music. We hope to bring the ethnomusicology of native North America into dialogue with critical indigenous studies."
Students can find more work by Levine in Tutt Library, including her recent article "The Global Keyboard: Music, Visual Forms, and Maritime Trade in the Early Modern Era," published in Picturing Commerce: Visual Forms in Motion In and From the Asian Maritime Circuits, 1550-1800, edited by CC Director of Asian Studies Tamara Bentley (Amsterdam University Press, 2019).