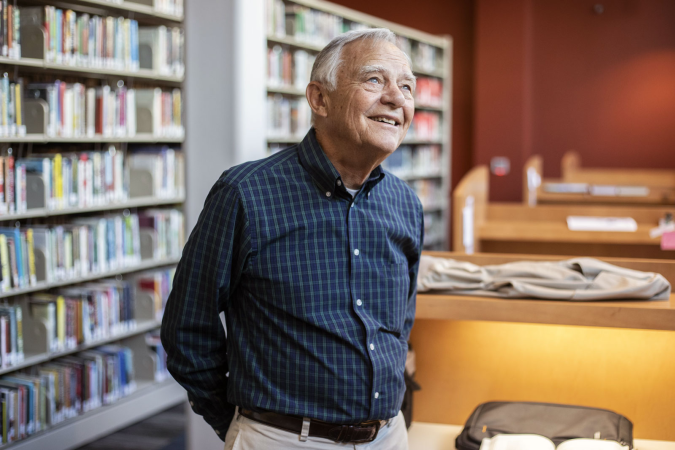 Like many people who spend time on the CC campus, John A. Haney '62 loves to think, read, study, research, and write in the Charles L. Tutt Library. But Haney isn't going to the library to study for an upcoming test or to work on a class assignment.

"I've always loved studying at libraries. I loved Coburn, but probably napped a little too much there! I wanted to stay at Knox College when we dropped our daughter off, just so I could spend time at its lovely library," he says.

Haney has co-authored three publications and helped publish other books. Currently, he's working on a revision of "Pikes Peak Trolleys" (1983). It was co-authored with Morris Cafky and followed a magazine article co-authored with Cirino Scavone in The Smoke Signal titled "Cars Stop Here" about Tucson, Arizona's streetcar system. "Pueblo's Steel Town Trolleys," (2000) also co-authored with Cafky, focused on Pueblo's streetcar system.

Haney worked on his books at Tutt Library and is grateful for the assistance of many staff members. A CC librarian created an index of streetcar-related newspaper stories.

Special Collections Coordinator Amy Brooks '82 helped Haney gather photographs and one-of-a-kind materials germane to his work. The library has a first edition of Leland Feitz's "Colorado Trolleys: A Quick History of Colorado's Streetcar Lines" (1971), a book that serves as the foundation of any research on trolleys. Perhaps more importantly, it has about a dozen exceedingly rare photographs of trolleys in Colorado Springs, including one showing the Colorado College Class of 1901 at Stratton Park in front of a Stratton trolley.

"John Haney is a library regular, and he seems to embody the perfect marriage of CC connection, community links, and keeping regional history alive," says Brooks.

Curator and Archivist Jessy Randall estimates that about 100 alumni visit Special Collections each year, and she and Brooks assist about 1,500 to 2,000 researchers annually.

"I could go to these huge volumes of original newspapers that the library kept. It was great to be able to work with a lot of material," Haney says.

Several mornings a week he walks from his house to find a quiet spot in the Tutt basement. Haney also enjoys the balconies, views of Pikes Peak, and the brightness on the top floor of the newly renovated library.

"I love the outside balconies that are peaceful, restful, refreshing. The views are awesome, and the café is wonderful. And I love the brightness on the top floor because of all the huge windows. I really admire and respect the foresight and planning that went into what they call the zero-utility usage here. Once in a while I find a study carrel that's not reserved. I'm always grateful for those because they have good lighting and comfortable seats. And I like working in the basement where they are because it's also the quietest place in the library," Haney says.

The library recently was awarded the American Institute of Architects/American Library Association Library Building Award for the best library architecture and design.

"Another thing I appreciate here is the vibe, the energy of young people. Everybody is so smart. And they are really right up there in terms of brilliance, motivation, and seriousness. I think that's pretty incredible. And it's great to be in that atmosphere," he says.

When he isn't at the library, chances are he's volunteering. Haney helped found the Pikes Peak Trolley Museum and Restoration Shop. He's on the board of the Historic Preservation Alliance, is a member of a Toastmaster's Club, and he volunteers with Ecumenical Social Ministries, Visit Colorado Springs, and in a variety of roles at First Presbyterian Church.

Colorado College is part of his family's history. His maternal grandfather, Dr. Alfred A. Blackman, was a CC physician. His paternal grandfather and father were CC attorneys. His parents, uncles, aunts, and a brother were CC graduates. And, Haney was a commercial property manager for Griffis/Blessing until his retirement. The firm was established by Ian Griffis '85 and Buck Blessing '85.

"I'm third generation with significant ties to CC going back more than 100 years," he says.

Haney and his wife Betty of 51 years enjoy traveling and visit their two daughters and four grandchildren in the Pacific Northwest a couple of times per year.

Haney is one of approximately 1,800 people who visit Tutt Library every day. Following its renovation in Fall 2017, the library has become the hub of CC's campus. The project was completed with help from alumni and friends who have given nearly $20 million toward the renovation through Building on Originality: The Campaign for Colorado College.

Learn how Colorado College is pursuing its mission and achieving an even greater future through Building on the Block: The Colorado College Plan and how generous donors are bringing it to life through Building on Originality: The Campaign for Colorado College.