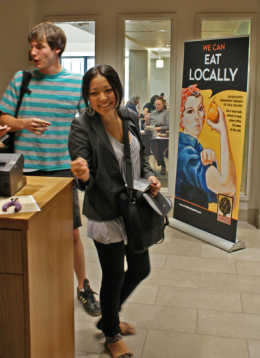 Lunch will be made entirely of ingredients that come from within a 150-mile radius of the campus, including produce from the farms of several Colorado College alumni. The all-local menu will be featured at every station in Rastall during lunch. Additionally, there will be a lunch special at Benji's and a lunch and dinner special at The Preserve.
The menus at the various food stations in Rastall will include grilled Italian eggplant, various peppers, quinoa, grass-fed all-natural beef, pinto bean vegan chili, herb-garlic lamb, goat cheese quiche, quinoa gumbo, a butternut squash and a potato corn soup, a large salad bar featuring heirloom tomatoes, beets, local lettuces, vegetables, and a variety of Colorado peppers, and pumpkin custard and various fruits for dessert.
While seemingly simple, the "Eat Local" initiative has far reaching implications, including supporting local farmers and artisans and the region's rich agricultural heritage.