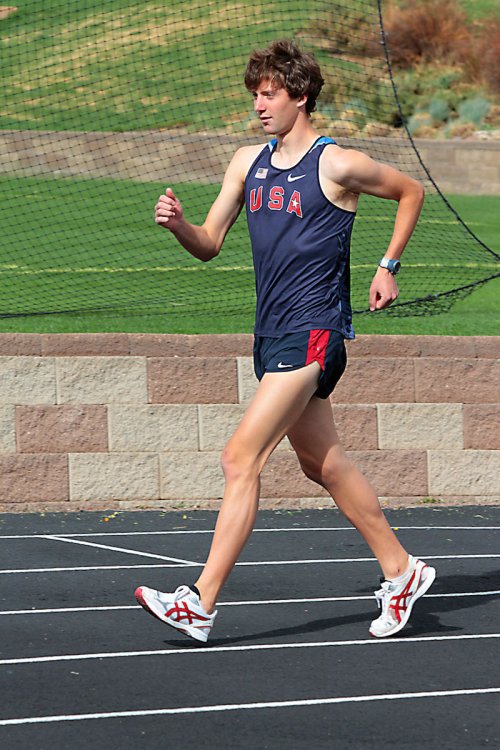 Colorado College's Trevor Barron '15 is considered the United States' best hope for a race walking medal at the 2012 Summer Olympics. He will get an opportunity to qualify for London at the U.S. trials on June 30 and July 1.
The 19-year-old from Pittsburgh recorded the second-best American time ever in the 20-kilometer (12-mile) race on April 1. Barron beat the Olympic qualifying standard by 17 seconds and was only 11 seconds behind the U.S. record – which is held by his coach.
Barron's feat is even more remarkable considering he is a full-time student, juggling an intensive academic schedule while training. A typical day begins with a 7 a.m. workout, then breakfast, class, and lunch. The likely computer science or mathematics major attends afternoon events about robotics, Russia, or math followed by one or two hours of training, then dinner and studying. Saturdays involve more training. He has friends who travel to nearby races to cheer him on, a rarity in the little-known sport.
However, having been struck with epilepsy at age 8 puts all the effort in perspective for Barron. The seizures spoiled his hope of being a swimmer, so he took up race walking to be around his standout hurdler sister.
By age 12, Barron was taking adult-sized doses to control his epilepsy, prompting surgery. After pinpointing the problem area, surgeons removed a 1-by-3-centimeter piece of his brain. Daily medication has kept him symptom-free since September 2006.
Race walking requires perfect form and differs from running in that one foot must appear to be touching the ground at all times. This forces a short stride and what appears to be an exaggerated hip swivel. Three violations disqualify a competitor from a race. 
Barron, the 2011 U.S. national race walking champion, is not worried about garnering the United States' first medal since 1972. He just hopes to savor the experience.
"I do want to make it to London, but I do not place a huge emphasis on awards and medals," he said. "I am more excited about the prospect of going to the Olympics and meeting people from around the world."