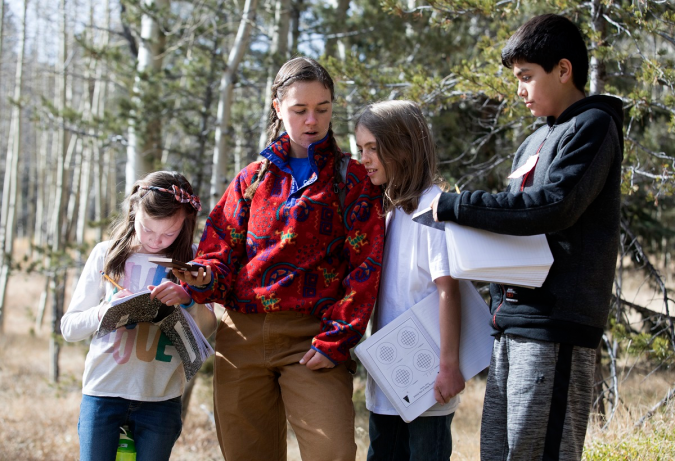 Colorado College's Teaching and Research in Environmental Education (TREE) Semester has received a statewide award for Innovation in Environmental Education for its outstanding work in preparing future leaders in environmental education who learn how to inspire K-12 students to become ecological stewards. The program is one of only nine accredited environmental education programs in North America, and one of only two such undergraduate programs in the country.
The award was presented earlier this month by the Colorado Alliance for Environmental Education. The Denver-based organization seeks to recognize "the exemplary and effective environmental education programs across Colorado who are setting a new standard for learning in their communities."
CC's TREE Semester is a 16-week, residential semester program where undergraduate students live in a sustainable community and learn experientially by teaching environmental education in the montane forest at the Catamount Mountain Campus outside Woodland Park, Colorado, 20 miles west of Colorado College.
The TREE Semester is for students of all academic interests. The TREE scholars cultivate their own and their K-12 students' conceptions of environmental stewardship and respect for the natural world through almost 100 hours of experiential teaching.
"The TREE Semester, created as part of the CC strategic planning process, is an excellent example of our innovative approach to education," says Howard Drossman, professor of environmental science and education.
This year, four of the seven master certified environmental educators and five of the 16 certified environmental educators in Colorado recognized at the award ceremony were graduates of the TREE Semester.
"The environment is where we live and the decisions we make about the environment impact our economy, our communities and our homes," says CAEE Executive Director Katie Navin. "All across the state these innovative environmental educators and programs are helping create informed and responsible decision makers."
Enrollment in the fall 2018 TREE Semester is open through April 1.