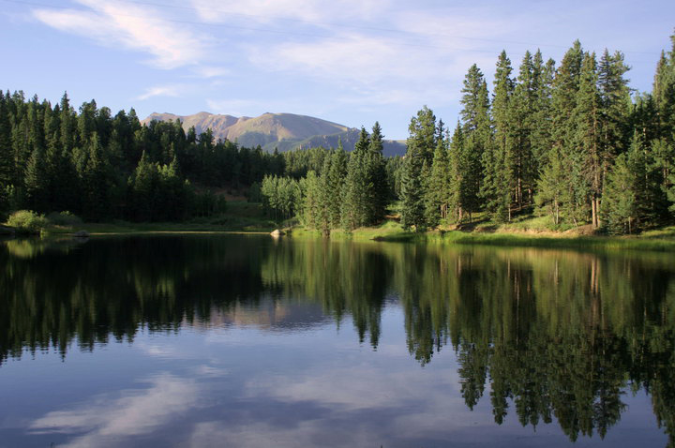 Colorado College's new TREE semester (Teaching and Research in Environmental Education) allows undergraduate students to gain more than 100 hours of teaching experience toward professional licensure, while living, learning, and conducting independent research in a spectacular mountain setting.

While designed for students of all academic interests, the semester program is specifically aimed at those interested in exploring both environmental and educational fields in a critical context.
Undergraduate students will live and learn at the Catamount Center, a mountain campus located on the North Slope of Pikes Peak, about 40 minutes from Colorado Springs, and near Woodland Park, also known as "the city above the clouds."

Colorado College faculty, local naturalists and anthropologists, and fifth-grade teachers from Columbine Elementary, CC's partnering school, will help TREE students develop their own fifth-grade curriculum and work with local elementary school students in both an outdoor and a classroom setting. The TREE semester's multi-disciplinary approach to curriculum, from its direct connections to environmental science and education to its emphasis on child development, pedagogy, and the sociology of education, offers opportunities for students of varying academic interests.

"Not only does our program provide extensive direct teaching experience, academic credit, and an amazing off-campus experience to CC students, but we're also getting young students outside and excited about science, leadership, and the natural world," said Alena Ede, operations director at the Catamount Center. "By integrating our undergraduate-developed outdoor curriculum with standard 5th grade instruction, we hope to inspire the next generation of scientists, educators, and ecological stewards. Needless to say, we're pretty excited about it!"

The Catamount Center also is looking to hire recent Colorado College alumni and other qualified individuals with a bachelor's degree for a four-month residential TREE Fellowship Program. TREE Fellows will provide support to undergraduate students enrolled in the semester program. TREE Fellows should have experience and enthusiasm for environmental science and outdoor education. As part of the fellowship, TREE Fellows will work toward certification as a Colorado Environmental Educator (pending CAEE portfolio completion). Applications for the TREE Fellowship are due by March 31 and fellows will be selected by April 15.