By Jennifer Coombes
Before she walked into Assistant Professor of Sociology Prentiss Dantzler's Inequality in the U.S. course, it is doubtful that Lizzy Counts '20 ever saw herself making an argument for why pop music star and often polarizing public figure Iggy Azalea better embodies blackness than Nelson Mandela or Michelle Obama.
In fact, Counts and her team chose Azalea in what they perceived to be a tactical and competitive move as part of a game that Dantzler was using to push students to think about how they speak about race. (Counts later told the class that she didn't truly believe Azalea was more representative of black culture than Nelson Mandela; rather she was viewing the classroom exercise through a competitive lens.)

"In this class, we look at how unequal elements shape our identity," says Dantzler. Race, gender, class, and sexuality are the four areas of focus in the Block 1 sociology course as students investigate the nature of competition, housing, and other social sectors affected by inequality.

"I like making students feel uncomfortable," chuckles Dantzler in his office after introducing creator Kenyatta Forbes' card game "Trading Races." Dantzler knew the game was almost certainly going to make his mostly homogenous classroom of white students squirm a bit. And indeed, it did. But it also provided an open door to conversation. Dantzler says the playful nature of the game allows students to engage in the topic and build trust with one another so that they can dig deeper into the topic of inequality.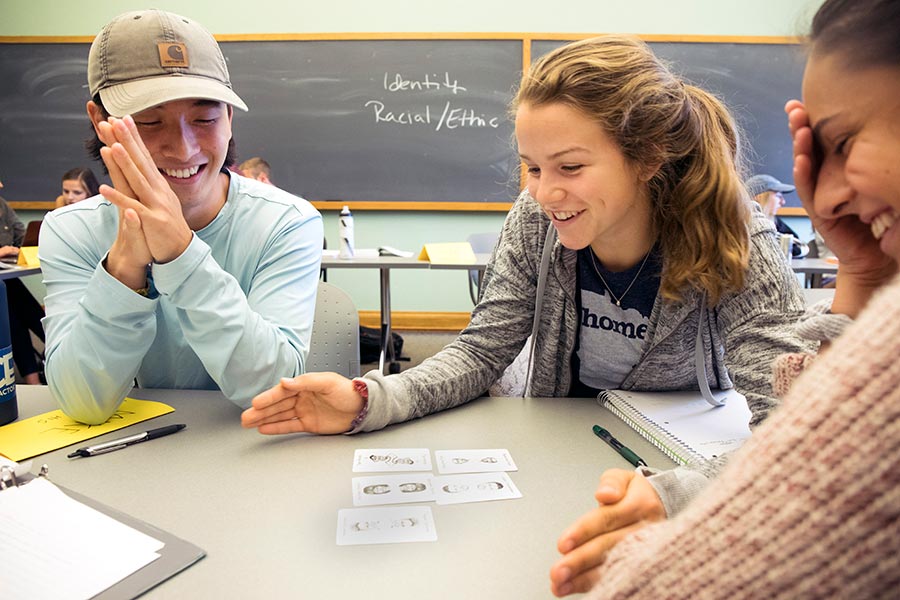 Similar to the games "Apples to Apples" or "Cards Against Humanity," "Trading Races" asks teams or individuals to select five cards. Each card features the name and face of a significant historical figure or pop culture icon. During each round a card is selected by the players and put forth as their best example of a person that embodies blackness. It should be noted that white celebs such as Bill Clinton, Jimmy Fallon, Justin Bieber, Rachel Dolezal, and Vanilla Ice can be found in this game alongside Oprah, Sojourner Truth, O.J. Simpson, Spike Lee, Stacey Dash, and Maya Rudolph. Obviously, not all cards are created equal and in some cases participants have a very difficult decision to make. After all, when the choices are Oprah or Rosa Parks, who is the right choice? One team had to decide.

After the selected cards are revealed, the room must come to a consensus on one card - the card that best represents all of black culture. A team can make a case, or in some instances an argument, for their choice. These conversations are just what Dantzler hopes for in this activity. He aims to get students beyond discomfort with the topic so that they can have thoughtful conversations that are focused on solutions and applicable outside the classroom.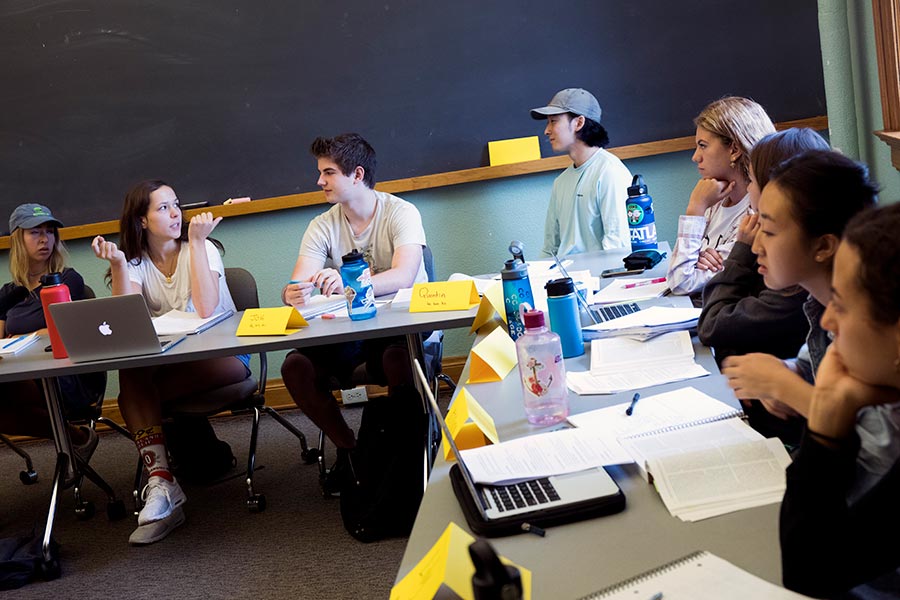 Grouped at tables and huddled over their cards, some students had to rely on the Internet to figure out who many of the cards represented. One group was only vaguely familiar with Sojourner Truth while another table had never heard of controversial political pundit and actress Stacey Dash. As they read about the people and formed their arguments for why their candidate was the strongest representation of black culture, Dantzler walked around and listened to the discussions. Avoiding comment, guidance, or judgement, he asked students to support their opinions. As each round progressed, the debates among teammates became more intense. As the cards were revealed to the class, only one round found students in agreement. Nelson Mandela was a true example of black culture for nearly everyone. He was selected, with some anguish, over Michelle Obama. Lexi Davis '18, the only black student in the class, put her hands up to cover all of her face except her eyes, visibly stressed by the choices. An earlier round pitted Sojourner Truth against her team's selection of civil rights icon Rosa Parks. In the end, Truth won the round.

In his own interpretation of the game, Dantzler ended the session with a twist. Collecting cards and handing out new sets to students, he asked them to select the person that was the best representation of white culture. In this round Dantzler reinvented the game for the purposes of his class and found his most teachable moments as students asked "Should we know who Stacey Dash is? Is that bad?" and suggested Justin Bieber has rejected his whiteness and appropriated the music of other cultures. Students clustered around notebooks and began forming creative arguments to support their choices.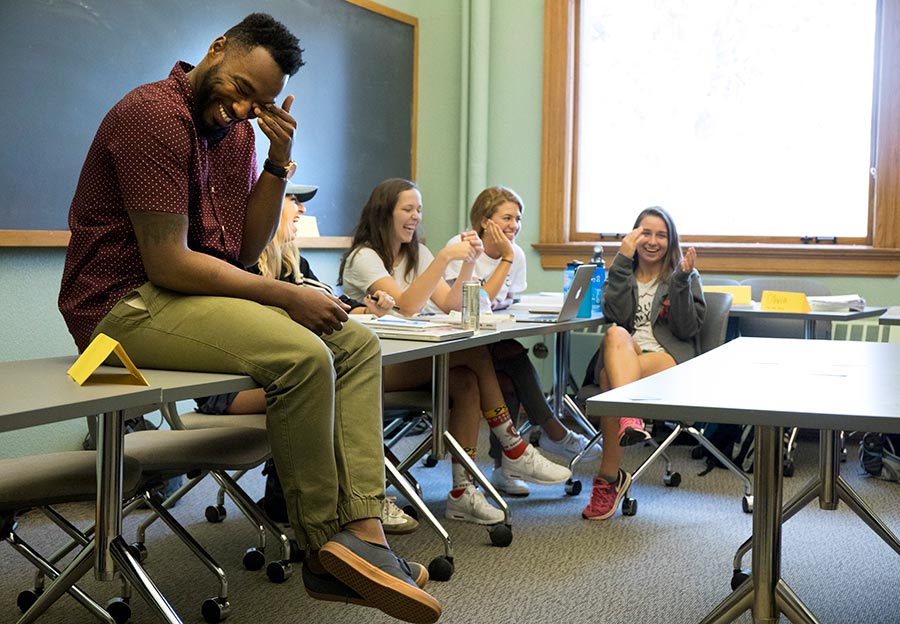 Dantzler said he observed that as the rounds progressed and became competitive, the students "abandoned all knowledge that they had just discussed" and reverted to superficial ideas that he felt reflected the competitive nature of the game, rather than their understanding of the topic. He later addressed this with students and used it as fuel for a deeper conversation as he reinforced the point of his class: How do we talk about race? Dantzler believes that the lesson was a success that he plans to repeat.

When debriefing later, one student lamented that as a white male, he was aware of his privileged status in society and even his economic advantages over others and struggled to be comfortable discussing blackness in the exercise because he felt he did not have the right to do so. "I am not black. I can only speak to what I know," said the student as he visibly measured his thoughts with what he wanted to say. This student's refreshing honesty and raw discomfort with the game allowed for him and others to look deeper. Classmate Julia Shepard '20 nodded in agreement. "I was more uncomfortable than comfortable."

"I love finding out how people think and why they think the way they do," Dantzler says. "We all have assumptions and biases, but we should be looking at why we have those."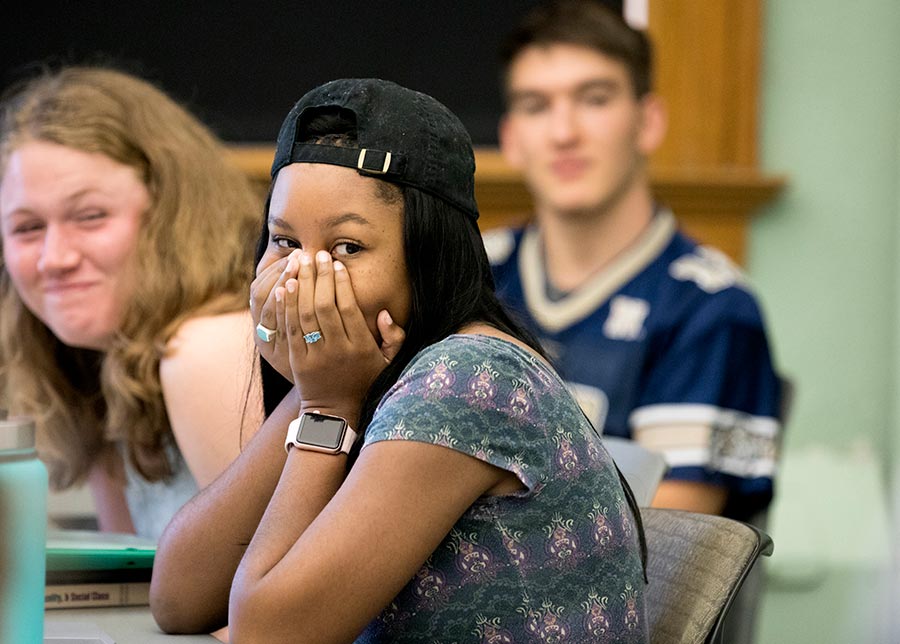 Dantzler says he is happy to see students comfortable enough to admit their discomfort with discussions on race and has found that as the students learn more about the topics in his class they learn how to have those broader conversations outside of his classroom with more ease and confidence.

"In engaging with the material, I hope that they become better everyday people in society," says Dantzler. "I want them to think about themselves within society and ask 'How do you see yourself in society?' and 'How do you aid the practices of social inequality?' I want them to be more empathetic and knowledgeable and not be ignorant of how we each aid and become victims of social inequality."