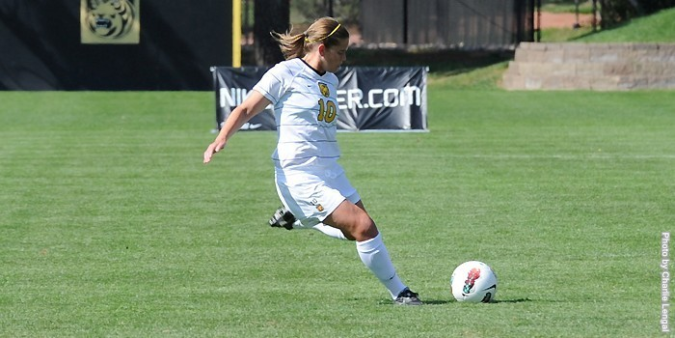 Junior forward Madison Whitehead scored on a penalty kick in the third minute and sophomore forward Rachel Herron put the icing on the cake with an insurance goal in the 80th minute as Colorado College claimed its first-ever Conference USA regular-season championship with a 2-0 victory at UTEP on Friday night.

It was must-win for the Tigers after both UCF and Rice grabbed a piece of first place earlier in the day.

The Knights defeated Southern Miss, 4-0, in an afternoon contest in Hattiesburg, Miss., to temporarily climb into first place with 24 points. After the Owls completed a 1-0 victory at Houston earlier in the evening, they moved back into first place with 25 points and, at least for a little while, dropped CC into third place.

But on this night, Colorado College would not be denied.

Whitehead struck for the all-important first goal just 3:46 into the contest, giving the Tigers some breathing room with their earliest tally in a game this season. It proved to be her third game winner of the season.

The Miners, who had already been eliminated from contention for a C-USA playoff berth, continued to battle and nearly tied the game when Tori Martyn hit the post on a header with 4:54 remaining in the first half.

Senior goalkeeper Hanna Berglund made four first-half saves en route to her fourth shutout of the season and 13th of her career. She has won five consecutive starts to improve her career record to 19-8-3 overall and 16-4-1 mark in conference play.

Herron sealed the victory with 9:16 to play when she converted on a pass from senior forward Brittney Lyman. It was Lyman's team-leading eighth assist of the season which moved her into a tie for 16th place on the program's all-time chart.

The CC defense put forth another stellar performance, allowing only 10 total shots while recording its 10th shutout of the season.

In addition to the regular-season title, the Tigers earned the No. 1 seed for the C-USA postseason tournament for the first time since they became an affiliate member of the conference in 2006.

Colorado College goes right back to El Paso to play Houston in a first-round match on Wednesday. The semifinals are slated for Friday, Nov. 2, followed by the championship contest on Sunday, Nov. 4.